I was looking forward to the drama which would replace Alvida more than the one that was going to air at 9pm but sometimes some dramas catch your attention when you least expect it. While the first episode of Tum Mere Pass Raho turned out to be very typical, the first episode of Mohabbat Aag Si was enticing primarily because of the mysterious character of Aapa Ji played brilliantly by the very talented Iffar Omer. The play has been written by Imran Nazir, it has been directed by Syed Ahmed Kamran and produced by Moomal Entertainment.
Mohabbat Aag Si is the story of Aapa Ji who is revered by everyone around her because she is considered to be one of those pious personalities who can change people's life only by saying a prayer for them. Aapa Ji spends her days clad in a white dress busy in prayer all day long but at night time Aapa Ji is a completely different person. There is a lot more which the viewers need to find out more about her character because the director does not reveal Aapa's background therefore I am sure many people were left wondering why she had to put up this show and was she ever married or not. Sharifa (Faiza Gillani) the maid is Aapa Ji's friend and confidant, she is the only one who knows all of Aapa's secrets but still respects her and is very faithful. Aapa Ji lives with her brothers Sharafat (Tipu Sharif) and Wajahat (Azfar Rehman). Sharafat is the older brother who runs a pharmacy and he like everyone else feels indebted to Aapa Ji and has great respect for her perhaps because she brought him up, we will find out more in the upcoming episodes. Aapa considers Sharaft's wife Samia (Uzma Hassan) as a "competition" therefore she makes sure that Samia and Sharaft do not have any children and Samia also accepts Aapa's position in the house without revolting against her.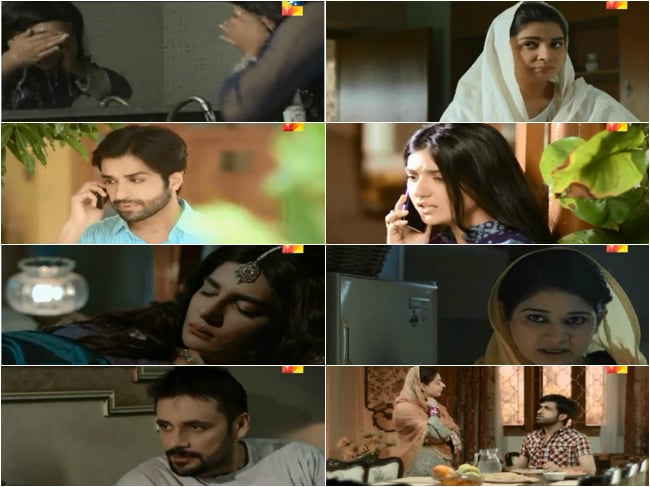 The other track which I think is going to be very important as the drama progresses is that of Wajahat and Saba (Sara Khan). Saba is Samia's cousin and Wajahat and Samia like each other. Saba's mother is the only one in the family who knows that Aapa Ji isn't the sort of person she appears to be on surface. She knows that her outward pious personality is just an act. She also hold Aapa responsible for turning Samia from a happy go lucky person to someone completely different.
The second episode ended with Aapa Ji finding out about Wajaht's interest in Saba. MAS might sound like just another drama in which one woman is trying to control everyone and everything around her but the characters are intriguing and all the actors are very well-suited for the characters that they are playing. There is nothing brand new about the main plot of the play but the treatment given to it is definitely different. You are left wanting to know more about Aapa Ji's character and you can't help but look forward to what would come next. These two episodes were fast paced, very well directed and most importantly highly unpredictable. Iffat Omer and Uzma Hassan are two very powerful performers and watching them in the same play is an absolute delight. Their acting and portrayals are effortless.
Did you watch the first two episodes of Mohabbat Aag Si? Do share your thoughts about them if you did.
Fatima Awan