It is often said that love is like fire, if you don't keep it alive it dies! Well Aapa Ji believes in this saying more than anyone else in this drama!! She is so eager to keep this "fire" alive that it looks like she is not afraid that it might eventually burn all the relationships she has invested so much time and effort into building. Aapa Ji is the sort of person who does not believe in letting go and there is no end to her manipulation. Wajahat's attempt to take his own life was predictable but the way Aapa Ji reacted was definitely not what I had expected. Even after everything that transpired she remained unmoved and did not budge from her stance. Taking her brothers on a guilt trip and making the most of whatever she has done for them in the past has been working really well for her all these years therefore she knows just how to manipulate her brothers. The only thing new about Aapa Ji's character is the double life she lives other than that she is your average negative female character which we see on screen all the time – she is lonely, insecure, conniving, manipulative and jealous. The fact that Iffat Omer has played a role like this for the first time is probably one of the biggest reasons why my interest in the play stays intact till now otherwise if it was any other actress I would have stopped watching the play by now.
The viewers learned that Rukhsana has a friend too who she probably dresses up for and talks on the phone with. I couldn't help but wonder if this "friend" was a figment of her imagination or he was actually real. Real or not this is someone who knows everything that goes on in the house and also tries to warn Rukhsana about the consequences of her actions but ultimately has to agree with her. The scene in which Samia finds out that Wajahat has taken the pills was utterly confusing because if all of this happened in the wee hours of the morning then this was definitely not the sort of routine we were shown in the first few episodes because Samia always woke Aapa Ji first but this time everyone was up and about and Aapa Ji was sleeping. Yes, this happened once before too but that was an accident and after all the drama that followed the incident one would expect Rukhsana to be more careful!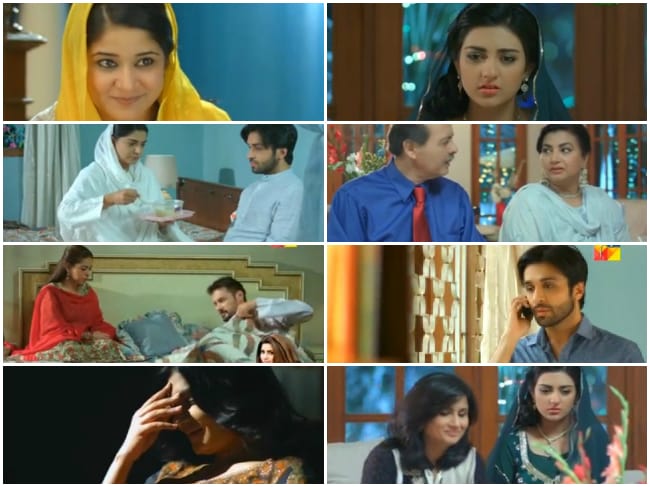 Saba's change of heart was very relatable, the news of Wajahat's suicide attempt gave her the courage to do everything she could to stop this engagement because as long as she did not get engaged there was still hope. I understand why Saba's mother wouldn't want her to get married to anyone who is this close to Rukhsana. She is obviously scared that her daughter will end up having a life like Samia too if she gets married to Wajahat.
Azfar Rehman has never impressed me with his acting, I have always felt that even if he chooses to do different kind of characters there is always more of Azfar Rehman in the drama than the character he is playing, perhaps because of the similar expressions and outlook. I have always been unable to take him seriously and his acting hasn't impressed me in this serial too. Tipu Sharif on the other hands looks and plays the character flawlessly. Sara Khan is another actress who has come a long way. She is very convincing as Saba. Overall this drama doesn't have anything new to offer but the recent developments have given me reason to watch it next week too and I am watching it for Iffat Omer. I want to find out how the status quo in Aapa Ji's house changes after someone bold and outspoken like Saba becomes a part of it.
How many of you watched these two episodes? Do share your thoughts about them.
Fatima Awan