The pace of the drama has slowed down once again and the most annoying aspect of this drama so far is that there has been hardly any interaction between Waqar and Maheen. The team of MTSNH had two exceptional actors like Ayeza Khan and Imran Abbas who share on screen chemistry that can win the viewers hearts quite easily but they completely missed the opportunity to exploit their potential and chemistry by not showing enough scenes with both of them together. The script revolves largely around their feelings for each other yet they have hardly ever spoken to each other since they met. Even without this interaction, their feelings for each other are easy to relate to at this point therefore I can't help but wonder how amazing it would have been if they actually had enough scenes together to convince the viewers even more. The fact that Maheen is still unable to accept how she feels about Waqar helps but even then in this day and age when people are a phone call or message away the lack of communication between the two is definitely really odd!
The script of the drama is not perfect, it has loopholes which make you question why the writer ignored certain aspects of the story but at the same time the overall idea is novel and interesting. Jia's track and its connection with Maheen, the way she wants to get back at Maheen for her father's wrongdoings, makes the entire situation interesting but the story is littered with details which most often add nothing new or important to the story. There are also innumerable heavy-duty dialogues which do not always go well with the characters or the scenarios. Ami Begum's lecture to Waqar was one such situation tonight, when she says she loves Waqar it is very difficult to believe! Also, the scene in which Ami Begum was hiding in the car could have been handled in a much better manner.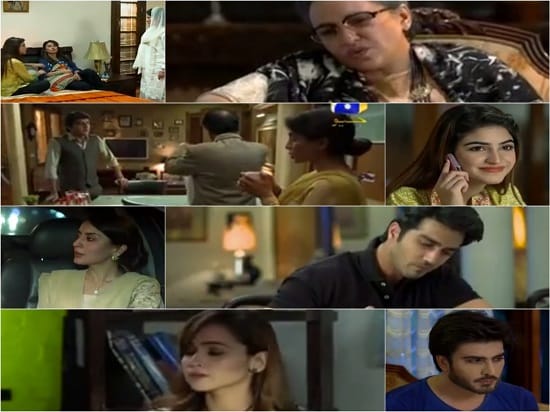 "Humse kahi ziada Khuda apni makhlooq se pyar krta hai lekin sub ko khush tu wo bhi nahi rukh sakta." I strongly disagree with this particular dialogue and I am surprised that no one in the team requested the writer to change it or remove it altogether. Jia's meeting with Siraj was stretched too, even he had a failed love story to narrate! Who tells their personal details to someone they just met? The turn this track has taken however is interesting, Jia intends to do a lot more than just create a misunderstanding between Maheen and Waqar. She is planning something which will be even more hurtful. I have a feeling that Siraj won't keep this secret and that is how the misunderstanding might ultimately be cleared.
The background score of this drama has to be one of its most irritating features especially because even when the characters are joking with each other, the music in the background is sad! The actress playing Maheen's mother is the weakest link in this drama as far as performance is concerned. She goes overboard especially in those scenes in which she has to tell someone off or set some limits.
This episode was extremely slow but even then I find myself looking forward to the next episode because I want to know what exactly will Jia do and most importantly how is Gulrez's track going to end. If the story picks up pace even now, it will give this drama a decent ending but it seems highly unlikely.
How many of you watched this episode? Do share your thoughts about it.