What makes Mol stand out is the fact that it's entirely a character driven play. The characters are so complex and unpredictable that it gets difficult to make up your mind about them. But, the fact that the characters are anything but simple or predictable makes Mol an interesting watch.
Tum say shadi kar kay mein nay un logon kay saamnay khula ailaan kia hai kay I won't take dictations! Suffocated by Humayun's dictatorship, Sheheryaar was bent on proving to his father that he won't let anyone control his life, and the decision to marry Emaan sent his message loud and clear: no one can make decisions for Sheheryaar Hassan except for Sheheryaar Hassan himself! What haunts and hurts Emaan and breaks her into tears is the thought that Sheheryaar didn't marry her because she was important to him – he married her because he didn't want to marry Sajal. Agar ammi abu kay orders par hi chalna hota tou Sajal say hi shadi karleta hai. This wasn't the first time Sheheryaar and Emaan had a disagreement, but this was definitely the first time Sheheryaar used that tone with her. I think if Sheheryaar is adamant that he doesn't want to hear from his parents and that they don't mean well, Emaan should refrain from mentioning Hajra Aunty over and over again because by the end of the day, it's her relationship with Sheheryaar that matters the most and she can clearly see that any conversation regarding his parents always ends up in an argument. Sheheryaar stresses that Hajra and Humayun aren't Emaan's well wishers, but I don't think it's the main reason why he doesn't want Emaan to meet them. I think the real reason is that he just doesn't want them to interfere, whatever their intentions may be. On a side note, I think there should be a compilation of all the times Sheheryaar says, 'yeh meri zindagi hai!' This is YOUR life, Sheheryaar, rest assured we don't disagree!
Talking about Hajra Aunty's intentions, I am still not sure if she's Emaan's well wisher because I feel that it's only her desire to have grandchildren because of which she is taking a great deal of interest in her bahu's well being and that's about it. I may be wrong, so let's see!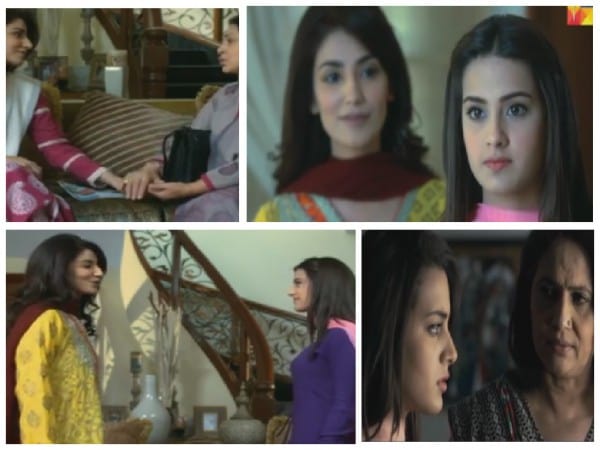 I had no idea I'd be saying this, but I thoroughly enjoyed the inevitable confrontation between Emaan and Sajal. I was expecting it to be a bitter and heated exchange of words, but much to my relief, we didn't get to hear any dirty accusations, curses or baddauyen. For a girl who got ditched by the man she grew up fantasizing about, Sajal's initial anger and her lashing out at Emaan did make sense to me. All this time, Sajal envied Emaan, thinking that she has it all; Emaan, being Sheheryaar's wife, is the only woman entitled to his time, love and affection. Little did she know that there is a void in Emaan's life. I think this meeting was much needed because it's high time that Sajal heard Emaan's side of the story. I loved how Emaan kept her tone polite and respectful, and without losing her calm, she explained that she didn't 'snatch' Sheheryaar from Sajal. Yeh rishta muhabbat ki nahe, zidd ki bunyaad par hua hai. This was no Sukkur ki larki ka 'jadoo' because though it's true that Sheheryaar was impressed with Emaan's strong sense of self, intellect and personality, the main reason behind marrying Emaan was to reject Humayun's choice. Tou iss ka matlab hai kay tum bhi Sheheryaar ko paa kar bhi nahe pasaki. I liked how this was not a conversation between a vamp and her target. Instead, this was a conversation between two women in love with a difficult guy, trying to understand and sympathize with each other. For the first time ever, I could actually connect to Sajal. Sajal was never bad at heart, and it'd be fair to say that she's not a vamp.
Mein Sheheryaar kay liye sirf ek belonging hun. Now this is where I don't exactly agree with Emaan and I think she's being a little unfair here. It's true that Sheheryaar doesn't readily express how he feels about Emaan, but I think it's plain to see that Emaan is more than a 'belonging' to him. Agar yeh sirf ammi ya abu ki khuawish hoti tou mein nahe jaata lekin mein janta hunk ay yeh tumhari khuawish bhi hai. Sheheryaar agreed to go to the doctor for the sake of Emaan and this shows that he cares about her, respects her wishes, takes her as a priority, and her narazgi does matter to him. A couple of episodes back, he cancelled his official dinner because he wanted to spend time with Emaan, and he wouldn't have done that if he'd only thought of her as a mere 'belonging'. I felt that Emaan painted quite an unlikable picture of Sheheryaar in front of Sajal – he's not that bad a husband. But, the question comes, does Sheheryaar love Emaan? Quite frankly, this is a debatable point, and I am sure all the viewers will come up with different views. After watching this episode (especially the part where Sheheryaar says, 'mein darr gaya, pareshan hogya, kay agar tumhain na lekar gaya tou tum naraz hokar Sukkur chali jaogi), I think Sheheryaar loves her, but doesn't want to admit it, or he loves her without even realizing it and has yet to sort out his feelings.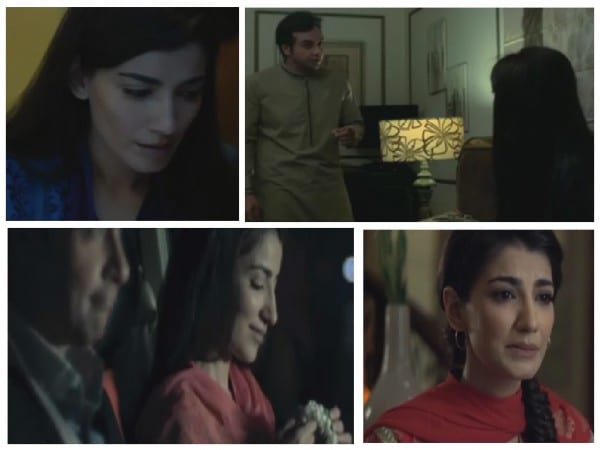 The way the conversation between Emaan and Sajal ended (the two were smiling) gave me a teeny tiny ray of hope that it'd finally dawn on Sajal that she's better off without Sheheryaar and that she would think about moving on. And the following soliloquy sounded really good to me. Agar mein khush nahe hun, tou tum bhi khush nahe ho Emaan. Kisi ko paa kar na pana bohat takleefday hota hai. Tum mujh se bhi zyada akely ho. But, that didn't last for long because her conversation with her mother was a letdown. OK, I give up! I should now accept the fact that our dramas would never show a girl getting over her bachpan ki muhabbat/mangni, and Sajal, dear folks, is no different! Mein chaah kar bhi Emaan say humdardi nahe kar parahi. Muhabbat say ya majboori say, Sheheryaar hai tou ussi ka na. Is it just me or Sajal actually looked kinda happy and content after that visit? I guess the thought that Emaan is not happy with Sheheryaar pleases Sajal. The most irritating scene of the episode was the one where Sajal's admiring Sheheryaar's bachpan ki cute photos –definitely not cute! Now that Sajal has made clear that she loves Sheheryaar too much to think about anyone else and her father is secretly hoping that Sheheryaar ka dil bhar jaye, I think we're getting the dusri biwi warning.
The major development here is the revelation that Emaan and Sheheryaar won't be able to have a child. I have to say that I really felt for Emaan when she broke down. Emaan harbours a strong desire to be a mother, to have a child and tend to his/her needs. Emaan is a headstrong woman, but even the strongest of people have their breaking points and this was Emaan's, because this was probably the worst thing she could've imagined happening to her. The next episode will be all about Emaan coping with this news, and I want to see how the story unfolds now.
This was the first time they made good use of the soulful OST. It really matched the moods and situations of the episode, and I think they should play it more often to compliment the scenes.
How many of you are watching Mol? What do think of the latest episode? What are your thoughts on Emaan and Sheheryaar? Voice your views.
Maryam Mehdi