Ohkay so, the production of Babar Javed, conceptualization of Imran Aslam, writing of Sarmed Sehbai & the direction of Surmed Sultan Khoosat, the most anticipated drama Mor Mahal made it to our screens tonight & I must say, it was enough of a prelude to let us know that we all are in for a great ride. The very first episode did introduce the situation of all the characters appropriately but I am sure that there's more to all the characters & it will be revealed as the drama will progress. Right know, we got introduced to the main characters & I already can't wait to find out more about them.
The story is about the ruler Nawab Asif Jahan (Umair Jaswal) who returns victorious to his residence Mor Mahal after accomplishing a mission in glory of his empire. On his return he is made to deal with his personal life situation where his mother Badshah Begum (Hina Bayat) orders him to meet his new wife Meher Bano (Sonia Nazir) & give her a status of his lawfully wedded wife. Asif Jahan feels a little hesitant as this happens to be a political marriage that took place in order to maintain the harmony between the two empires. Meher Bano's brother gets her married to Asif Jahan for personal gains & Meher Bano finds it hard to accept that she was treated as a commodity for a barter bargain. The reason why Meher Bano hasn't accepted her marriage to Asif Jahan is related to her past that she hasn't been able to overcome till date. Meher Bano is still in love with someone (Zahid Ahmed) & she is unable to forget him.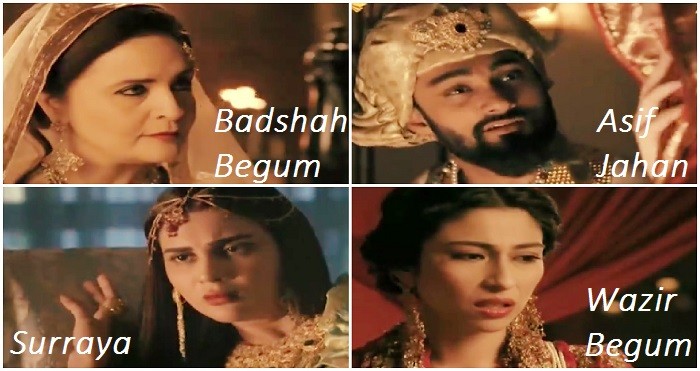 Asif Jahan's second wife wife Wazir Begum (Misha Shafi) awaits his arrival & is left disappointed after finding out that her husband Asif Jahan is going to follow the orders of his mother where he won't be meeting her for now. Wazir Begum obviously has more loyal servants who actually feel for her & give her the hope & the validation she needs to keep her nerves calm. Wazir Begum still feels that nothing can distract Asif Jahan from thinking about her & their relationship is so strong that even his mother can not bring anyone between them but she is left in a great shock when she gets the answer given by Asif Jahan himself that his priority for now was meeting his new wife, Meher Bano & Wazir Begum will have to wait for him even though he was still in Mor Mahal.
The love Meher Bano has for her beloved is so strong that it pushes her to take extreme measures where without even thinking for a second, she forces her servant to cover up for her as she'd prefer dying than becoming a wife of someone she doesn't love. Meher Bano leaves the palace & it still remains a mystery as to what happened to her but I am sure she must've fled from Mor Mahal successfully. Asif Jahan happens to come across Meher Bano's Kaneez & just because he hasn't met her before, he believes that she is his wife. Just a glimpse of her was enough for Asif Jahan to decide that he wanted to raise her status & give her the due rights of being his wife & sadly, the Kaneez had to follow the orders of Meher Bano as she is duty-bound to her.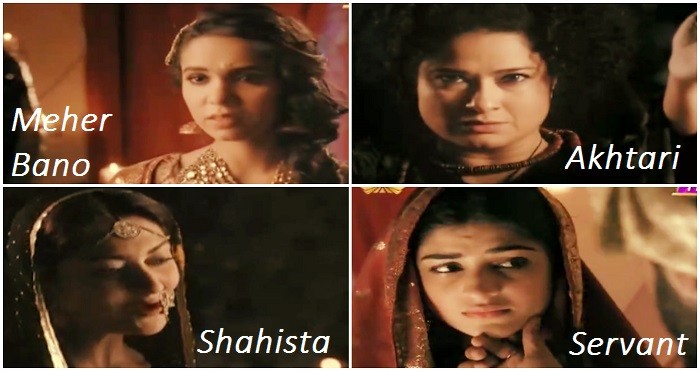 Wazir Begum definitely didn't take that news too well. She chose to poison herself in a hope that either she will be able to deal with the pain that Asif Jahan's answer caused to her or she will be able to grab his attention & stop him from going to someone else. Wazir Begum definitely is not going to let it slide so easily & she will make sure that Badshah Begum gets the message loud & clear that she won't let the political matters ruin what's so special to her.
There were two more characters that got introduced in this episode & were of Surraya & Akhtari. Surraya (Fiza Ali) happens to be the first wife of Asif Jahan & she is also expecting their first child. She is lonely & miserable but the only thing that elevates her level from the rest of Asif Jahan's wives is the fact that she is carrying his child. Surraya has lost hope that Asif Jahan will now come & spend time with her because she knows that Meher Bano & Wazir Begum will still be having more charm than her. She believes that depending on amulets will bring him closer to her husband. It looks like there's a battle happening between the first two wives in a hope that at least one of them will be winning Asif Jahan in the end. The other character that got a little coverage was of Akhtari (Sania Saeed), I believe she happens to be someone who is quite close to Badshah Begum & looks like Badshah Begum doesn't do anything without her consent & advice. I feel Akhtari will play an important role in changing the situations of all the characters in the future.
The very first episode of Mor Mahal was picture perfect & grand in literal sense of the word. I must say, the cinematography, the direction, the acting, the sets, the costumes, the overall styling of all the characters & most importantly the dialogues were phenomenal. It is a period/historic drama & they succeeded in taking us back to the Mughal Era that they were aiming for. I felt that watching the episode once wasn't enough because there were so many details that I feel I couldn't pay attention to & would love to see in great detail. Every frame was picturesque & I must say the characters picked up the attitude required to play such substantial characters. Umair Jaswal actually stood out the most because being a focal character he had a lot of responsibility on his shoulders to look like an actual ruler & everything about him starting from his his dialogue delivery to his body language to his composure made it seem that the casting directors made the right choice by assigning the character of Asif Jahan to him. Even though Ali Saleem & Jana Malik (Shahista) had a very limited screen-time but they both used it aptly & left a great impression as well. Misha Shafi looks beautiful & Hina Bayat picked up the demeanor of the mother of the current ruler perfectly too. Surmed Sultan Khoosat's direction & the attention to detail is what made this episode such a visual treat & the hard work that went in to bring this project to us was evident throughout this episode. I am thoroughly thoroughly impressed & can't wait to see more. Please share your thoughts about the very first & phenomenal episode of Mor Mahal.
Keep Supporting,
Cheers,
Zahra Mirza.