Writer: Ali Moeen
Director: Owais Khan
Producer: Seema Taher Khan
Schedule: Every Tuesday on TV One at 8 pm
Rant Before The Review
First of all, I would like to thank all those wonderful people here who suggested this drama to me because otherwise, I would have missed it. Most often, we end up waiting for and tuning into dramas that air on one of the 3 leading channels. Usually, these channels deliver as well and some of the dramas really are worth watching and reviewing. However, now more than ever, most dramas literally die down after a few weeks and there is so much repetition that it puts you to sleep. After reviewing Parizaad in particular, I am finding it really hard to sit through most of the dramas that have aired recently and could not even consider taking them up for reviewing.
I must admit that I watched all the star-studded mega projects that aired on all the 3 channels and also watched the first two episodes of Dushman before I watched Mor Maharan. I am more disappointed than ever by the level of commercialism and lack of quality content on television right now. ARY has clearly focused all its energies on visuals and is banking heavily on star power. HUM usually has one drama every season that is not commercial such as Dar Si Jati Hei Sila, Ranjha Ranjha Kardi, or Parizaad, to name a few. This time, so far, there isn't a single drama that would fall into that category. Geo has always been commercial; Jo Bichar Gaye was an exception. Dushman on PTV is another drama that focuses more on the visuals, costumes, and over-dramatic scenes than something more meaningful. Therefore, after being disappointed with all those dramas I was actually looking forward to watching and reviewing, here I am reviewing a drama that is not picture-perfect, neither wholly artsy but definitely fits the bill.
The Review
There are multiple reasons why I took up Mor Maharan and not the other dramas which are definitely getting more ratings and attention. The number 1 reason has to be the subject matter of the drama. Right now the water shortage in Cholistan and the effects of global warming there are the lesser talked about but definitely one of the topmost issues facing the country right now. The fact that it is not on the priority list even though the people there are suffering more than ever makes it even more important. Taking up any such topic for scriptwriting is a challenging process since dramas are meant to be entertaining. Making sure that the actual meaning does not get lost, while ensuring that the script is entertaining enough, is surely one of the many challenges. When I realized that one of the co-writers of Jo Bichar Gaye was the one who wrote the script of Mor Maharan, I was especially delighted because Jo Bichar Gaye also tackled extremely challenging topics It also managed to get all the messages across with the utmost precision while keeping the viewers engaged. After watching these 3 episodes of Mor Maharan, I must say that the writer has been able to pen down a script that is both meaningful and engaging.
Another big challenge for any channel while airing such a drama is that most often such dramas do not get ratings or views. Most viewers would much rather watch a drama such as Aisi Teri Khudgarzi than Jo Bichar Gaye and Mor Maharan. This is another reason why I feel that this drama deserves a review more than the others. If it did not have quality content, no matter how unique the subject matter would have been, I would not have chosen to review it. I am glad that TV One airs such dramas because there are definitely some tracks in the story that might 'offend' certain people. Apart from a novel premise, the story so far is also engaging. The drama is not too artsy, it is a good balance between art and commercialism. Although, I do feel that it would have been just as good had the commercial element not been there.
Relevant and Meaningful
These 3 episodes of Mor Maharan established the main characters and their tracks convincingly. The story is set in Cholistan and it revolves around the main stakeholders. It depicts how the future generations of different political and influential families want to change the present situation. It also shows how the people in Cholistan are suffering even though the dessert is known for its beautiful culture and sites.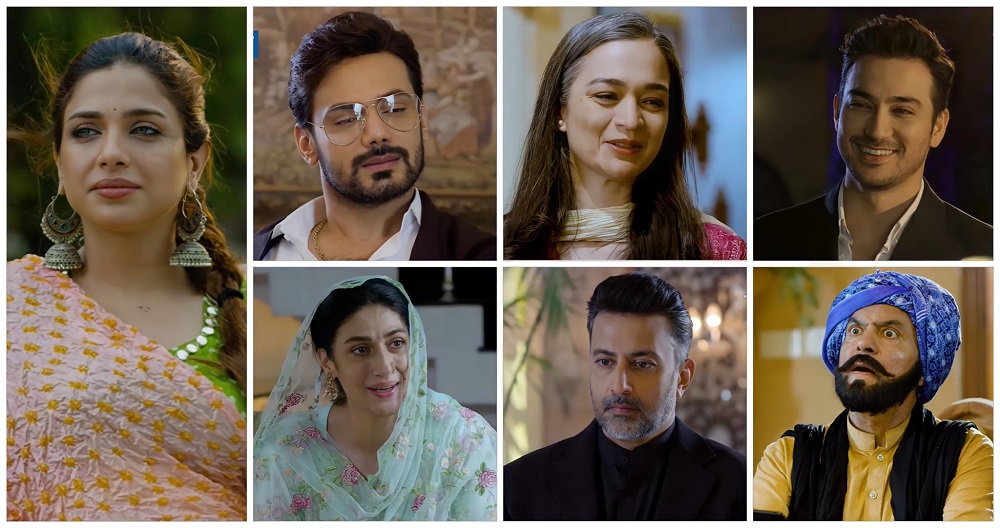 Rohi is another name for the Cholistan desert and the main protagonist played by Sonya Hussyn has been named Rohi. I must give Sonya Hussyn credit for choosing such a project. Her character is full of life and is ambitious. A female protagonist whose sole purpose in life isn't getting married and has a definite purpose in life is always a welcoming change. Rohi's relationship with her father Malook Shah (Firdous Jamal) has stood out right from the beginning. Usually, you expect people such as Malook Shah to treat their sons the way he treats his daughter. Through different scenes and dialogues, the writer has shown how much he not only loves his daughter but also respects her dearly. So far his character is quite progressive. His selfies have added a humorous and light-hearted spin to the character. I am genuinely delighted to watch Firdous Jamal play this character because I have not been able to warm up to any of the characters he has played in the recent past. Malook Shah is bringing out the best in Firdous Jamal, which is the magic of good writing! Even though he exercises great influence, so far we have not seen him resorting to measures that would show him as a tyrant. One of his dialogues in the previous episode however suggested that he might have another side to his personality. Also, the fact that he has not done much practically to change the circumstances the local people are living in suggests that he is perhaps like others. But then, he has also never stopped Rohi from mingling with the locals and has clearly raised a daughter who is really proud of her roots.
What appealed to me the most in the initial episodes of Mor Mahan was Rohi's character; the way it was written and translated on screen. The pace of these episodes was also fast. Also, the fact that Sammiya Mumtaz is finally playing the role of an independent, educated, and modern woman after such a long time was clearly a refreshing change. Almas' backstory will probably be gradually revealed. For now, she appears to be an intelligent and kind woman. She is also independent enough to run a business empire and gets a lot of respect from the men whether it is someone who works under her or has higher standing than her. It is certainly good to see Sammiya Mumtaz in a relatively more made-up look since she usually plays characters that do not require dressing up. Gurdezi does not have a lot going from him but I like that he represents a certain identifiable class in society and through his character the writer is also highlighting another important issue. Zahid Ahmed's performance has been impressive so far, he makes you look forward to Gurdezi's scenes. His pride is obvious in every single scene; something Rohi noticed and shared when she saw him on television. The whole conversation centered on sugar that Rohi had with her mother was one of my favorite scenes.
Sikandar's character is well written but poorly acted out. Mustafa Changazi I believe was chosen to play the role because of his accent. His acting has not improved much since Bari Aapa days and I can only wonder why he was chosen for this role. He still struggles to give the right expressions and his performance is anything but effortless. Ahad Raza Mir, Uzair Jaswal, Hamza Sohail, and Feroze Khan are some of the actors who could have been the perfect candidates for this role. Babar Ali's performance also keeps me interested in his character; it seems as if Sher Aalam is hiding something. There is also definite chemistry between Almas and Sher Aalam; is he in love with Almas? There are also times when you feel as if he is the enemy! I am looking forward to finding out more about him.
Final Remarks
Mor Maharan is like a political commentary but it also has an interesting script that kept me engaged throughout. Some of the overdramatic scenes could easily have been avoided but even with those scenes, the drama, overall, is much more meaningful and appealing than the done-to-death scenarios we are getting to watch in every other drama. The writer's approach is so far really focused therefore I have high hopes for this one. Also, special thanks to TV One for airing such dramas. If you are not watching Mor Maharan, I highly recommend it if you are tired of watching run-of-the-mill dramas. It gets better with every episode and except for Mustafa Changazi, all the other actors are perfectly suited for every role they are playing.
Do share your thoughts about the drama if you are watching it.