This was another emotional episode of Mujhe Jeenay Du which makes you wonder what happens to girls like Saira in reality when there is absolutely no one who can help them in any way at all. Saira is lucky enough to have at least two people around her who genuinely care for her, they are there to help her out practically and most importantly they make her feel loved. Saira's bhabi and Yasmin have always showered her with love even though they hadn't been able to stop the marriage and could not help Saira continue her studies but even then those caring words and the hugs and kisses Yasmin gave Saira today would give someone like her the strength she needed to fulfill her new role. What happens to little girls like Saira who get married to men who are bigger monsters than Naseeb and have absolutely no one to look out for them? The reality of this sick practice hits you hard every time you see Saira's character on screen.
Naseeb's character is interesting because it shows a different male mentality. Unlike other men around him he knows the difference between right and wrong yet just like all the other men around him his own needs come before everything else. There is a soft and caring side to his personality but at the same time he is quite capable of becoming a monster. His character goes to show how even a seemingly loving and caring man would become a part of the system because his needs come before everything else. He isn't like Saira's father or even like Mohammadu but he isn't like Yasmin either. The difference between Yasmin and Naseeb is that Yasmin is not afraid to stand against this system and for her helping these women comes before everything else. Yasmin refused to go live with her husband in the city only because she feels the women in the village need her. Naseeb on the other hand is more than willing to compromise on his "principles" if that is what suits his own needs. The variety of characters makes this drama even more interesting. I am glad that Naseeb's character is not one-dimensional, it has depth which is why it isn't predictable either.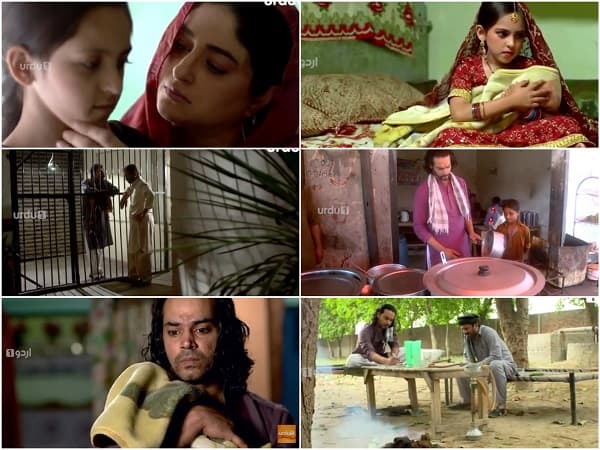 Saira's relationship with her "gudda" and Yasmin's relationship with Saira was yet again the most endearing part of this episode. Saira's love for her nephew is pure, she will do anything for him but she is not old enough to look after a child therefore she is torn between her love for him and her incapability to deal with the situation. Naseeb expected her to cook for her and iron his clothes just like Bushra used to completely ignoring the fact that she was too young to do all these chores. Watching a grown up man like him relying like that on a little girl was just plain disgusting. Naseeb wanted to put the little boy who worked at his tea stand in school but failed to see that the girl he married was the exact same age! Yasmin's presence makes a great deal of difference in Saira's life even though she cannot always protect her. The scene in which she hugs her and educates Saira at the same time was beautiful and poignant scene. The child star playing Saira has done complete justice to her role. The credit for this goes to the director as well because extracting such a brilliant performance from such a young child requires skill. Nadia Jamil owns her role as Yasmin; she is extremely well-suited for the role. Gohar Rasheed has also played his part flawlessly. His character also has novelty to its advantage since he isn't just the bad guy but his character has different shades.
Mujhe Jeenay Du is turning out to be a drama which definitely strikes the right chords and keeps on giving me a reason to tune into it every week.
How many of you watched this episode? Don't forget to share your thoughts about it.