This episode of Mujhe Jeenay Du had some important developments to its credit and once again Mehreen Raheal completely stole the show. She is beyond brilliant as Shaheena; the way she carried herself and the manner in which she delivers her dialogues is impressive, she definitely deserves an award for her performance. Gohar Rasheed is also giving an outstanding performance in this play although he is also playing a role completely different from the ones we have seen him playing in other dramas. The writer of this drama deserves tons of credit for penning down characters which are not black and white. While there are men like Murad, Mohammadu and Saira's father who can easily be termed as stereotypes, there are also characters like that of Naseeb and Shaheena in particular which have tons to offer. Naseeb isn't a bad guy but he tends to lose his temper every time he gets frustrated and he treats Saira like a punching bag in these situations. As long as Shaheena was around, he was happy and he was very kind to Saira but as soon as Shaheena left he obviously blamed Saira for it too and started treating her the way he was treating her before. Also, Naseeb is a product of the system he grew up in. He is a good person at heart but Bushra's loss, his inability to run the house or to look after his son made him do something which he knew was wrong but it seemed like a convenient option. The fact that he was pressurized into getting married to Saira also shows that overall he is different from all the other men around him. He also loved his wife unlike Murad and Muhammadu who fail to see their wives as human beings.
Although the divorce was rather sudden and somewhat unexpected as well but I liked the way Shaheena didn't mourn over the "loss" much. Yasmin was there to comfort her and to give her a reality check as well. It is great watching these women stand by one another although they have very little control over their own lives. There is a definite attraction between Shaheena and Naseeb therefore I am wondering where this track will lead. Mohammadu's reaction was completely in line with his character; instead of taking responsibility for his actions, he decided to teach his wife a lesson by divorcing her!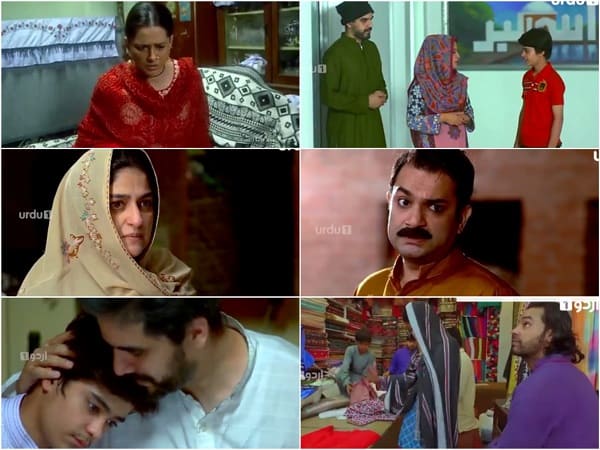 There was a great deal of focus on Shabo in this episode. Even though his father is doing everything he can to make him happy but he feels that his father betrayed him and his mother therefore he finds it difficult to forgive him. Shabo's situation and his feelings are easy to connect to and the writer has also given this child a definite personality. He does not get convinced easily and knows the difference between right and wrong – after all he is Yasmin's son! Saira and Shabo also share a special bond, one which is unbreakable. At this point it would be even better if the story picks up pace and the viewers get to see how things change once all these characters get older. Emaan Sher, the child star playing Saira's character has been phenomenal throughout, her confidence and natural portrayal is impressive.
The overall feel of this drama is very real, it manages to transport you to another world and you can't help but feel for the characters. The preview of the next episode was very interesting. I am waiting to see how Naseeb will react once he finds out that getting married to a minor is illegal. Yasmin will also meet her husband's second wife in the next episode, it is really difficult to predict what turn all these tracks will take in the next episode but I am waiting to find out!
How many of you watched this latest episode? Do share your thoughts about it.