Ohkay so, on a lot of recommendations I decided to give Mumkin a go & I was pleasantly surprised because I wasn't expecting Mumkin to be this good. Writing of Sarwat Nazeer, Direction of Furqan Khan & Production of Six Sigma Productions; Mumkin currently airs on Tuesdays on ARY & is 10 episodes down. Even though I wasn't expecting this but Mumkin turned out to be really good because there are so many things in this drama that work for me. The direction is absolutely brilliant because without over-doing anything, they have shown a lot of characters & their personal relationships to perfection. The plot is quite interesting & the cast has done an amazing job too. I like Mumkin for the fact that even though there are so many characters, everyone gets a due time & coverage & the way their tracks are interlinked makes it a very interesting watch. There might not be a lot of big or star names associated with Mumkin, but there is absolutely no need for any addition in this drama because it is a complete package that will give you a lot to look forward to & will make the drama-watching experience enjoyable.
I liked how they started the plot by showing two girls who were best of friends but were totally & completely opposite to each other & later as the story progressed, they showed how their life kept on getting interlinked & they ended up sharing more relations with each other than they ever imagined.
We have Maira (Sara Khan) who is the only child & the only relation she ever knows & has shared all her life with is of her mother Mehreen (Irsa Ghazal). Mehreen has always kept Maira in a very protected & secured environment because she knows that her daughter is very simple minded & is quite innocent. Mehreen has kept her life very private because she has a lot to hide & that is why she has kept her past hidden from her daughter as she doesn't want it to affect her daughter in any way. There are a lot of qualities that set Maira apart from the rest of the girls of her age because even though she is confident & positive, she is still very child-like.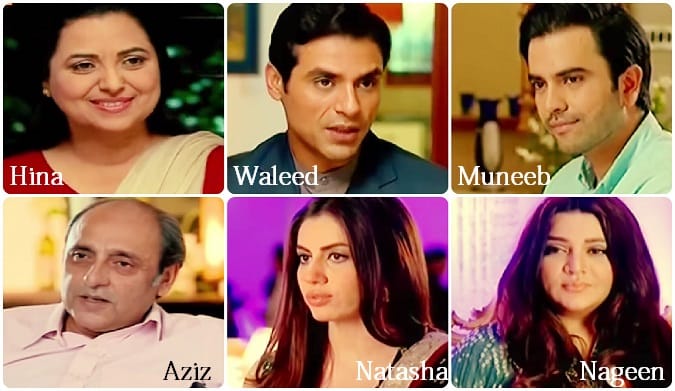 Then we have Natasha (Sadia Faisal) who is also the only child of her parents Nageen (Farah Shah) & Aziz (Sajid Hassan). Nageen is your typical practical woman who treats people according to their status & that is why Natasha takes it after her mother which is why she also doesn't believe in being courteous. She is mean, she is dominating & she likes to have all the attention wherever she goes & the good thing is she knows all this about her because this is what her mother has taught her.
Then we have a family of Hina (Tahira Imam) who has two sons Waleed (Yasir Mazhar) & Muneeb (Junaid Khan). Hina happens to be a sister in law of Nageen but she is a very easy going person & that is why she often lets Nageen run things in her household too. Waleed was engaged to his first cousin Natasha & on a recommendation of Nageen, Muneeb was engaged to Tanya, who happens to be a daughter of Aziz's business partner. Nageen knows that this marriage will bring a lot of benefits to their family business, which is why she persists on getting Muneeb married to Tanya.
The family of Hina experiences the real deal of problems when Muneeb & Tanya start to have a difference of opinion. Tanya being born & bred in UK demands Muneeb to settle down in London after their marriage, which Muneeb refuses to do as he doesn't want to leave his mother at all. Natasha always depends upon Maira for everything as she knows that Maira is a very easy going person & she doesn't involve herself much in intricacies, therefore, Natasha remain friends with Maira as she can boss around Maira & keep her wrapped around her finger without having to worry much about what Maira would think or feel & actually Maira has such a high opinion & regard of Natasha that even when Mehreen tries to warn her about Natasha, Maira chooses to ignore it completely.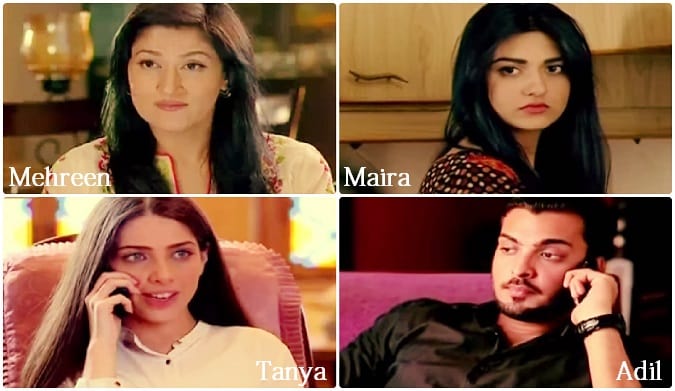 Maira gets introduced to Natasha's in-laws on one of the pre-wedding get togethers & the moment Muneeb meets Maira, he feels attracted & connected to her. After coming across a few indecent pictures of Tanya on her Facebook profile, Muneeb decides to call it quits because he can easily foresee that both he & his fiancée are two different people who are not at all compatible to each other. Muneeb then starts taking interest in Maira but when Nageen tells Natasha the main reason behind getting Muneeb married to Tanya, Natasha makes sure to brain feed Maira against Muneeb so that she doesn't accept his proposal.
Just because Natasha tells her, Maira half-heartedly decides to get engaged to her family friend Adil (Asad Siddique) who actually likes Maira a lot. Maira thinks by doing this she will be able to keep Muneeb from showing interest in her but Muneeb understands it pretty well that Maira is only faking an engagement. Adil comes across Tanya on Natasha's wedding & being an opportunist, just because Tanya promises to get him settled in UK, he backs off from his engagement & decides to get married to Tanya. Muneeb then grabs the opportunity & introduces himself to Mehreen to let her know that he is interested in her daughter; Maira & wants to get married to her. This is how they get married & now the story has gotten a lot more interesting because a new person has emerged in Maira's life that she thinks of as a father figure to her & now she has to find out that he actually is her father.
Even though Mehreen has stayed calm & composed all these years & has stayed focused because of her daughter, she is often seen reminiscing about how her husband left her in the lurch & for that she is often seen heart-broken. Aziz decides to give Natasha a surprise by showing up on her wedding & immediately after that, he gets to attend the Nikkah ceremony of Muneeb & Maira, that is when he comes across Mehreen & realizes that Maira is his daughter as Mehreen was his first wife. From the person he seemed in the reminisce scenes to a person he has become now; he came across as a lot more courteous & apologetic towards Mehreen becasue it looks like he has understood Mehreen's value & importance while he was away. He wants to make things right & he wants another chance because he wants to let Mehreen know about what happened back then that he couldn't return to her & he can do that because he never divorced Mehreen & was still married to her when he left for UK which makes Mehreen his lawfully wedded wife till date for sure. Maira has never known much about her father because Mehreen chose not to share much with her & instead told her that her father died when Mehreen was expecting Maira, that is why Maira feels drawn towards Aziz as she respects him like a father. After seeing Maira & getting to know how loveable she is, Aziz lets his fatherly instincts rule him & because of both Mehreen & Maira, he decides to stay in Pakistan for a while.
This is what has happened till now but I must say, the way the story is being told is commendable. It was probably around the 6th episode or so when I guessed that Aziz would be Mehreen's husband & Maira's father & I was actually pleasantly surprised to see that happening. I am glad that once Maira will get to know the truth, she will get all the love & support she has ever dreamt of. Even though the way Aziz vanished & banished Mehreen from his life, makes him a bigger culprit but the way he projected himself now goes to show that he has regretted that decision every single day of his life, for the past 20 years.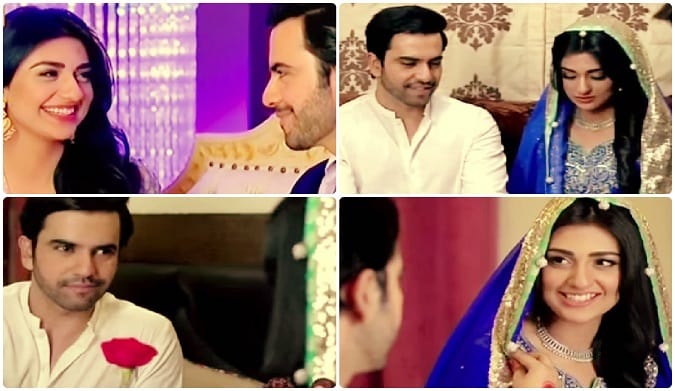 I must say I am totally impressed by Sara Khan's acting here & in fact all the actors fit so well in their respective roles that they make this drama a complete success for me. I love how calm Mehreen is, I love how positive Maira is & I must say Sadia Faisal has done an amazing job as an irritable spoiled young girl. There are so many shades in every character that you can easily understand them. Tahira Imam once again takes the crown for playing the role of an adorable mother to perfection & oh I must say, Farah Shah has done a commendable job in portraying the negative role of Nageen so effortlessly. I must confess, it's for the first time that I have liked Junaid Khan in any drama. He should go for more such roles where he gets to be a positive & caring person. I absolutely love seeing Sara Khan & Junaid Khan together because their chemistry is amazing & they make a great on-screen couple. There's something so special while watching these two together in this drama that I actually find myself smiling during their scenes together. I enjoy watching Mumkin for the fact that even though each & every character has a dominant personality trait in them, their different reactions at times often show us the other side of them too which is actually quite appeasing.
In my case, I'd say 'better late than never', so I am really glad that I decided to watch Mumkin before it ended & yes, I will be reviewing it on weekly basis from now on. Share your thoughts about Mumkin please & let me know how much are you guys enjoying watching it. :)
Keep Supporting,
Cheers,
Zahra Mirza.
ps: Please stay tuned for an overview of Jugnoo as well & then the weekly reviews will follow too. ;)