Hmmmm, this episode was slow too but I don't mind watching Mumkin after Diyar-e-Dil, at least it isn't as heavy as the latter, but I really think they should move the story forward because it's been a while since they have revealed that Mehreen is Ahmed's first wife & Nageen has picked up on some hints, but other than that they haven't shown any progress in the story.
Maira & Muneeb really liked Kamran but I find it a bit amusing that without even Mehreen's consent they not only met him but also gave a heads up to him. Maira should know that Mehreen never really bothered getting married because if she would've wanted, she could've gotten married when she actually needed someone to depend upon while Maira was still a child, so now when Mehreen has lived all these years alone, how can she decided to get married to a stranger all of a sudden just because Maira wants a daddy? I think Aziz has already become a father figure to Maira so she should settle down for that.
I am glad that Aziz came back to his home because that whole get up of the bandage on his round head left me hysterical because he looked like a Pakistani version of the Vatican Pope. I mean what were they thinking? If they wanted to show the signs of his wounds, they could've used some decent dressing for it but I don't know if it was Sajid Hassan himself or it was the placement of the bandage that was funny.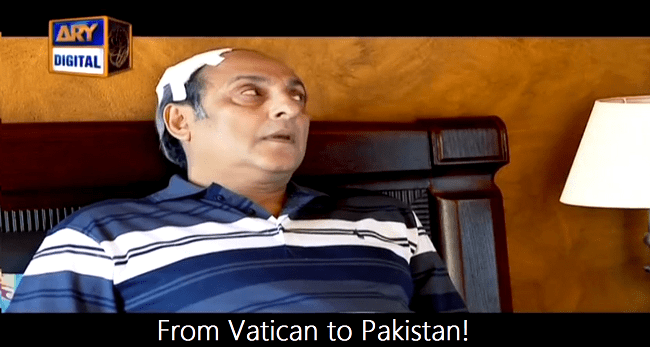 I must say if Waleed sacrifices half the time he does on makeup, for Natasha, she wouldn't be having so much of complaints about him being MIA from her life. It is obvious, Natasha is a newly married girl too & I don't think her demand of Waleed paying a tiny bit of attention to her or her ill father is unreasonable. Waleed himself doesn't want Muneeb to become too involved in the business so he should inform about it to Nageen because the way she taunts Muneeb of not paying attention to the family business sounds unreasonable. I am glad that Natasha has somewhat changed after Aziz's accident.
I think instead of just sitting around & making assumptions, Nageen should start tailing Aziz whenever he goes out because it is important for her to find out the reality & I really hope it happens soon because that way the story will move forward. Once again, I was shocked to see Maira & Muneeb dignifying that hideous bedsheet in one of their scenes. I really wish they get rid of it ASAP. Anyways, this is it from my side; please share your thoughts about tonight's episode of Mumkin.
Keep Supporting,
Cheers,
Zahra Mirza.