Muqabil has it all; a strong script, performances which leave you in awe and skillful direction. Although this episode did not cover what Shah Sahab said to Mahmood after he confessed to him but even then the scenes which covered Pareesa and Arman's track in particular were beyond exceptional. For the first time the viewers are watching a very realistic perspective of a rape survivor trying to have a normal married life not because of societal pressure or due to loneliness but because she found the ideal partner. Pareesa has been shown as a girl who lost a great deal when she was violated and she held on to this ugly experience for all these years but she was always capable of loving. She was shown showering Nadia with unconditional love and her relationship with her flowers also showed her sensitive and loving side. Pareesa tried to take a step to get close to Arman and this huge step forward was extremely convincing because Arman had done what it took to earn Pareesa's trust and even love. Arman and Pareesa's characters are etched-out brilliantly and their circumstances make their story even more enticing. Mohsin Abbas Haider deserves to be praised over and over again for an outstanding performance. He was the perfect choice for playing this role. Kubra Khan also owns her character and brings out the best in it. The scenes which show the sensitive and loving side of Pareesa have also been written and directed very well. Even though her brother wasn't there for her when she needed him the most but even then she gave him all his money, which once again showed that she was quite capable of loving.
The change in Shehnaz's personality and her attitude towards those around her was also the kind of character development which makes this drama even more interesting. Unlike many mothers we have seen on television very often who never realize that they need to change themselves in order to be there for their children, Shehnaz finally understands this and was shown playing with Nadia and going out of her way to be nice to Arman because she feels she needs to do it in order to please her daughter. Arman's conversations with Pareesa's father were also penned down perfectly and directed and acted out in such a way that they appeared quite realistic. One of the primary reasons why the viewers have no issue connecting to all the characters and happenings while watching this play is that everything is close to reality. The fact that people change with time is one of the most important aspects of real life but one which is ignored in many dramas. Character development which is convincing always makes a drama more interesting. The fact that it is impossible to predict what turn the story will take in the upcoming weeks makes Muqabil the kind of drama which keeps you at the edge of your seat.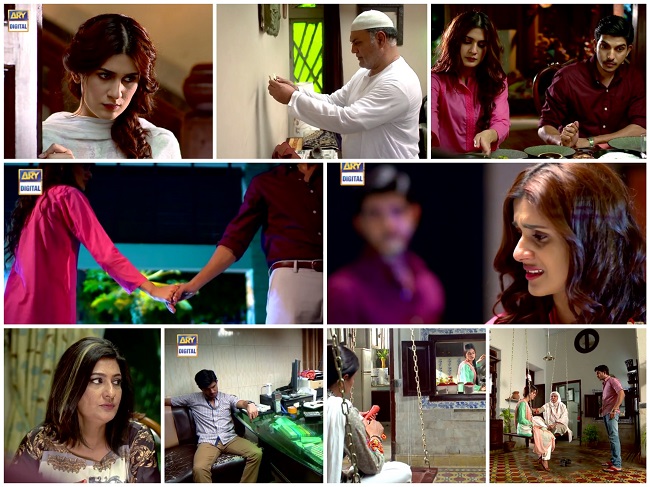 Shah Sahab apparently decided to help Mahmood out with his problem and watching him trying so desperately to make things easier for his son went to show how important it was for him to see his son happy. Mahmood's children are his assets and if Pareesa tells them the truth then he will lose them forever. My favorite scene from tonight's episode was when Arman reassured Pareesa that he was going to stand by her and he was not going to back out of this relationship. The best part about this scene was that Arman also shared with Pareesa just how used he felt but at the same time he vowed to make this relationship work. Arman's mature character and Pareesa's practical yet sensitive attitude made this scene phenomenal. Also, the dialogues were simply brilliant; deep and meaningful. This was the kind of conversation which you remember for a long time.
Overall, this episode was simply brilliant just like all the previous episodes of Muqabil. Muqabil is turning out to be one of my favorite dramas this season and I highly recommend it to all those people who are not watching it. Shaheen Khan also did not scream a lot in this episode, which was great! The preview of the next episode showed Pareesa telling Arman the truth. I can't wait to see how the story unfolds from here on. Watching that scene in the preview gave me goose bumps!
How many of you watched this latest episode? Do share your thoughts about it.