Tonight's episode was intense with some superbly executed scenes to its credit. The director has made the most of natural sunlight and he has also made sure that the different colors used in all the scenes make every scene more visually pleasing which definitely helps since otherwise the overall feel of the play could have been too dark and depressing. For the first time the viewers are watching a play in which the victim is all set to damage the person who violated her in a way we have never seen on television before. Now that Pareesa and Mehmood's past has been revealed, it remains to be seen how the story will be handled from here on. For all these years Pareesa was waiting for an opportunity which would be perfect for making Mahmood's life hell. Once she is married to his son, she will be a permanent part of his life. Pareesa has also been shown as someone who is so damaged because of her parents' neglect and the way she was violated in her childhood that she just does not care any more. The way Pareesa takes care of her servant's daughter clearly shows that this is how she feels every little girl should be taken care of.
Mohsin Abbas Haider yet again was beyond impressive in this episode. Arman's character is also one of a kind. It isn't very often that we see such grounded men his age in our dramas who know exactly what they want from life. Any other man would have jumped at the opportunity of getting married to a girl like Pareesa but Arman knows his "auqat" only too well. His dialogues about how he was brought up in that house and the way he was made to feel were excellent. Mohsin Abbas' body language was simply amazing in all the scenes. His performance is just as impressive as that of Asif Raza Mir which is truly remarkable.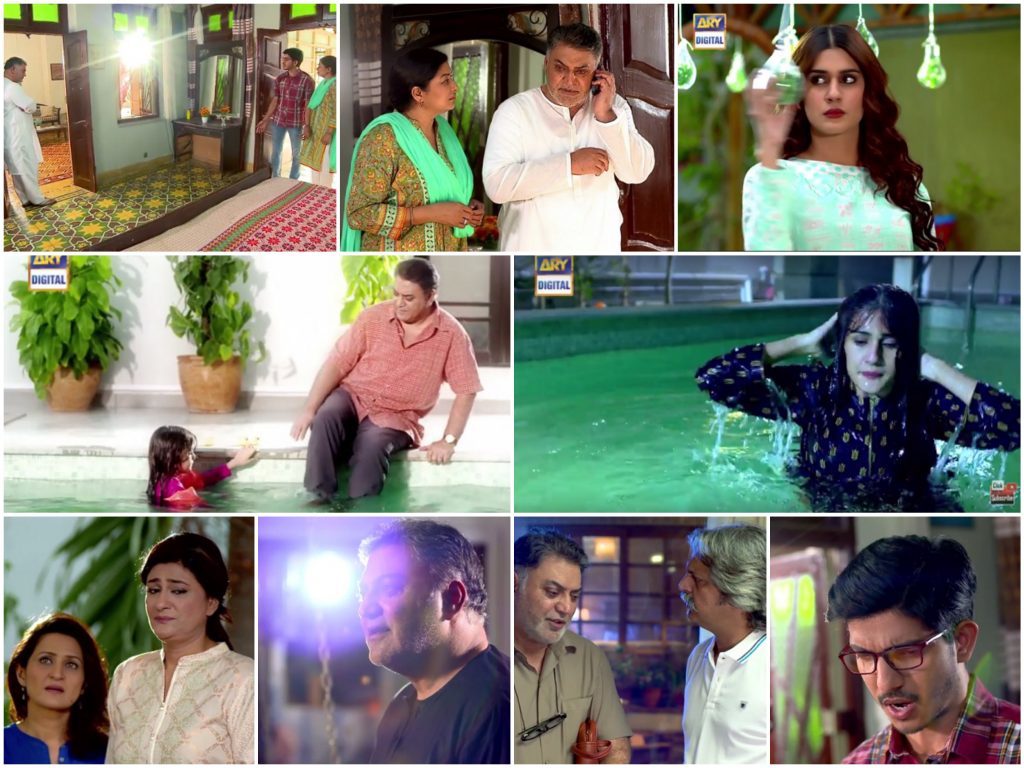 Mehmood's conversation with Pareesa showed that even today he is not ashamed of what he did to her. He actually used his terrible actions to dissuade Pareesa and that too in a threatening manner. This scene showed that although he was shown as an upright man but he was the exact opposite. So far the viewers had seen a very calm and polished side of him but his expressions when he threatened Pareesa said a great deal about what kind of a person he really was. Asif Raza Mir completely nailed that scene with those expressions! Kubra Khan has also translated a difficult character on screen impeccably. The hatred which Pareesa has been living with all these years is quite evident from her expressions. The scene in the pool was daring and creative, it was one of the best scenes of this episode.
Pareesa's mother continued to act like she was in competition with her daughter and watching her behave like this makes it easy to understand why Pareesa could never confide in her. Although Pareesa's father has been shown as a caring person but he has little or no say. While watching tonight's episode I felt for Arman just as much as I did for Pareesa. He is definitely collateral damage and he has no clue why Pareesa is putting him in this situation.
Just like every other episode of Muqabil this one too had a mysterious feel to it and it also had some amazing performances to its credit. Kubra Khan, Mohsin Abbas Haider and Asif Raza Mir's brilliant performances coupled with skillful direction make Muqabil a must watch. I highly recommend it to all those people who haven't watched it yet.
How many of you watched this latest installment? Do share your thoughts about it.