What I absolutely love about Muqaddas is that all the characters are well-etched out. They all fit in, and they all have a reason for being in the story. Muqaddas has no unnecessary tracks involved.
Akbar always has a plan. It's surprising how quickly he cooks up the best solution to any of Ruhi's problems. This time, the problem was Muqaddas's stubbornness. She wasn't ready to return to the house until Aatir brought her kidnappers to justice and Ruhi thought that the only way to kick Muqaddas out of Aatir's life was to first bring her back. The plan was almost perfect. Using a patsy to make Muqaddas think that her kidnapper had been caught.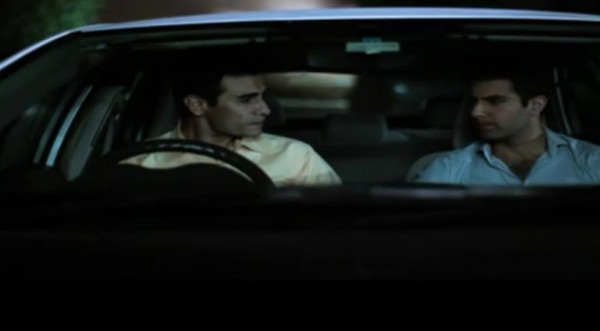 Aatir wasn't too sure of the plan until he heard Muqaddas talking to Jahanzaib (her father) about how she was afraid of going back to the house from which she had been kidnapped and requesting him to wake up and convince Aatir to stop trying to take her back. Aatir figured that the only way to change his wife's mind was to follow Akbar's plan. The patsy was arranged by Zain and as expected, it was Babar.
Babar and Irum's relationship was on the rocks after Babar refused to tell Irum exactly what he did for Zain, i.e, scaring Muqaddas at night (that too in her own room). Her constant requests didn't make him spit it out and so, she tried a dhamki. If Babar wasn't going to tell her the truth, would Zain do it? Or would Aatir do it? Unfortunately this dhamki made Babar think he had to stop her by all means.He was too afraid of Zain to let Irum inform any part of the truth to Aatir. Thus, he locked her in a room. Poor Irum wasn't expecting such a response from the man she loved!
It was only after Zain's second visit, however, that Babar realized what trap he was walking into. What if the police actually imprisoned him? He'd have no way of saving himself. But refusing Zain on his face was not something Babar could do (Zain had even offered him safe haven in Dubai). When Zain left, he let Irum out of the room. Now no woman would ever forgive a person who locked her in a room for a whole day (even if he ordered pizza for her) but for Irum, Babar is her whole world. She loves him a lot and that's why Babar's apologies were easily accepted by her. Babar also knows that Irum is the only sincere person in his life, so he could only discuss such a matter with her. He told her exactly what he had done, and what Zain wanted him to do. He decided that Zain needed him, and him and Irum needed each other. He would take Irum with him to Dubai and in case Zain actually let the police catch him, he would tell everything to Aatir. That was his backup plan.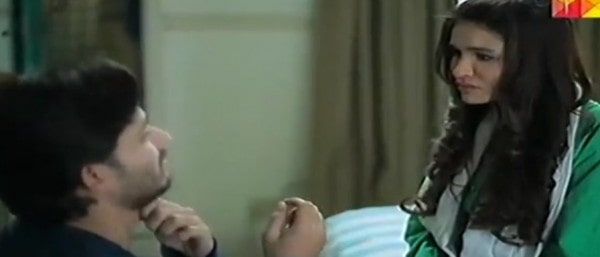 While all of this was being planned, something unexpected and very interesting happened. As we already know that Muqaddas did not see her molester. She only saw the maid, but she did hear the voice of a man who called himself "hukum ka ghulam". When the kidnappers drove her to Aatir's house, she noticed a band and chain on that man's wrist. So during the drive from the hospital, Muqaddas recognizing that man at the signal was believable but the way she screamed "Yeh wohi aadmi hai" was……not so believable. She did the same thing when she saw the maid at the hospital a few episodes ago and the maid ran. The man (whose name has been revealed to the viewers as Shaukat) did the same thing and drove away at fast speed. The whole chasing scene was remarkable. It was thrilling and I really enjoyed watching it, so kudos to the director and the actors who were involved.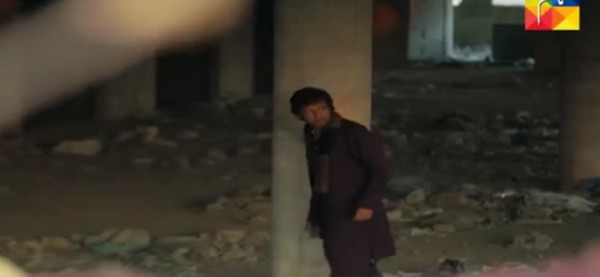 When Muqaddas and Muhib came home and Tehreem got to know of this, her reaction was anger. However, she soon thought of the situation Muqaddas was in. She is expecting and before anyone got to know of this, something had to be done. Unfortunately, according to Ainee, the case is "complicated" and terminating the pregnancy will put Muqaddas's life in danger and so she put forward the suggestion of sending Muqaddas back to Aatir's house. Woh apne bacche ko Aatir ka hi samjhe. I felt sorry for Tehreem that not only did she have to send her sister back to the house before the kidnappers had been caught, but Muqaddas got the wrong idea. She thought Tehreem only made her go back so she could go back to Zameer's house.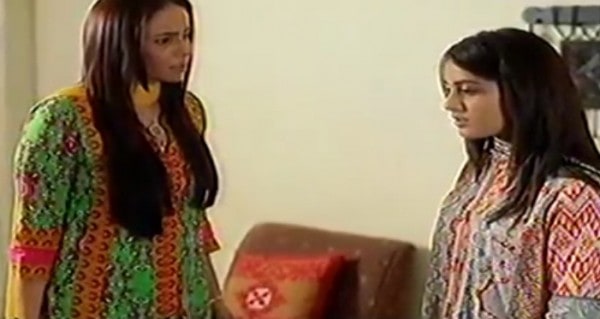 And then came my second favourite scene from this week. We got to see our masked perpetrator once again. After what he did to Muqaddas, I cannot wait for him to be revealed and get punished  and that too very severely.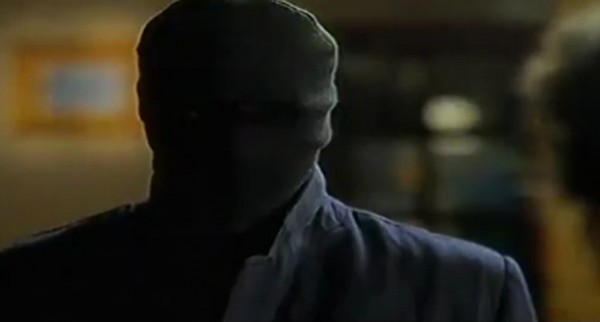 I must say that the scenes between Muqaddas and Aatir post-return with the OST playing in the back ground were nicely done. I am totally in love with the lyrics and Shuja Haider has done a great job! As one of the readers also mentioned, the OST itself is a clear message. I think has been written from the perspective of the masked man and tells the tale of his obsession with Muqaddas.
So the day of the showdown between Muqaddas and her (fake) kidnapper came and on the very same day, Muqaddas found a gun, yes, a gun in Aatir's drawer. I was surprised that she didn't ask him about it. Khair, that weapon (almost) came in handy when Muqaddas saw Babar. When she recognized Babar because of his eyes, I screamed "I knew it!" because it is very easy to remember a person with coloured eyes.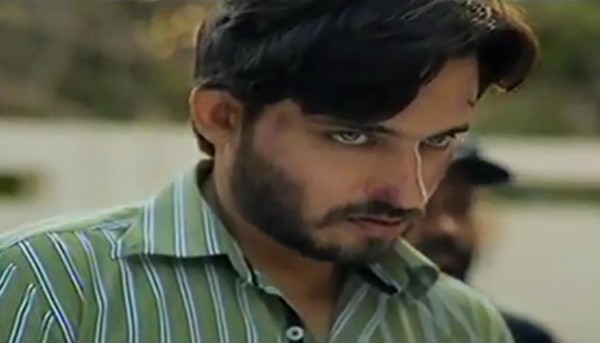 However, Muqaddas's reaction seemed unusual to Aatir and that's why he didn't let Babar go. After giving it some thought he figured out why Muqaddas was so violent towards the man who wasn't even her real kidnapper. He understood that Zain had to be involved in the second kidnapping attempt. Zain was in deep trouble but this trouble could have came earlier if Kabir had came forward with his info. What kept him quite for all these days? His reaction after Nida told him that Muqaddas's kidnapper had been caught was weird too.  Kabir's getting on my suspect list again and as I have mentioned before, the OST points towards a man who is very much obsessed with Muqaddas. Kabir sounds good to be the kidnapper but that would be predictable, won't it? I would love for the kidnapper to be someone we least expect to be.
Even though Muqaddas was still adamant on finding the other kidnappers (Shaukat and the maid) she realized that Aatir is sincerely trying to find them. She apologized to him for being stubborn and was excited to be his bride again. Her happiness didn't last long and that very night she realized that she was pregnant. The valima ceremony was spoiled for her already and Jia only made it worse with her taunts. As if Ruhi wasn't enough for them! There was only one way to make the ceremony worse, and voila, the fainting did the trick.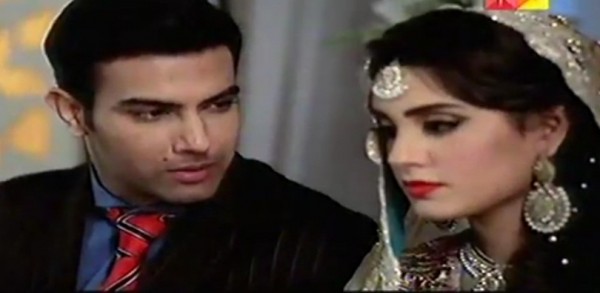 Shaukat's mother-in-law had to save her daughter from her husband's tyranny. She decided she would no longer let Shaukat mistreat her daughter and will not hide his crime. Paying a visit to Aatir's house was a great idea but the timing was terrible. Since everybody except Akbar was at the ceremony at the time, he got to know the whole story. Let's see what plan he will cook up now.
These three episodes were more than enjoyable. I love the way the story is unfolding. Thank you Adeel Razzak for writing such an interesting drama and thank you Ali Masud Saeed for directing it so well. All the actors connected to the project have done a splendid job. Especially Iqra Aziz has surprised me with her natural acting skills since she is a new comer.
What did you guys think of these episodes? Do share your point of view :)
Areeba Mohsen