Tonight's episode of Mushk marked a new beginning for Guddi and Adam. Adam is finally falling in love with Guddi and the writer Imran Ashraf deserves credit for taking this track forward in the most convincing manner. The old school romance between these two made me forget that we are living in an age where most of the communication is done through mobile phones! Most of us were waiting for Adam to fall for Guddi and we were also wondering how it will eventually happen. Gradually, Adam started to see beyond Guddi's tough exterior and fell in love with that side of her personality that is hidden from the world. Other than their track, Zulekha's husband's track is getting interesting. Has Guddi unleashed a monster? Hassan Ahmed was especially impressive tonight since his demeanor was such that there was reason to be scared of him. Zulekha was perhaps saving everyone around him by making sure that he did not have the strength to cause more harm. For the first time, I felt that she wasn't so wrong after all and perhaps she was doing everyone a favor! Mehak and Shayan's track continues to be a snooze-fest; even with all their helplessness and bechargi, I find it impossible to feel for them!
The Outcome
Tonight's episode for the most part covered the outcome of the journey which was supposed to be the beginning of a new life for Mehak. However, it ended up being an eye-opener for Adam. Adam has always been shown as a sensitive and loving individual therefore he immediately reconsidered his opinion about Guddi after watching how her mother treated her. For the first time, he saw how helpless Guddi was even though she looked like she was completely in control of her life. Since Adam is a wise person, he instantly realized his mistake. He started sharing how he felt about Guddi right after her meeting with her mother. This trip, therefore, played a vital role in bringing Adam and Guddi closer together. Guddi's love for Adam was defined and explained so well in all of the conversations these two characters had. For a change, there is someone in Adam's life who wants to make him happy the way he had tried all his life to make Mehak happy. The fact that Guddi is really honest about who she is and her feelings for Adam makes her character more likable. She judges herself just as neutrally as she does others around her. Her understanding of who she is has been crucial in making the viewers understand her character.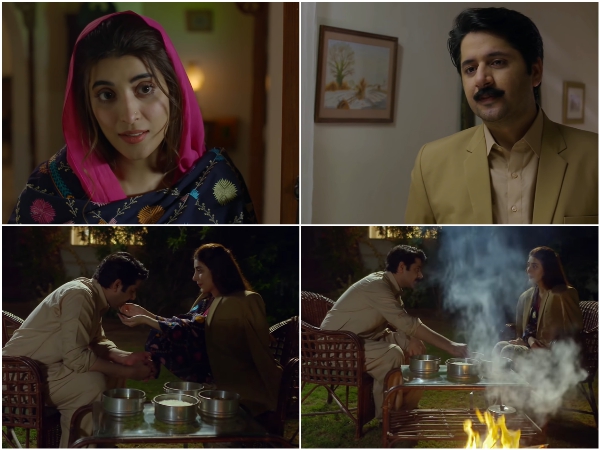 Imran Ashraf and Urwa Hocane's performances and their on-screen chemistry made their scenes a treat to watch. Both these characters deserved to be loved since they have spent their entire life trying to please others therefore all of us have a reason to root for them. Adam's honest apology and the surprising expressions on his face every time he looked into Guddi's eyes suggested that he was indeed falling for her. For a change, Adam and Guddi were not talking about Mehak even though she was going through the most difficult phase of her life. They were both more eager to find out more about each other and share how they felt. There was a certain degree of shyness and a lot of reluctance but at the same time a definite attraction between Adam and Guddi.
Monster Unleashed
Zulekha's husband set out to look for Guddi the minute he was on his feet. He decided not to kill his wife since that would have been an easy death for her. His negative side was unleashed in such a way in this episode that it was almost impossible to believe that this was the same helpless person who was laying on the bed begging for every little thing a few days back. Will Guddi regret her decision? Will she turn to the doctor yet again for help?