Writer: Nabeel Qureshi & Fizza Ali Meerza
Director: Nabeel Qureshi
Producers: Fizza Ali Meerza & Mehdi Ali
Cast: Fahad Mustafa, Mohsin Abbas Haider, Javaid Sheikh, Hania Aamir, Urwa Hocane, Marina Khan, Saleem Mairaj, Nayyar Ejaz & others.
I am going to be honest, I did not have high expectations from this film especially because of the trailers more than anything else. I was definitely not expecting to be thoroughly entertained and did not expect to laugh hysterically for most part of the film. The trailers and even the songs did not do justice to a film which has a solid screenplay and is shot so well that at times you forget you are watching a Pakistani film. This film definitely has more highs than lows. The characterizations of the three main protagonists are brilliant, their interactions (for the most part) enjoyable and some of the dialogues are remarkably witty. Fahad Mustafa, Mohsin Abbas Haider and Javaid Sheikh own their characters completely right from the get-go and in this sequel are more improved versions of their respective roles. Shakeel's (Javaid Sheikh) is definitely the most enjoyable one among them all.
What I absolutely loved about this film was that it is a side-splitting, all out comedy. The writers do not hold back at all but at times they even go overboard. One aspect of the film however which did not appeal to me and which wasn't even needed was the excessive use of foul language, the F word (although muted) is used number of times and there are plenty of other scenes in which the crass jokes are added unnecessarily. The toilet humor makes you cringe a couple of time but there are plenty of scenes in which it is tolerable and even hilarious!
The plot of the film is also unpredictable, the writers couldn't have given the viewers a more solid entertaining plot. It is however not logical; since this is a comedy film therefore I feel it is unfair to decipher every tiny detail based on logic! I must say that it is one of those very few Pakistani films which has a solid and well thought out storyline which went well with the theme of the film. Like other films written by Nabeel Qureshi and Fizza Ali Meerza, this one too highlights the trials and tribulations of the common man residing in Karachi in particular but the script on the whole will be relatable for any Pakistani viewer since the issues faced by every Pakistani are the same. It addresses class difference and much more. Watching Marina Khan act on the big screen after a long time was an absolutely delight. Nayyar Ejaz is brilliant as Sultan al- Baklawa; it has to be one of his best performances. Saleem Mairaj and the actor playing his companion were absolutely brilliant in their respective roles.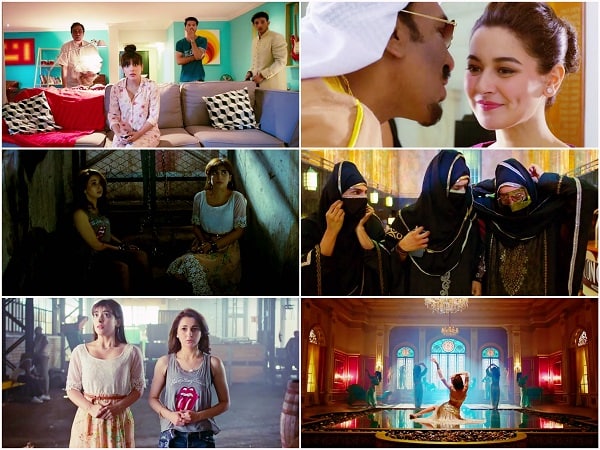 Na Maloom Afraad 2 can easily be termed as a film which is fun and also an impressively "stylish" film which is visually stunning as a whole. The biggest shortcoming of the film is that it failed to include the talented female leads in the story effectively. Like Actor In Law and Na Maloom Afraad, this one too relegates the female characters in the background and does not really incorporate their characters properly in the story. This is especially sad because Hania Aamir and Urwa Hocane both have given remarkable performances even though their characters have not been explored properly. Both the actresses were even excluded from the songs, which I felt was rather unfair because they deserved more screen time. Instead of showing Sadaf Kanwal's item number, they could have been part of a song which took the story forward in some way. The song "Chal Hug Ley" was also a disappointment because the girls in bikinis could not dance and their bare bodies were supposed to be the only attraction. I definitely expected better from a director like Nabeel Qureshi at least in this context. Urwa Hocane dances so well and Hania Aamir I am certain could have shown her dance moves too if she was given a chance to do so. The songs and the way they were shot was the biggest disappointment in the film.
Overall, I would give this film 3.5 out 5 and recommend it to anyone who does not mind a few jokes which are in bad taste. This film will make you laugh especially if you watch it with a friend. Even with a few shortcomings, you will leave the cinema hall happy because NMA 2 is definitely an entertaining film. The styling, makeovers and the cinematography give this movie a unique and modern look. Nabeel Qureshi's creativity reflects in many scenes and I especially liked the scene which came before intermission. The background score is also highly impressive. This film has a completely different flavor from PNJ therefore if you enjoyed one, you should definitely watch the other. Those of you, who like me found the gold commode repulsive should go watch this film as well, you won't be disappointed! There is more to that commode than meets the eye ;)