Ohkay so, the production of iDream Entertainment, writing of Edison Idrees Masih & the direction of Sarmad Sultan Khoosat; Noor ul Ain, a highly anticipated drama commenced tonight on ARY Digital. The first episode set the base for a full-on love story in a most quirky & amazing manner & I must say, I am impressed!
Noor (Sajal Ali) belongs to a middle class family where she has her father Qasim (Irfan Khoosat), mother (Tahira Iman), a sister Sofie. Noor's paternal uncle Sajjad, his wife Ghazala (Iffat Omar) & their son Kashi also live with them but in a seperate portion. Khizar (Imran Abbas) comes from an affluent family & being the only son, his mother (Marina Khan) has high expectations from him, so much so that it has even strained their relationship but Khizar's mother doesn't believe in giving her son the edge to just be!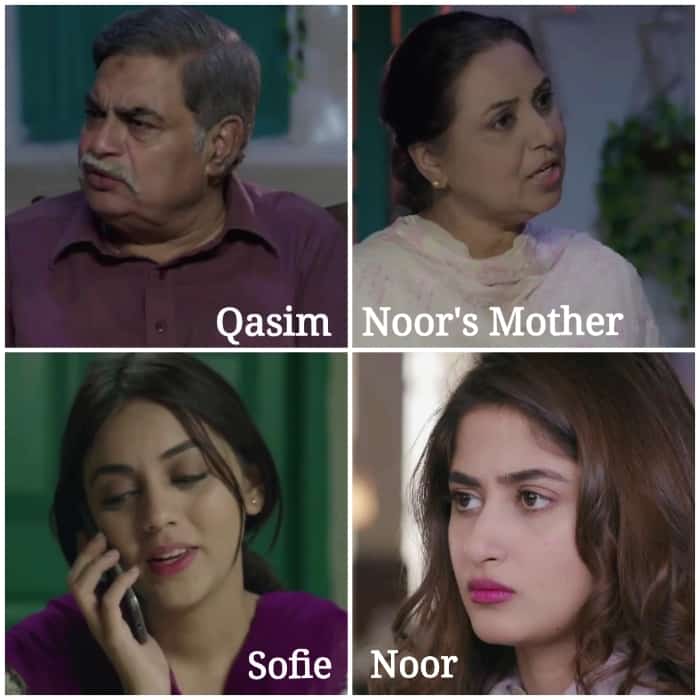 Noor happens to be a confident & a present minded girl, that is why she knows how to bring herself out of any situation. Even though Noor knew that it was due to her mistake that she & Khizar had an accident but she just didn't show any signs of guilt to acknowledge her mistake. Khizar on the other hand may have left such an impression on Noor that he was easy to fool but in reality, he was just giving her the edge to feel like she had an upperhand, as he immediately understood that she was kind of tricking him into believing that he was at fault. I loved the very first interaction that Noor & Khizar had, it effortlessly showed that they were two very different people who came from different backgrounds & had different personalities!
I must say, I really liked Ghazala's character. Since Noor's mother is typically a skeptical parent who only voices her concerns about what could go wrong, that void in Noor's life is filled by Ghazala who despite being her chachi is more like a friend to her & supports her no matter what. For a brief moment, it was suggested that Ghazala spoke against Qasim & how he was treating Khizar but then again, it didn't seem odd. Since Ghazala has no life of her own due to her husband's medical condition, Qasim & his family are the only set of people she has in her life so basically, they are the only people for whom she gets to display her good & her bad side both. Even though Ghazala smiles from the outside but she has a lot of struggles to deal with, so I kind of found her behavior realistic & it made her seem very human!