This episode took the filmi feel of this play to a whole new level! Hani and Saad have to be one of the best on-screen couples we have seen in our dramas this year since their story is unlike any other and some of the scenes have never-seen-before written all over them. Many of these scenes don't have a lot of dialogues but they are crucial to the plot. Every episode of this drama has at least one such scene which must have been really difficult to translate on screen yet the director has shot these scenes so well that they work every single time. The scene in which Hani and Saad cried after years of keeping the promise they made to each other was one such scene in tonight's episode. The story is getting even more interesting with every passing episode and like every other play written by Faiza Iftikhar, this one too is highly unpredictable.
Tonight's episode had some really important developments to its credit. With this episode Hani's character took a new turn and Saad helped her in a way no one else could. The fact that these two have been connected to each other since they were children gives this love story a background different from any other we have seen in our dramas. Although Bin Roye dealt with a similar love triangle but the characters and the story itself never had the same appeal as this one. Irtiza and Saba didn't have the connection or the relationship dynamics which Hani and Saad share. The way Saad's character has evolved in all these years has been one of the best parts of this track. Although Saad's character never lost its appeal even when he was desperate to break Hani's engagement with Salar but right now Saad's character is more likeable than ever. Saad always felt the need to protect Hani even when he was a little kid therefore no matter what he has gone through over the years this desire to save Hani from any kind of harm has remained constant. The flashback scenes were once again used effectively in this episode and these scenes also made the difference in Saad and Hani's outlooks even more prominent. The credit for this goes to the make-up artist and the director as well who gave Saad especially two very different looks. Since Saad was only a young boy when Hani got married and now he is a grown man therefore it was really important that this difference in age and maturity reflected in the way he looked too and not only in his personality.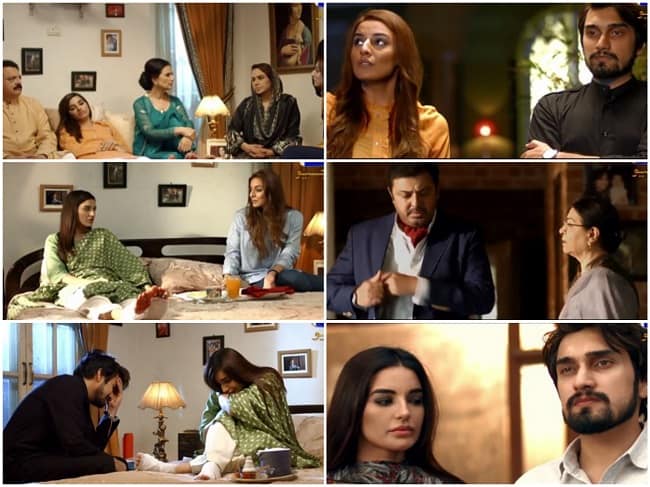 Saad's mother did whatever she could do to persuade Hani to go back to her husband and if it wasn't for Saad's support she would have eventually given in to the pressure. Mahpara's support has been the most refreshing aspect of this entire development. Unlike before I look forward to her scenes and I am waiting for the time when she will have a one-to-one conversation with Hani about her take on this entire situation. Salar's reaction when he heard that Hani had been crying was also covered in a manner that it couldn't go unnoticed. This was another scene which was short yet meaningful. All of Salar's scenes showed he had absolutely no remorse and he still thought he was entitled to do whatever he wanted to. Tania's role in this entire situation was also positive and her character is turning out to be a likeable one. She is different from all the other characters because her perspective is more practical. Although the actress playing the role has a long way to go but the character itself has a lot going for it.
Uzair Jaswal, Nauman Ijaz and Sadia Khan's performances yet again were right on point in this episode but the script and the direction have to be the clear winners here. So far, the direction has been absolutely brilliant and the dialogues and situations have been extremely powerful and emotional.
The preview of the next episode showed that Salar will finally go to Hani's house to take her "home" with him. Hani's reply and Saad's reaction made it look like Hani won't go back with him but it is impossible to predict what turn the story will take from here.
How many of you watched tonight's episode? Don't forget to share your thoughts about it.