Oppo F7 Price in Pakistan is at Very Nominal Rates of PKR 33,000, which is even lesser than the Oppo F5. Oppo is known to create smartphones which have considerable emphasis on camera quality. Oppo tends to change the game around selfies.
The Oppo F7 launched about last year in 2018 in Pakistan. It was launched a year after the Oppo F5 continuing their F series after the successful launch of F3, F3 Plus and F5. Although The Oppo smartphone looks a lot like an iPhone in terms of the sim slot design and outlook, it comes in at a very cheaper price.
With new and improved camera quality and screen display, Oppo manages to carry on the legacy with their Oppo F7 aswell.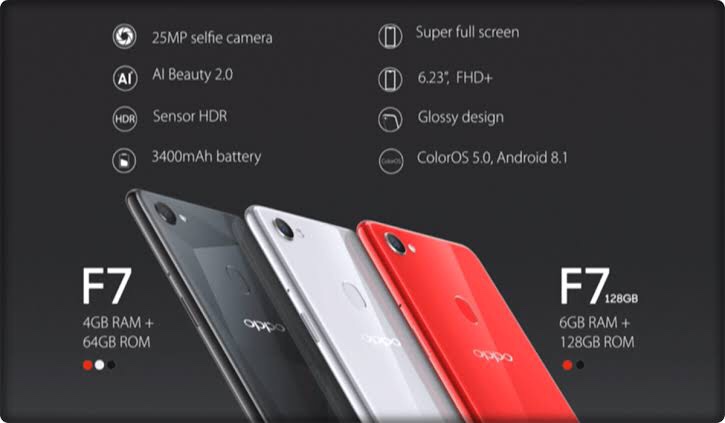 The Oppo F7 has a full vision display which has revolutionized many smartphones in the past while supporting new and improved technology and also comes with a Corning Gorilla Glass 5 technology which protects phones from breakage upto 80%. The screen of the phone is 6.2 inches and has multitouch and capacitive touchscreen technology.
Just like the Oppo F5, the fingerprint sensor of the smartphone is rear mounted. The scanner is fast and responsive by just one quick tap.
The camera quality of the Oppo F7 is even better than the F5, with the front camera now being 25 MP as compared to 20 MP in the Oppo F5. The camera will focus on sharp quality selfies with beauty modes and also has wide angle lense for landscape photography. The back camera of the phone is still 16 MP with LED flash and can auto focus on images you wish to capture. With HDR mode, beauty mode, panoramic mode you can get sharp and crisp photographs on the go. The new camera also offers geo tagging, touch focus and face detection features.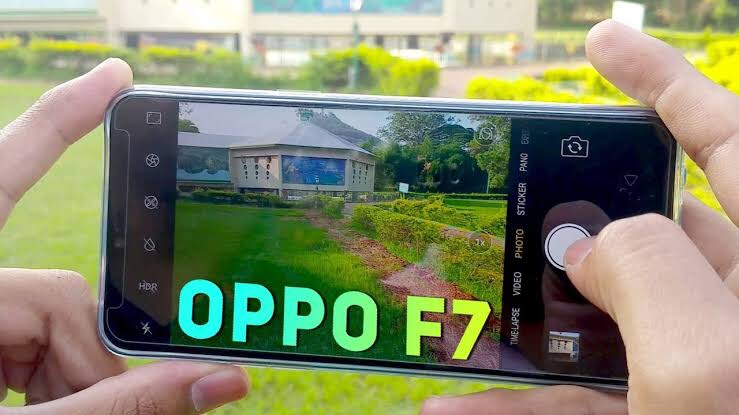 The Oppo F7 runs on an Android based V8.0 system and can operate on a dual sim and nano sim system.With a slightly larger screen display at 6.2 inches and corning gorilla technology, the smartphone comes in solar red, moonlight silver and diamond black colors.
As compared to the Oppo F5, the resolution of the smartphone is 1080 x 2280 pixels with added brightness to use your phone even in the harshest lights.
Operating on 4G LTE network, the phone supports gprs and edge systems aswell.
Oppo F7 has a built in memory of 64 GB with 4GB RAM while it also has a dedicated memory card slot which can hold up to 256 GB of internal memory.
The phone also comes in 128 GB built in memory with 6 GB RAM which also supports 256 GB memory card slot.
Giving an enriched experience for taking selfies, The smartphone's AI Beauty Technology allows it to recognize one's facial from 220 different facial points such as detecting the skin tone, age and different aspects. The Oppo F7 also incorporates facial locks in it's smartphone allowing more security in them.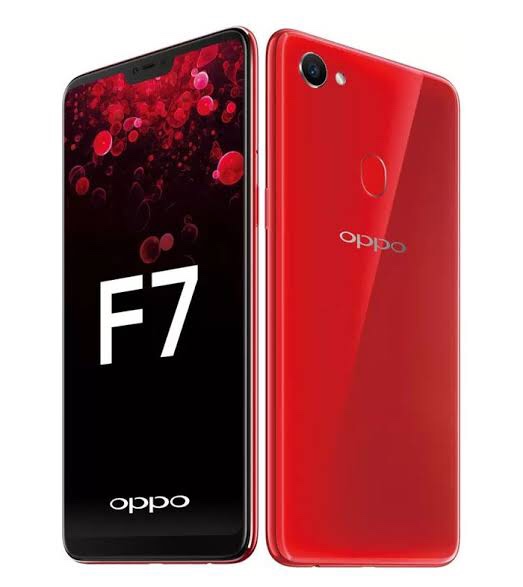 Accessories along with the smartphone include 5V 2A adapter for charging, micro usb Type C data cable and stereo handsets.
The Oppo F7 price in Pakistan is about 33,000 PKR while the 128 GB version of the phone is priced at 50,000 PKR. But since it has been a year since the launch a second hand version can be bought at lesser prices.