Parizaad continues to be an interesting drama serial with quite a few remarkable and unusual characters. The social commentary in this episode about the double standards that exist in society suggested that the writer will probably be highlighting different social issues in the drama. The basic idea that you should not judge a book by its cover is already the main theme of the drama. Some of the scenes were unnecessarily stretched such as the conversation between the bhabhis, they are getting a lot more screen time than needed.
The main protagonist's journey has my undivided attention thanks to the team effort of everyone involved. Ahmed Ali Akbar's performance never fails to impress. Bubbly badmash's character won me over instantly; Saboor Aly's uninhibited performance was not OTT and just right for the role. Parizaad has such a strong screen presence that I never imagined that another character would be able to grab my attention instantly therefore this was a pleasant surprise. The drama has a steady pace so far, every episode offers something new. The writer is not in a rush to tell the story; something which I always appreciate as long as the script has enough substance. Some of the scenes however can easily be chopped down. With this episode, Parizaad gained a little more confidence and got some acceptance. Saeeda's track took a sad turn and for now, Naheed is out of the picture.
Parizaad's Journey
The opening scenes of this episode were dedicated to bidding farewell to Naheed. Parizaad felt unworthy and unseen after the wedding and most importantly the rejection. Ushna Shah's expressions were so on point in the scene where Naheed and Parizaad met right before she left for Karachi. She realizes that she is guilty but does not feel the need to apologize. Parizaad really has a heart of gold because even though he was heartbroken, he wished these people who used and betrayed him well. Ahmed has a playful and colorful side to his personality as well; another thing that he has in common with his new best friend.
Kanwal's character always stood out because of its positive and sympathetic nature. Her conversation with Naheed was the highlight of this episode. Although it is difficult to tell how she figured out that Naheed used Parizaad but the warning and advice she gave her went to show that Naheed's actions might come to haunt her at some point. Tanya Hussain's performance has definitely left an impact even though she is playing a side character.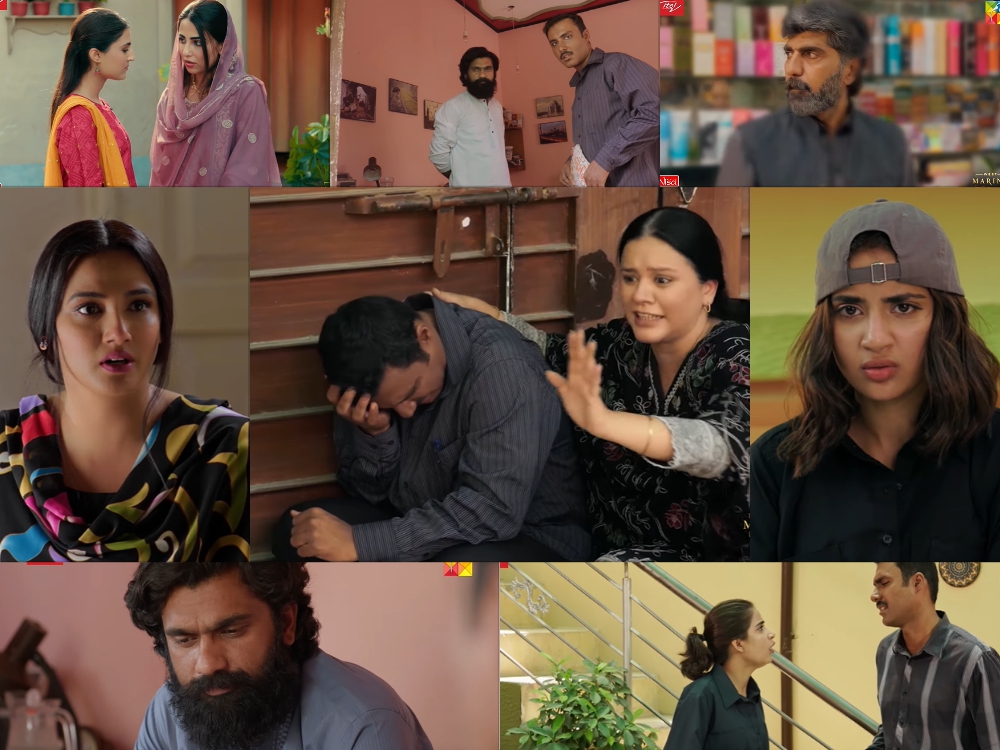 Bubbly was introduced as a fierce, outspoken, and a naughty young girl who is also a complete misfit and perhaps has gender identity issues as well. The fact that she could not continue with her studies also suggests that she might have learning disabilities. Although, this character overall was quite interesting and Saboor Aly's performance was the icing on the cake. However, I do feel that there is too much going on here if you actually sit down to assess Bubbly's overall personality. All of Bubbly's interactions with Parizaad right from the first to the last one were thoroughly entertaining. She instantly picked up that Parizaad would willingly help her out if she blackmailed him. For now, I would like to believe that she did not feel 'safe' around Parizaad because of his looks but because of his personality. Saboor Aly and Ahmed Ali Akbar's on-screen chemistry definitely added an extra spark to these scenes.
Saeeda's Track
Saeeda's bhabhis are turning out to be typical characters and they are getting a great deal of screen time. I am waiting to find out if there is an actual reason why their conversations with each other are the focus of attention repeatedly. The fact that they are selfish has been well established by now and it is also evident that they do not want to see Saeeda happily married even though they married her off to someone twice her age! Saeeda's mother-in-law looks like the same age as her husband, which is really strange and another example of miscasting in this drama. Saeeda's husband seems to be a decent man who got into trouble by the time this episode ended. The preview of the next episode suggested that this development will somehow impact Parizaad's journey as well, I am waiting to see how that is going to happen.
Final Remarks
With the exception of a few scenes which were stretched and somewhat unnecessary, this episode was one of the best we have seen so far. Bubbly and her mother's characters were acted out superbly and I warmed up to them immediately. I am waiting to see more of Bubbly and Parizaad's interactions with each other. Ahmed Ali Akbar award-worthy performance cannot be appreciated enough. The actor playing Ahmed's role is also quite impressive and well-suited for the role.
Did you watch tonight's episode of Parizaad? Share your thoughts about it.