Zindagi mohabbat ke bina kaati ja sakti hei maqsad ke bina nahin…Parizaad's amazing journey finally came to an end tonight and it would be safe to say that Tuesday night will not be the same again! This was the only drama I found myself looking forward to every week because it was not just a wholesome journey of an unusual protagonist but it always gave me so much to write about in the reviews. The meaningful dialogues and scenarios made even the most unbelievable and unexpected situations worthwhile. Ahmed Ali Akbar remained the star of the show right till the end. This drama wouldn't have been the same had he not been chosen to play this role. Parizaad has definitely won him the kind of fan following and appreciation that few actors get, and he has truly earned it. Hashim Nadeem's script was novel and engaging throughout. Shehzad Kashmiri's direction and attention to detail made this story relatable and entertaining.
The Last Episode
Did Parizaad's last episode do justice to the drama? I must say that I was expecting Parizaad to have such an ending especially because of the direction the story took in the second last episode. The second last episode clearly indicated that Parizaad was more interested in looking for an actual purpose in life than anything else. However, I felt that some of the scenes in this last episode could have been far more impactful. Also, dedicating more than 30 minutes to the recap was unnecessary; Parizaad's entire journey could easily have been covered in half the time in a crisper manner. This last episode was not as powerful as I was expecting it to be. The last scene could have been more intense if Annie and Parizaad were facing each other instead of facing the camera most of the time and delivering their dialogues. Since the drama overall banked highly on the most bizarre situations and the makers made them work, the writer could have easily saved Parizaad from the disappointment by giving Annie the kind of dil ki nazar which he expected from her!
The fact that right till the end Parizaad did not believe in love and wanted to dedicate his life to his new-found ambition went to show that he still believed he was not worth loving. Annie's dialogues made perfect sense; it will take time for Parizaad to unlearn everything he had learned through his experiences over the years. It was quite apparent that even though Annie did not recognize Parizaad instantly, she still valued him just as much as she did before and was willing to put in the effort to make him change his opinion about love. This conversation in a way did guarantee that eventually Annie will be able to make Parizaad believe in love.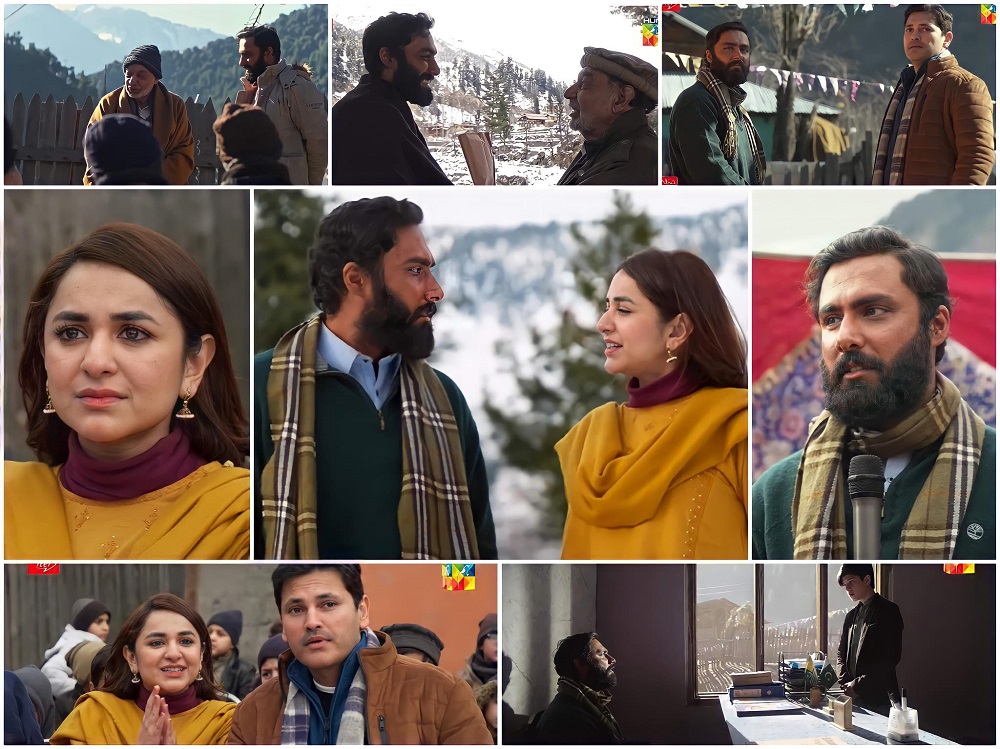 The most important takeaway for me was the importance of self-love and self-acceptance. Also, the role the societal standards of beauty play in pressurizing people who do not fulfill the criteria into trying harder to earn acceptance was dealt with in the most prolific manner. Even though Parizaad was intelligent, hard-working, and sensitive, he struggled for acceptance and most importantly for love even though he deserved to be loved. In the end as well, even though Annie made it quite clear that she would rather be with Parizaad than Sharjeel, he failed to accept her love because he was too afraid of acknowledging it. After being rejected continuously for years, being accepted felt frightening and difficult to accept.
Final Remarks
The best part of this last episode was that Parizaad had an ending that was meaningful. Even in this last episode, Hashim Nadeem had a brand new message about education. Parizaad was always shown as a giver therefore in the end it was only natural for him to dedicate his life to helping people. In order to keep Parizaad's identity a secret, the writer went to all the extremes to give various explanations but when it came to Annie and Parizaad's ending, the writer had a very practical approach. I wish this track too was dealt with in a relatively less practical manner. There was clearly love in Annie's eyes for Parizaad yet he refused to see it! After watching this last episode, I felt as if Parizaad's journey was still continuing. It was not entirely the kind of ending that puts you at peace as a viewer especially after watching Parizaad suffer for so long. He deserved to be happier in the end. However, it definitely was a new beginning for Parizaad, the start of another journey!
Parizaad was definitely a trendsetter in terms of storytelling. It had a broad canvas and the writer did not hold back, compromise on details, or lose his grip on the story at any point. The only aspect which needed improvement was the way Parizaad's relationship with his family was covered once he moved out of the house. Hashim Nadeem penned down Moosa's track (Raqs-e-Bismil) in the same manner; his family was completely out of touch and picture once he fled home. Since there was so much focus on Parizaad's relationship with his sister, in particular, Saeeda should have been part of the story throughout. Such unexplainable disappearances of characters, when they can be easily kept in the loop through a telephonic conversation have never made sense to me. This was however a small glitch that did not impact Parizaad's story overall but definitely left the viewers wanting to see more of these scenes.
The meaningful aspects of the story definitely stood out more than any other. From putting forward the message through different tracks about how deceptive looks are to showing that money cannot buy happiness, Hashim Nadeem touched upon many different subjects without preaching. Parizaad's multi-dimensional and unusual characters and their stories were definitely the most impressive aspect of the script. The well-written dialogues added meaning to the drama. The director and the producers deserve tons of appreciation for introducing new faces through this project; actors such as Raza Ali Abid, Adeel Afzal, and Asad Mumtaz Malik. It was also an absolute treat to watch all the other seasoned actors perform their roles with the usual dedication on-screen. Ahmed Ali Akbar will forever be remembered as Parizaad, just like Imran Ashraf is for playing Bhola in Ranjha Ranjha Kardi. When actors choose to play such roles and put in so much hard work into making these characters come alive on-screen, they deserve all the praise and awards so that others can follow. For me apart from Ahmed Ali Akbar, Saboor Aly stood out more than any other actor since she truly surprised me with her portrayal. I hope she gets to experiment more in the future as well.
I would like to thank all of you who were a part of this journey, I read the comments regularly and enjoyed our discussions, and it would not have been the same without your input.
Did you like Parizaad's ending? Are you going to miss the drama? Share your views; I would love to hear from you.