This second last episode was just as well-written and meaningful as this drama has been right from the start. Tonight's episode summed up the importance of dreams and how they help most people get through life. As we have seen through Parizaad's story that sometimes dreaming about the unattainable can lead to frustrations and hopelessness. Dreams and aspirations were one of the main themes of this drama therefore I am glad that this theme was beautifully integrated into this second last episode. Apart from this, Parizaad's decision to let go completely was also well established right at the outset. The poetry in the opening scenes was one of my favorites tonight since it had so many different meanings – from wanting to be completely unknown to taking a backseat for a change.
After introducing the viewers to so many layered characters that were a vital part of Parizaad's journey in all these weeks, the writer surprised the viewers with yet another beautifully penned-down character in this episode. I feel that Parizaad's characterizations and the actors chosen to translate these characters on screen were its biggest strengths throughout. Every character left a lasting impression and quite unexpectedly I warmed up to each one of these characters instantly. Tonight as well the new character that was introduced was just as impactful as all the others. I was expecting these last few days of Parizaad's journey to be filled with sorrow but thankfully that was not entirely the case. The journey continues to be as meaningful as ever and even though Parizaad felt lost and hopeless in the opening scenes of this episode, by the end of the episode I felt as if he might have finally found his purpose in life.
The only part of this episode that did not work for me was the Parizaad/Annie track. There wasn't even a single photograph of Parizaad which Annie requested to see when she got her eyesight back? Even though this scene was impactful because Annie crossed his path and did not even pause, logically it was unconvincing. The timeline was also confusing at times but even then this was definitely another unexpected, heartwarming, and well-written episode.
Leaving Everything Behind
This second last episode of Parizaad opened on a grim note. Parizaad had already decided to leave everything by the end of the previous episode. The poetic verses in the background helped the viewers understand Parizaad's mindset. He no longer wanted to control things and wanted to leave everything to chance and fate. That is what I believe was meant by not wanting to be the central character in the story anymore! After being the center of attention as P.Z.Mir, Parizaad now wanted another identity, one which would not attract attention and he would be able to live a life free from pressure. For the longest time, he had been doing everything in his power to navigate his life but now he was headed in a completely unknown direction. Parizaad always had the confidence to start afresh therefore the confidence with which he started this journey and welcomed whatever came his way was perfectly in line with his character. This character and its journey have always fascinated me since he has not only dared to dream but also had the guts to leave everything behind and leave when he felt he was not happy with his present life.
Even though Parizaad struggled with self-love and acceptance all his life, his resilience allowed him to do many such things which most people in such a situation would not be able to do. He did try to take his life once but most of the time he always found a purpose in life and managed to go on with life even with all the heartache. Tonight, Parizaad went from P.Z.Mir to Ahmed – another new identity that brought with it a new life as well. This time around too Parizaad was in a position to change people's lives not with his money but with his knowledge. He was always shown as an intelligent and a well-read man therefore this new role as a teacher and a mentor suited him so well. Yet again, he helped someone he met when they needed it the most. Even after living a luxurious life as P.Z.Mir, Parizaad was more than comfortable living a life that demanded so much from him and was completely void of comfort. He found his purpose in life, at least for now and if he chooses this to be his main goal for the rest of his life, he will be truly making a difference in young people's lives in the best way possible.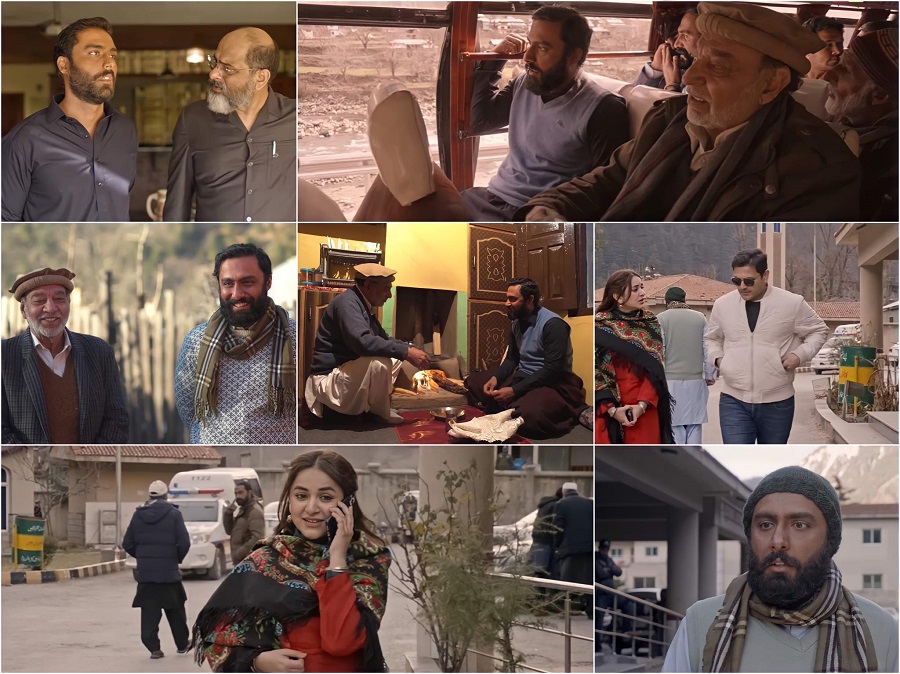 Parizaad's interactions with his new friend, the headmaster/teacher, were penned down beautifully throughout. Right from the start when he told Pari that he didn't look like a local to the point when Parizaad became a close friend he could rely on, these interactions were such that I felt that Parizaad was finally where he belonged! I just hope that he does not pack his bags one more time because showing Parizaad dedicate his life to this meaningful purpose would be the best way to end this drama. He has the monetary resources as well to expand the school. Tonight, he did not use his influence or money in any way.
Even though the scene showing Annie crossing paths with Parizaad was flawed logically, it did have a symbolic significance. Annie had made all these tall claims and Parizaad believed her as well but the fact was that she was only human therefore she failed to recognize the person she claimed to know so well now that she had her eyesight back. She was also happy with her life and had new-found confidence. Is Annie still looking for Parizaad or has she moved on? Is she yet another one of those people who were simply passing through Parizaad's life? Or will she be back in his life? Parizaad was shocked when Annie did not 'recognize' him which meant he was expecting a different reaction!
Final Remarks
Tonight's episode shifted the direction of Parizaad's life altogether. Not only did his lifestyle and goals in life change but even the locations changed altogether which was such a wonderful idea. The scenic beauty and the way the simple life of these hardworking locals was covered made the difference between this world and the one Parizaad had come from even more apparent. This was another engaging and touching episode of Parizaad which was very impressively put together. The writer penned down this phase of Parizaad's journey beautifully, the director breathed life into all these scenes and the performances continued to be mind-blowing. I am eagerly looking forward to the finale especially because now there is a chance that Parizaad's journey will have a meaningful ending.
Did you watch tonight's episode of Parizaad? Do you think that there is still a chance that Parizaad and Annie might end up together? Or is Parizaad destined to achieve greater things? I absolutely loved the smile on Parizaad's face when he met those students, it was as if he hadn't smiled this genuinely in a long time. I feel that he is meant to do this, his love for Urdu and giving both fit in so well with this profession. Do share your views about it.