Pehchan is storytelling at its best. Khalid Ahmad deserves heaps of appreciation for giving us innumerable scenes that convey so much even when they don't involve a single dialogue. Khalid Ahmad obviously believes in innovation; that is something that shows in the locations and also in the way the characters convey their emotions. You know what these characters are thinking or feeling long before they utter a single word. The clarity with which Khalid Ahmed has translated Bee Gul's equally impressive script on-screen is truly commendable.
Tonight's episode opened with a very worried Kukoo sharing with Mrs. Khan how she felt about Khurram's present state. Later on when Kukoo gets the call from the hospital I felt as if she was crying because she was relieved and scared at the same time; relieved because she still had a man in her life but scared/terrified of falling into the same rut again with Khurram. Did she have the courage and patience to continue leading the fake life which she had been living with Khurram for so long? She obviously didn't. I also felt like Kukoo was ready to let go of Khurram, as if she had said her final goodbyes and in her heart she was ready to move on. When Khurram went on and on about Kukoo's loyalty towards him she could not stop herself. She finally came out with the ugly truth because she felt guilty every time Khurram presented a perfect picture of her. I absolutely adore Laila's character now and the way it has developed in the past few episodes. There was a time when I thought Kukoo will be another strong woman who will never know her worth but now it seems like she is gradually getting there. Even if she does not find her way, I will be quite content because she is not relying on these men now the way she was before. She is not scared of losing either Khurram or Mansoor.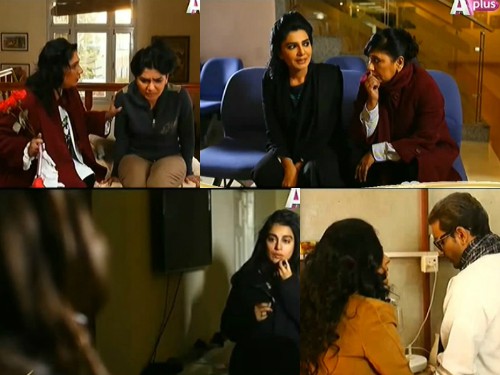 When Laila is getting ready to go out with Saadi, she thinks twice before putting on the lipstick and then she decides not to put it on. Later on she tells Saadi she is married and has a baby, as if she is reminding her own self that. The guilt pangs never leave Laila too, she does not want to do all this but she also does not want to do anything that will make Mansoor happy. Most of all she wants Mansoor to know that he doesn't own her, at least not any more! Mansoor is a lost soul. He does not know what to do about his bruised ego, he tries threatening Laila but nothing can make Laila change her mind now. He gives Kukoo a desperate phone call; a man who needs saving himself pretends that these women cannot do without him but he is not in control any more. Not being in control is something Mansoor cannot handle.
Laila's conversation with Saadi about her life, when she says that she has everything and apparently nothing is wrong but something just isn't right either was simply beautiful. It was probably one of those very few conversations which many women probably have with themselves every now and then and most of them probably convince themselves that there really isn't anything to worry about but like Saadi rightly points out that Laila is unhappy which is something that just cannot be brushed under the carpet.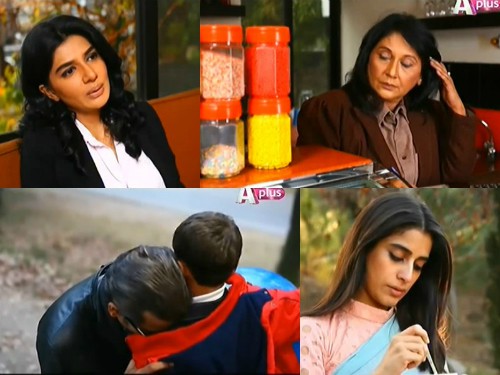 Another conversation which was one of my favorites in tonight's episode was the one in which Kukoo talked to Mrs. Khan about Laila not being able to realize her own self worth and relying on mard ka sahara! That was an amazing conversation which went to show how easy it is for someone to judge others but it is so difficult to see your own life in the same manner.
Tonight's episode had quite a few scenes that left me in awe of Khalid Ahmad's direction but the one scene which was my most favorite was when Khurram cries on the shoulder of that kid….very very well done indeed! Khurram doesn't say much but he is heart broken. The preview of the next episode showed that Laila and Kukoo both will be on their own very soon.
The Voice Of America headlines in the middle of the drama came out of nowhere without a proper commercial break, I was left wondering if it was a mistake or was it done on purpose.
I can't praise all the actors enough for performances that completely blow you away. Iffat Omer has completely won me over and Sohail Sameer has truly outdone himself. The meaningful dialogues leave an impact on you that lasts long after you're done watching the episode. Really looking forward to finding out how the story unfolds in the upcoming episodes.
Do share your thoughts about tonight's episode.
Fatima Awan