Tonight's episode of Pehli Si Mohabbat was the perfect example of an effective screenplay. Although the confrontation scene was already shown in the preview of this episode, the fact that Nawaz was there with Faiz Ullah at that time was the main reveal that will determine the direction of the story in the upcoming weeks. Who would have thought that this confrontation was going to affect this entire track in such a manner? Sikandar finally made an appearance tonight and I must say that the timing was perfect! I must admit that I was expecting Sikandar to be a 'victim' but he is holding a grudge and he wants revenge! Pehli Si Mohabbat's script continues to its biggest strength since it keeps you on the edge with its multiple tracks that have been intelligently integrated together. There is an element of surprise as well and the writer is taking her time revealing the identities and layers of these characters. These characters are so easy to connect to since they are not black and white. All the performances tonight were convincing which definitely added to the overall impact these scenes had.
The Confrontation
The confrontation scene was the most important one in this episode and it was well-written and perfectly executed. The writer had a clear intent in mind while penning it down and she made sure that everything about this scene from the opening dialogues to the closing ones left an impact. Surprisingly enough, Akram was not the one who started this confrontation; in fact, he tried his best to avoid it. He knew that they were standing in the middle of the market therefore he did not want to create a scene. Akram can be quite unreasonable most of the time but there are also such instances when he reacts only when he is triggered. These older men acted like misguided teenagers because of whatever happened in the past. This clash of egos was the main reason why Akram ended up telling Faiz Ullah about Aslam and Rakhshi's relationship but he did so in such a manner that there was room left for doubt. Faiza Iftikhar has penned down these scenes cautiously, ensuring that there are no loopholes and there is always a motive behind everything.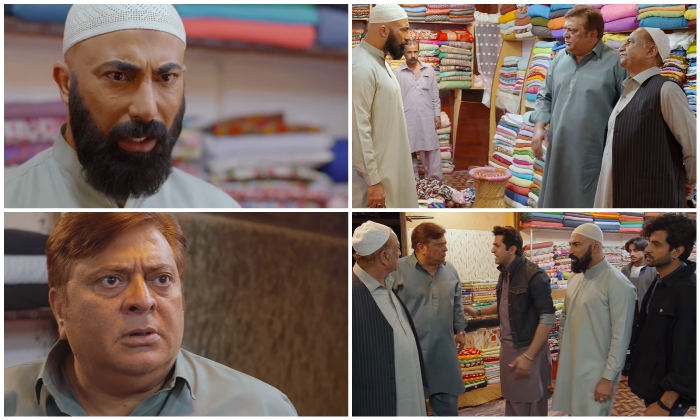 Also, this confrontation did not create a misunderstanding or a rift between the brothers since Aslam witnessed everything himself. Clearly, that is not what the writer added this scene to the story! The writer clearly had a bigger objective since the revelation that Rakhshi loved Akram's brother proved to be the reason Sikandar decided that he would not get married to anyone else except Rakhshi! HSY has performed exceptionally well in some of the intense scenes and Shehryar Munawar never disappoints. The director also deserves tons of credit for ensuring that everyone's reactions were captured with utmost clarity; the perfect camerawork definitely added to the overall impact this scene had.
Zainab's Ordeal
Tonight's episode opened with Zainab and Murad's scene which revealed a few more details about Zainab's past. This makes me wonder how Murad knows every little detail about what happened after Zainab's family found out about her affair. This flashback scene was intense because yet again it showed how much Zainab had endured and she had made an attempt to seek closure by giving Sikandar everything he ever gave her back. The pressure under which she got married and the trauma her family put her through would have been enough to make her turn into the person she is right now. However, the constant mental torture she must have been put through over the years after getting married turned her into a lifeless soul. She is determined not to react and Murad constantly keeps on trying because he wants a reaction from her. It is almost as if this man derives sadistic pleasure out of reminding Zainab about her past and making her feel guilty for her past. He probably feels that he has the right to do so since he was forced to marry someone who did not love her.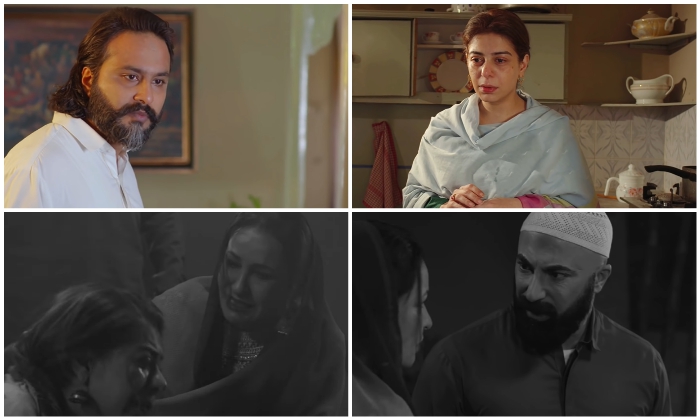 I am wondering why he chose to marry her if he knew the truth or did he find everything out after they got married? Zainab's track is seemingly simple but it offers so much. You want to know more about her backstory and even though she does not react, you fail her pain. I am glad the 'sabr' dialogue was added in the previous episode because it must have made things clearer for all those viewers who cannot relate to Zainab's 'acceptance' of all the mental torture she is being subjected to repeatedly. For the first time in this episode, it seemed as if Zainab felt angry and found it difficult to contain herself. Masroor Paras and Uzma Hassan have translated their characters brilliantly on screen. When Murad apologized to Zainab, it felt as if he meant it and he would never go back to being the abusive husband again but now that he is back to being his old self, he is equally convincing. Uzma Hassan has made Zainab's sabr come alive on screen without making it come across as annoying.
Aslam and Rakhshi
Rakhshi might be completely helpless but innocence makes her character more likable than annoying. There are those scenes when you do see Rakhshi as a scared young girl who is also sensitive and also someone who grew up without a mother. While Maya Ali performed brilliantly in all the scenes tonight, her make-up however looked completely out of place yet again. She translated Rakhshi's fear impeccably on screen and it also went well with her character. All her previous scenes showed that she was always reluctant to go ahead with this relationship but she always gave in because of the love she felt for Aslam. Aslam on the other hand continued to try to reach her and held nothing against Rakhshi. He continues to be an uncomplicated character that is emotional but not overdramatic unless the situation is such. Even with all his immaturity and at times foolishness, he is a likable character. I must say that these leading characters have to be the most basic characters in the drama and their story so far is the simplest of all the tracks.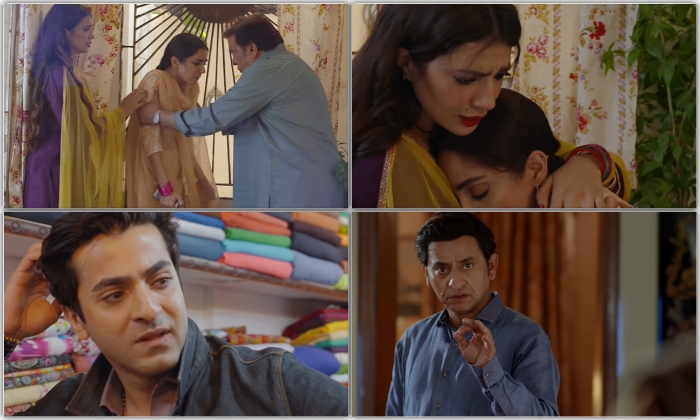 Farooq Is Back
In the midst of all the chaos, Nargis got a call from Farooq and that smile on her face was really meaningful. Will she stay in touch with him? Their conversation was not shown but this will lead to complicating Nargis' track as well. Farooq is no longer her past, he is back and in touch with her.
Final Remarks
This was one of the best episodes of Pehli Si Mohabbat since with this episode not only did the story move forward but there were quite a few surprises in store too. Except for the phone call scene in which the call was disconnected shortly after and Maya Ali's loud make-up everything else about this episode was perfectly executed. Will Zainab get in touch with Sikandar to stop him from getting married to Rakhshi? What do you think?
Did you watch tonight's episode of Pehli Si Mohabbat? Share your views.