Tonight's episode of Pyar Ke Sadqay had some really important developments. Mahjabeen's father's attempt to seek help from Mansoora failed miserably and it looks like Shanzay is already regretting her decision. Although Shanzay and her fiance's argument in the previous episode made it clear that they were not on the same page but the scene covering this couple's meeting with Abdullah and Mahjabeen tonight did not work for me. Except for a few of the dialogues, the rest of the situation was slightly unconvincing. Every scene in this recent episode however contributed something new to the story.
Pyar Ke Sadqay continues to be an interesting mix of comedy and drama. There are some aspects of the story which are definitely serious and even dark while there are others which are light-hearted. The best aspect of this play so far is that the writer has balanced these two out really well without undermining the seriousness of certain situations that are being shown.
Mahjabeen and Abdullah
Mahjabeen and Abdullah continue to be really interesting characters. Even though Abdullah still has not forgotten Shanzay but he appreciates the way Mahjabeen accepts and likes him for who he is. Mahjabeen too is quite generous when it comes to complimenting her husband. While her husband is following his step-father's advice, Mahjabeen is playing the role of the wife as well as she knows how to. A lot of the scenes covering Mahjabeen's attempts to play this role right suggest that she has picked up much of it from what she has seen on television. She is constantly referring to how it is supposed to be or how it should be, which of course is extremely adorable. It is a nice way of showing her innocence.
Even though Abdullah hasn't had a perfect life but he has quite a few people in his life who have made him feel loved. Abdullah is receptive and sensitive which is why he is afraid of hurting Mahjabeen's feelings. Like every other episode, this one too had a few scenes which showed Abdullah's gentle and well-mannered side. I think apart from his innocence, this part of his character is the most likable.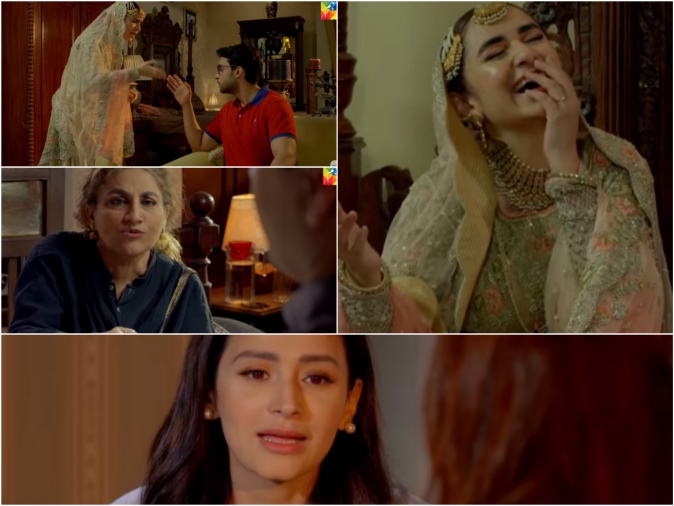 Mahjabeen is definitely trying harder to be closer to Abdullah. She has a lot of love to give. It is interesting how these two give each other confidence wherever it is lacking. All the scenes covering their relationship in this episode once again showed that they were completely capable of making each other happy. The scene at Pho's house covering the information about 'expecting' will probably lead to a situation that would be both comic and might be alarming for Sarwar. Yumna Zaidi owns her character completely. I love the confidence with which she acts in the scenes showing Mahjabeen's innocent side.
Sarwar and Mansoora
Sarwar and Mansoora's first scene together in this episode showed how Mansoora could sense the change in Sarwar's attitude. This was a good way of making the viewers look forward to what was coming ahead. I thought that maybe now Mansoora will actually take the information given to her by Munshi sahab seriously. It won't be wrong to say that apart from being gullible, Mansoora is also in denial. Her reaction, therefore, was disappointing but completely in line with her character. Although Sarwar has been shown regretting his decision to marry Mansoora before too but perhaps for the first time he is finding it harder than ever to hide his actual feelings at this time.
Sarwar simply cannot get over the rejection. The conversation he had with his mother revealed what his plan was. He is waiting for Abdullah to leave Mahjabeen so that he can marry her. That is why he is doing whatever he can to keep Abdullah from getting too close to Mahjabeen. Sarwar is so used to having his own way that I am convinced that it is not just a matter of 'dillagi' but this is his 'zid' too.
Although Sarwar hates being married to a woman who is much older than him but the fact is that he wouldn't have been enjoying the status he is today if it wasn't for Mansoora. She is also definitely someone who has been 'facilitating' him by ignoring his negativity. Sarwar's mother is another person who guides him in the wrong direction and has failed to play the role a mother should be playing.
Sarwar and Abdullah
I must say that Sarwar is more wicked when he is around Abdullah because Abdullah cannot defend himself and is easy to dominate. The mind games he plays with Abdullah actually works because of the fact that Abdullah is really scared of him. Abdullah definitely knows right from wrong, he also knows when Sarwar is being unreasonable but he has come to the conclusion that it is best if he does not confront Sarwar. Bilal Abbas Khan's performance in the scene covering their interactions in the office was truly impressive. Bilal Abbas has made sure that he translates all the emotions aptly on screen. Omair Rana is equally convincing ad the evil and manipulating man who cannot look beyond himself.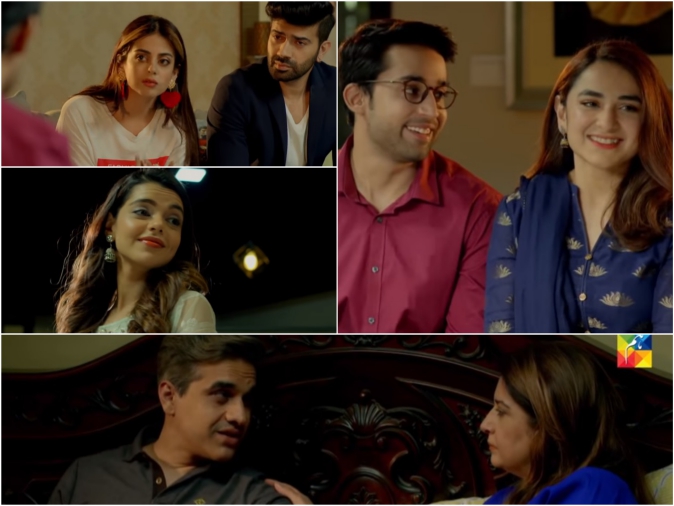 Abdullah is conscious of his surroundings, he feels embarrassed in the office but he does not have the confidence to stand up to Sarwar. His confusion and lack of confidence make perfect sense. Later on, he lies to his Phupo because he knows that there is nothing that they can do about the situation.
Final Remarks
This was another entertaining episode of Pyar Ke Sadqay with some exceptional performances to its credit. Yumna and Bilal's on-screen chemistry has given this couple a definite edge. Their individual performances are remarkable too. The preview of the next episode suggested that Sarwar will exploit yet another situation to his advantage. The most appealing aspect of this preview was Mahjabeen's scene with Abdullah in which she shares how she feels about Sarwar's advances. Really looking forward to the next episode.
Did you watch tonight's episode of Pyar Ke Sadqay? Do share your thoughts about it.