What an unexpected turn of events and the thing that was even more surprising for me was that the promo of this episode gave away this twist. I was very convinced that Yumna was not going to die, firstly because she is the main lead and secondly because I wasn't expecting the promo of this episode to be so revealing. The episode opened with Hiba and Tooba having a heart to heart discussion about Tooba's break up which basically centered around the importance their mother had in their lives. I must say that I have come to that point now where I find Hiba's character least likeable. Tooba, on the other hand is always more levelheaded and likeable.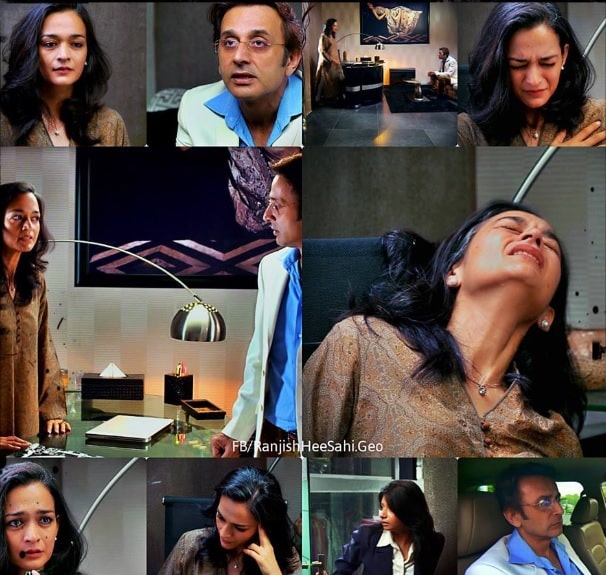 Yumna's confrontation with Kamal was a direct result of everything that Rohail said to her about his father. Even though Yumna told Kamal Hassan that she wanted this relationship to end but she turned to him instantly after getting the dreaded call from her lawyer. Yumna's state of mind was portrayed brilliantly, I must say that I am going to miss her character and can't help but wonder how the story will unfold without her now. Hiba won't let Kamal Hassan into their lives because she holds him responsible for her mother's death.
Faisal Rehman was outstanding in the funeral scene. The way Kamal confessed that this was his wife's funeral was rather ironic and tragic. He did not have the guts to admit this fact in front of others when Yumna was alive.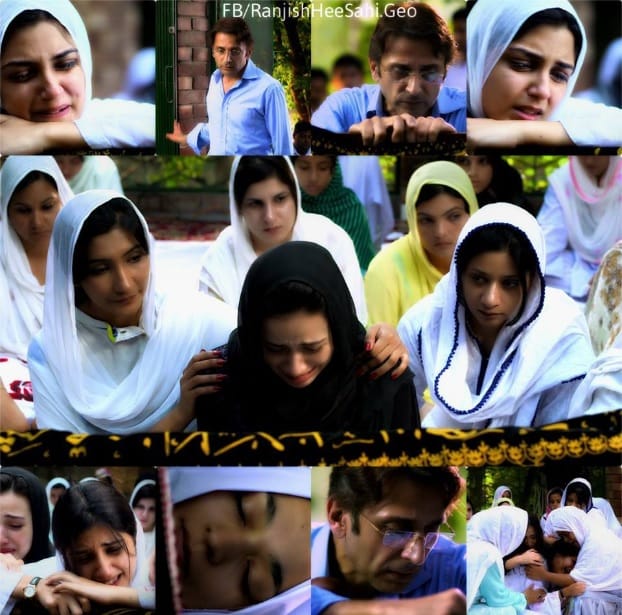 It was great to see Arsal taking a stand in front of his mother. I really did not want this track to end like this, so it is good to know that Arsal will stay in the picture. Arsal's mother continued to judge Kamal and his relationship with Yumna even at her funeral! Tooba and Arsal's scene was very nicely done. I like Tooba's new found confidence, it gives her character the spark it needed to hold the interest of the viewers. She told Arsal off for now but it is highly likely that she may change her mind in the future. Sana Javed and Muhammad Ali look cute together but if Tooba does get married to Arsal, his mother will not let her live in peace which may turn this drama into another sob story of a girl who is treated unjustly by her in laws and I definitely would not want that to happen. Until now the story of RHS has been very intriguing and the direction has been very impressive as well so I have very high hopes from it.
This definitely was the sort of episode that makes you look forward to more. I am going to miss Samiya Mumtaz; she has a unique style of acting and she did so well as Yumna. Everything about tonight's episode was spot on but the funeral scene was too long for my liking. Kamal's short scene at the funeral was more moving than the focus on Hiba's reaction initially. Quite surprisingly I felt for Kamal more than Tooba and Hiba tonight.
Will Kamal Hassan manage to change Hiba's opinion about him? How will these girls survive without their mother now? I am waiting to find out.
 Fatima Awan