This latest episode of Sabaat showed some character development and laid down the foundations for the much-needed progress in the story which we all have been waiting for. Hasan and Anaya finally got married. The ceremonies and everyone's reactions were covered convincingly. This entire episode had a realistic feel to it. Miraal's madness continued, her father was manipulated into siding with her yet again but the best part of this episode was Hasan and Anaya's sweet relationship. The romance and their mature personalities made their scenes a treat to watch. Usman Mukhtar will finally make an appearance next week therefore all those viewers who initially tuned into this drama for him must watch the upcoming episode!
The Wedding
I really enjoyed watching a traditional wedding on-screen with the joota chupai and doodh pilai perhaps because the weddings we watch in dramas nowadays are covered differently. This entire wedding had a real feel to it, from the preparations to the actual function, it looked like these were scenes from an actual wedding. Anaya's father's fears were in a subtle manner translated on screen. It was also good to see Hasan's father going ahead with everything genuinely until Miraal set the room on fire! This step by Miraal was extreme but it made perfect sense. Someone like her would actually do whatever it took to take things in her control.
In the previous episode, the viewers were shown how Miraal was losing her grip. In this episode, we watched the aftermath of everything she had been feeling for weeks. First Hasan and then Ali, she was more desperate than ever to show everyone what she was capable of doing if things did not go as she planned.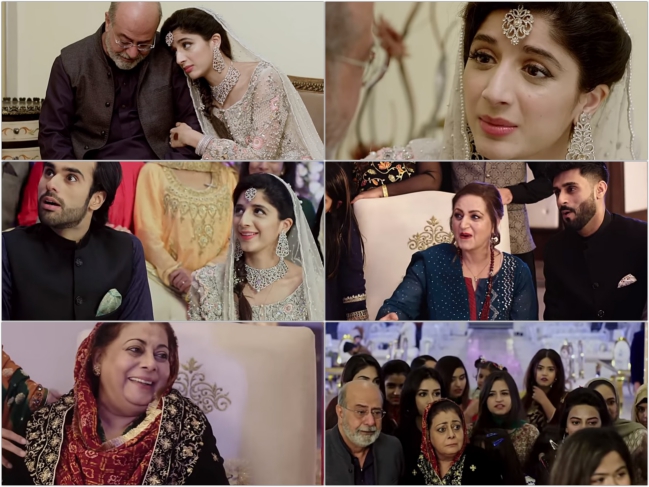 Hasan handled the situation in a mature manner. His character growth is much more convincing and likable now. Miraal's father seems is actually scared of her now and does not want to face her 'wrath'. Every time her father makes such decisions to please her, he gives her more control. That is how he must have contributed to making her the monster she is. Hasan covered up intelligently and ultimately with his mother's support whatever Miraal did had little impact on their relationship.
I absolutely loved Mawra Hocane's performance tonight especially when she was left alone after everyone rushed to call the rescue services. Anaya has always been shown as a sensible young lady therefore the fact she was willing to be more flexible made perfect sense. Anaya and Hasan's scenes in her house showed that all they needed was each other to be happy, no big ceremonies. Their relationship also shows how easy it is for someone to be happy if they choose to enjoy little things in life, like a conversation or an interaction with someone you love. Hasan was equally lovable when he decided to go to Anaya's place with her family members instead of his own car. These small gestures added more meaning to their scenes.
Miraal's Madness
Miraal's madness continued in this episode as well. The preview of the next episode made it quite clear why she was shown going crazier than ever! On the one hand, we have characters like Hasan and Anaya who find happiness in everything, and on the other hand there is Miraal who is constantly finding reasons to hate people. She is full of hatred and is simply incapable of loving anyone at all. Her friend is turning out to be her biggest supporter and that is obviously the only reason that she is with her all the time!
Miraal's meeting with Ali's mother showed how difficult it was for her to let go and move on. She really needs professional help, I am waiting to find out how she ultimately ends up getting the helps she so desperately is in need of! When Miraal was headed towards Ali's house her thoughts suggested that she saw herself as the 'victim'! I hope Miraal's character development in the upcoming episode is worth the wait since for now, Miraal's character lacks the layers needed to make it more appealing.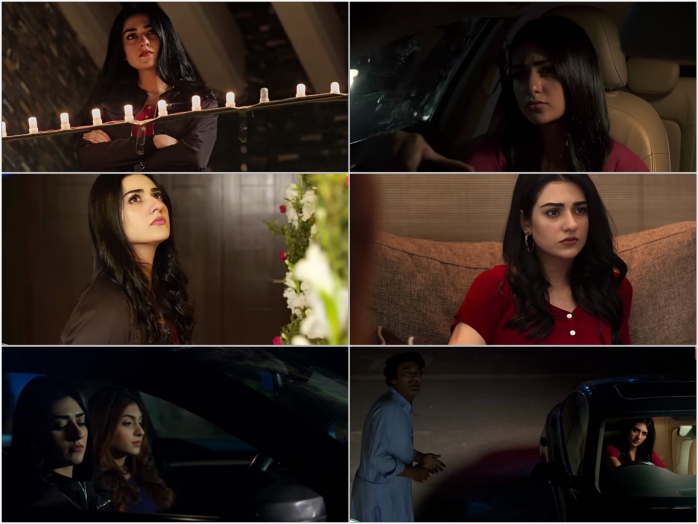 Final Remarks
Tonight's episode of Sabaat was entertaining overall. Anaya and Hasan make a cute on-screen couple. It was also good to see Hasan's mother playing an active role within the family set up since for the longest time her character did not have screen presence. I am sure many of you are looking forward to the next episode because of obvious reasons ;) I just hope that Usman Mukhtar does not make an entry in the last scene!
Did you watch tonight's episode of Sabaat? Do share your thoughts about it.