Tonight's episode of Sabaat established the leading characters further. Some of the developments were likable while there were others that were unconvincing. Hassan's overnight change was the most difficult one to relate to. It was almost as if he was waiting for a dupatta-clad good girl to give him a reality check! I find Anaya's character appealing minus the clichés but the role she played in bringing about this change in Hassan was a little too stereotypical.

This episode covered the events a few days after Hassan and Anaya's confrontation therefore some of the developments were difficult to grasp at first. Also, are there really people out there who will pay someone 3 days after they start working? While the pay scale and the nature of Hassan's job made sense but the fact that he was already shopping from his money didn't add up. I think these things should have been shown instead of conveying a lot of it through different dialogues. All the tracks, however, gave some kind of new information about these characters.


Miraal's Personality


Miraal's basic personality was shown in the first episode but tonight we saw more of it and it can be safely said that she has an attitude problem. She has a self-righteous and controlling behavior. She feels like she does not owe anyone anything, not even respect. The way she tried to influence her brother's decisions showed that her relationship with everyone around her was toxic. In the first episode, these two appeared to be quite close to one another but apparently all these years Miraal has simply been controlling her brother.

Except for her father, Miraal has zero-tolerance for everyone else around her. She doesn't only want to run her life the way she wants but also makes sure that everything else around her also works according to her wishes. And she definitely does not hold back! The fact that she did not leave Hassan alone but actively tried to find out more showed that she takes controlling others really seriously! I was not expecting Miraal's character to take such a negative turn but it is easy to understand why she thinks people are just as disposable as things. She is definitely spoiled and her father clearly thinks there is nothing wrong with that.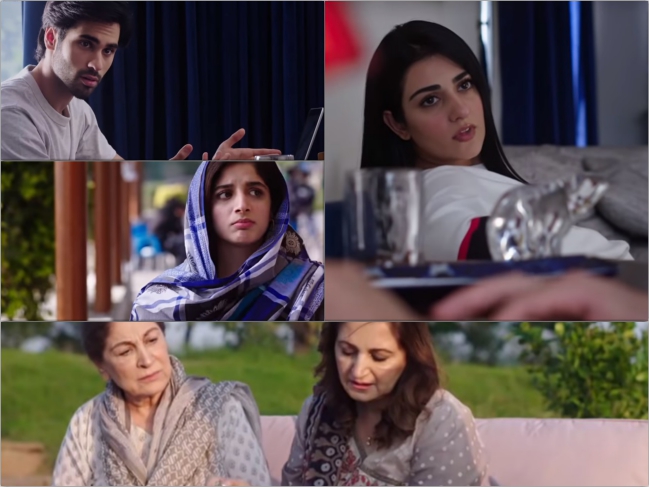 There must be a good reason why Miraal's relationship with her naani is being given so much screen time. I am more intrigued to find out how her behavior with her naani will influence her personality in the upcoming episodes. Sarah Khan translated her character convincingly on screen, I especially liked her acting when she interacted with her naani and her brother's friend.

The Change in Hassan


The preview of this episode did suggest that Hassan was going to take Anaya's advice more seriously than expected but I really wasn't expecting him to change his ways the way he did. Hassan's dialogues clearly suggested that it wasn't just what Anaya said which made him rethink his present choices but it was also because of everything he had heard people saying about him in the past. This cannot possibly be an easy decision for someone like him yet he seemed to be quite confident about it. I really think that this development should have been covered gradually.

While Hassan's decision was quite mature, the way he informed Anaya about his decision was extremely immature. I felt that he was still confused and trying to prove that he could do this. It was difficult to take his decision seriously. Later on, he told Miraal that he had expected her to support him the most yet he never even sat down with her to discuss this major shift in his life. Ameer Gilani gave a decent performance but I really don't find his overall styling appealing. Am I the only one who thinks he looks a little like Rahim Pardesi?

Anaya – A Progressive Character


I absolutely loved Mawra Hocane's performance tonight and I also like the character she is playing. Although Anaya so far is a little too perfect and completely different from Miraal but she is also vocal and confident. Some of her dialogues were written really well tonight, like the one about picking her battles wisely. Her parents too are just as likable, I wanted to see more of them in this episode. Muhammad Ahmed is such an exceptional actor, he has a definite screen presence.

Anaya's parents are supportive and they are continuously cheering her on. It was also good to see that Anaya's friends had more to discuss than the incident with Hassan.
Final Remarks

I liked this episode more than the first one although I am finding it difficult to warm up to Hassan's track just yet. The director once again kept things real and at the same time visually pleasing. The only scenes which transitioned in a confusing manner were the ones from the college to Miraal trying to access her brother's laptop. This scene was a lot like the opening scenes from the first episode. There is nothing exceptional about this drama so far but it is engaging enough.

The preview of the next episode showed a confrontation between Miraal and Hassan after Miraal decides to perhaps tell Anaya off.

Did you watch tonight's episode of Sabaat? Do share your thoughts about it.
Most Good Looking Celebrities At Hum Style Awards 2018