Pakistan is one of the most charitable nations in the world. No matter what calamity befalls, Pakistanis always come to the forefront to help others. In the light of Covid-19, a lot of celebrities and media personnels have started taking matters in their hands by helping those around them who in these difficult times are finding it hard to stay afloat. There are a lot of celebrities who have started charity and are openly asking for donations. Everything they are doing is being posted on the social media because they believe in transparency and want to make sure that the donors know their contribution amounts are being used for the right cause.
As much as these charities started by celebrities are being appreciated all across the country, there are also some celebrities who are not being appreciative towards the approach. They are nowhere doubting the intentions of those who are trying their best to help the people, but these celebrities are concerned about the people who are being brought into the limelight while taking the donations. These celebrities believe that everything can and should be done stealthily because this way, it won't affect the self-esteem of those who already must be feeling embarrassed for taking aid from others.
The internet, like all the other subjects is also divided on this subject where those who are publicly doing charity are being lauded, there are also those people who are definitely agreeing to the notion that charity should not be publicized.
These are the Pakistani celebrities who have spoken against publicized charity happening during Covid-19 lockdown:
Faysal Qureshi
Faysal Qureshi was very clear in putting his stance across. He has no issues with the charities that are being done but he most certainly has an issue with the way pictures and videos are being made viral when the ration bags are being handed out to the poor and needy. Faysal Qureshi feels a lot for those who are taking help at this time and he feels their self-esteem is very important and shouldn't be compromised upon for the sake of posting a few pictures on social media.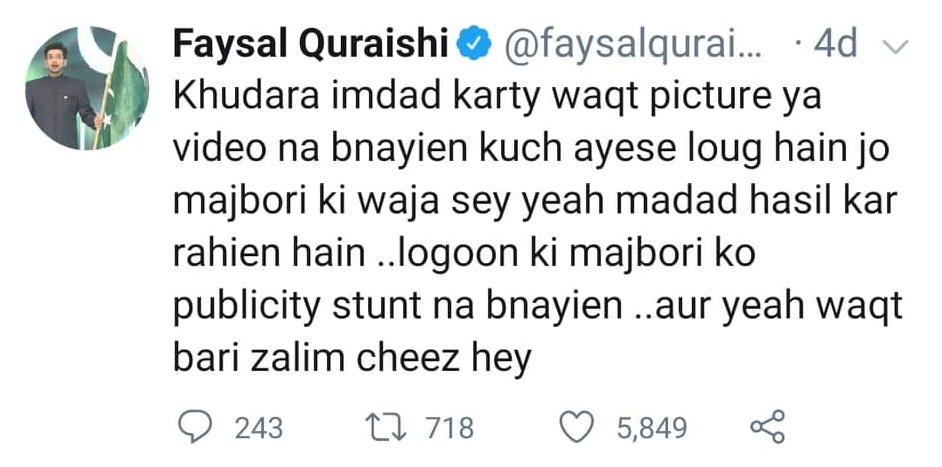 After Faysal Qureshi posted this tweet, ace Pakistani cricketer Mohammad Amir also agreed to his opinion and prayed that people understood what Faysal was trying to say.

Actress Zarnish Khan didn't have much to say because Faysal Qureshi made his point clear but she couldn't help but say that she agreed as well.

Vasay Chaudhry
Writer and actor Vasay Chaudhry also took it to his twitter to share his two cents about the current charities happening all over and being posted on social media. He also requested but also felt the need to remind that the charity should be done in its stride and not with an intention of creating content to be shared and posted on social media.

Amanat Ali
Singer Amanat Ali took it to his Instagram to speak about how he was unsure of why everything the celebrities did was done in front of cameras, be it their professional work or now as the people are getting to see; their charities. Amanat Ali quoted Hazrat Ali (RA) and spoke about how it was emphasized in one of His sayings that while doing charity, one should not even look into the eye of the recipient. It goes to show how much compassion and humility should be practiced while doing such gestures, this is why Amanat Ali was unsure of the approach he was coming across.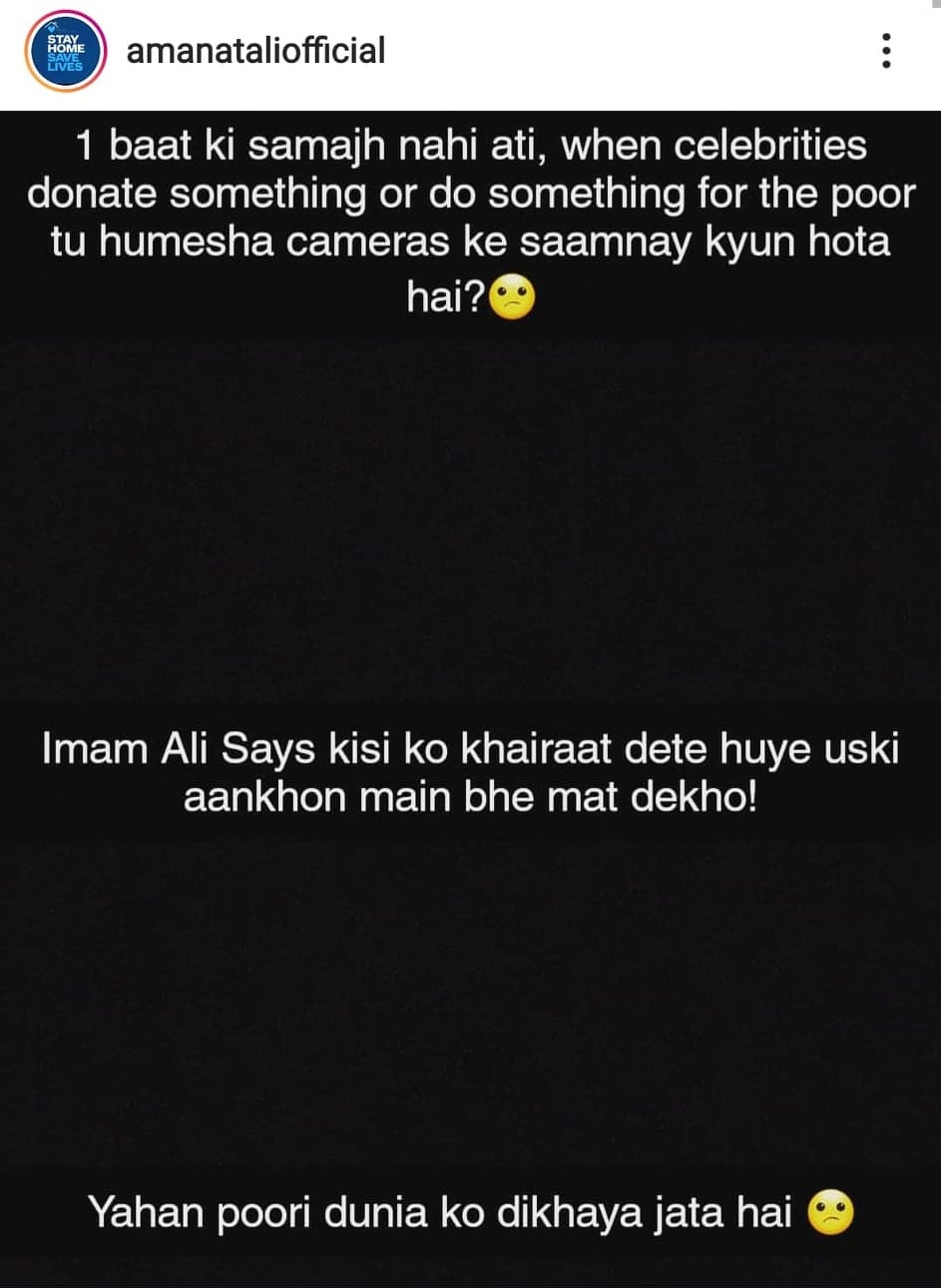 His post started a respectful debate where people agreed and disagreed but Amanat Ali engaged with everyone to make his stance clear and make valid points. He also spoke about how one's intention mattered the most because in the end it was Allah who was going to judge and therefore charity could also be done without attaining people's attention.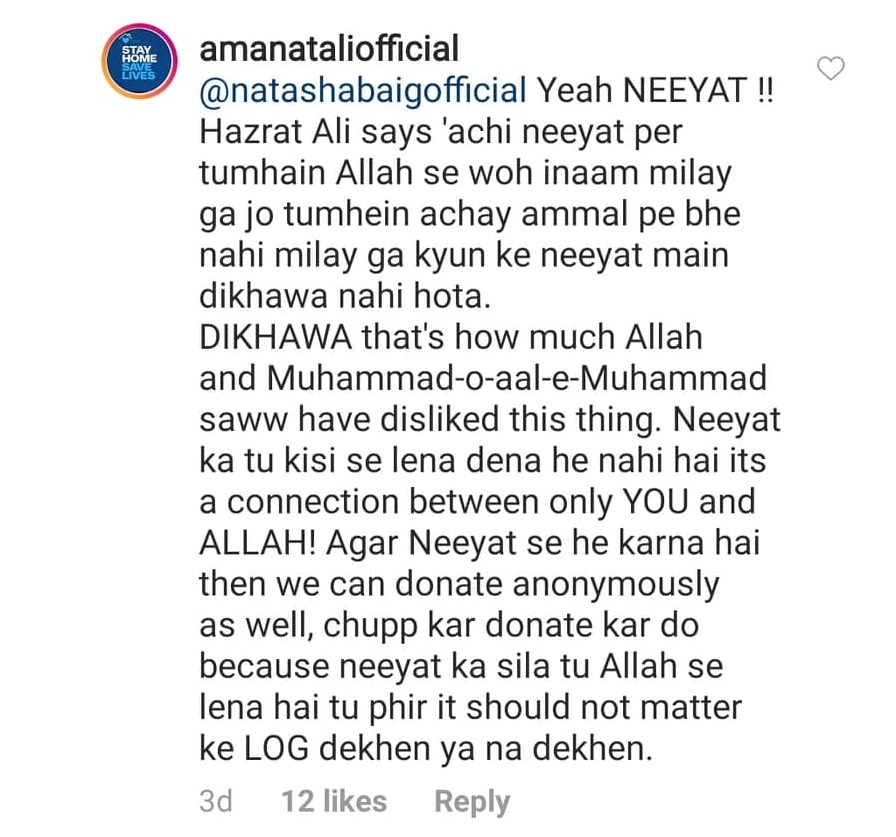 Anoushay Ashraf
Under Amanat Ali's post, Anoushay Ashraf also replied and spoke about the power of social media. Anoushay Ashraf had a valid point where she spoke about how the right usage of social media was helping people approach them for the donations, however she also spoke about the importance of keeping the identities of the recipients discreet. She did feel that the entire display of poor and needy and bringing them to the limelight by posting their pictures was ignorance at its peak.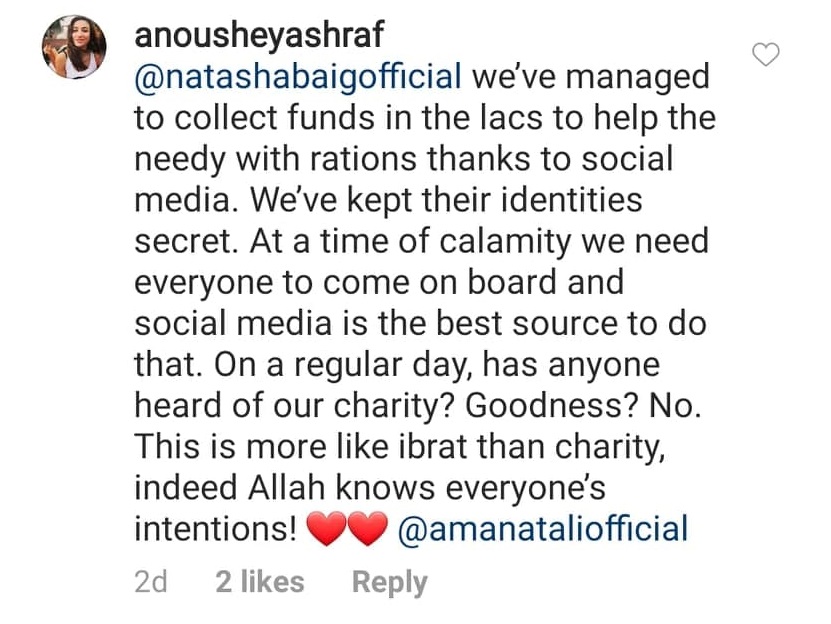 Yasir Hussain
Actor and host Yasir Hussain also took it to his Instastories to speak about how wrong the approach of people were when it came to doing charities. He felt disgusted at the idea of how people were making sure to fit in the frame only to prove that they have done charity. He also continued to make a stark comparison between Muslims and non-Muslims where the pictures clearly showed non-Muslims being discreet and just hanging the ration bags on the fence so that the passersby could pick them without even knowing who was behind this thoughtful gesture.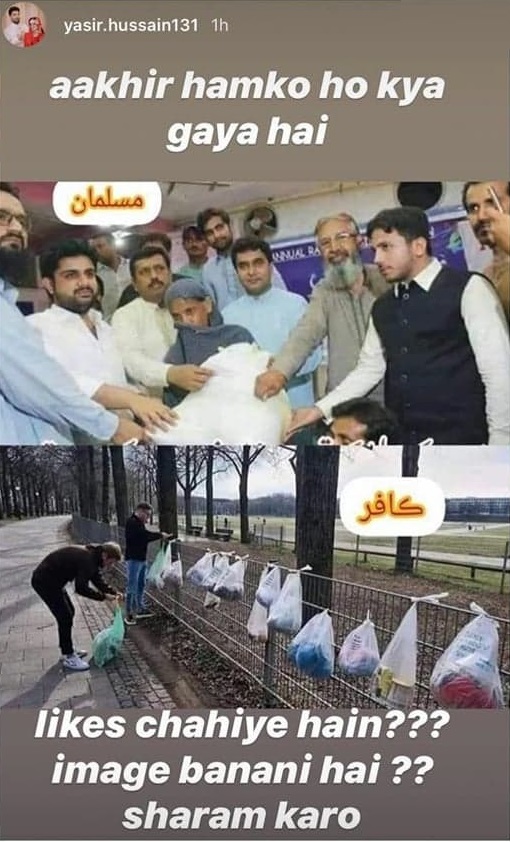 Shoaib Jatt
Sports journalist Shoaib Jatt took it to his twitter to speak about the heartfelt efforts of test cricketer Shabbir Ahmed. Shoaib Jatt shed a light on how Shabbir Ahmed was doing everything in his might to help the people in a small town of Khanewal. He spoke about the tight schedule Shabbir Ahmed was following where he wakes up at 3AM and starts his day early to help as many people as he could. He wanted to bring it to everyone's attention so that if others wanted to contribute, they could, while highlighting the fact that he was doing all of this without making any noise on the social media because he was being compassionate towards those who are being helped.
Shoaib Jatt's tweet highlighted exactly what Anoushay Ashraf's point was regarding social media being used rightly to highlight the important aspects while still maintaining a healthy balance and discretion.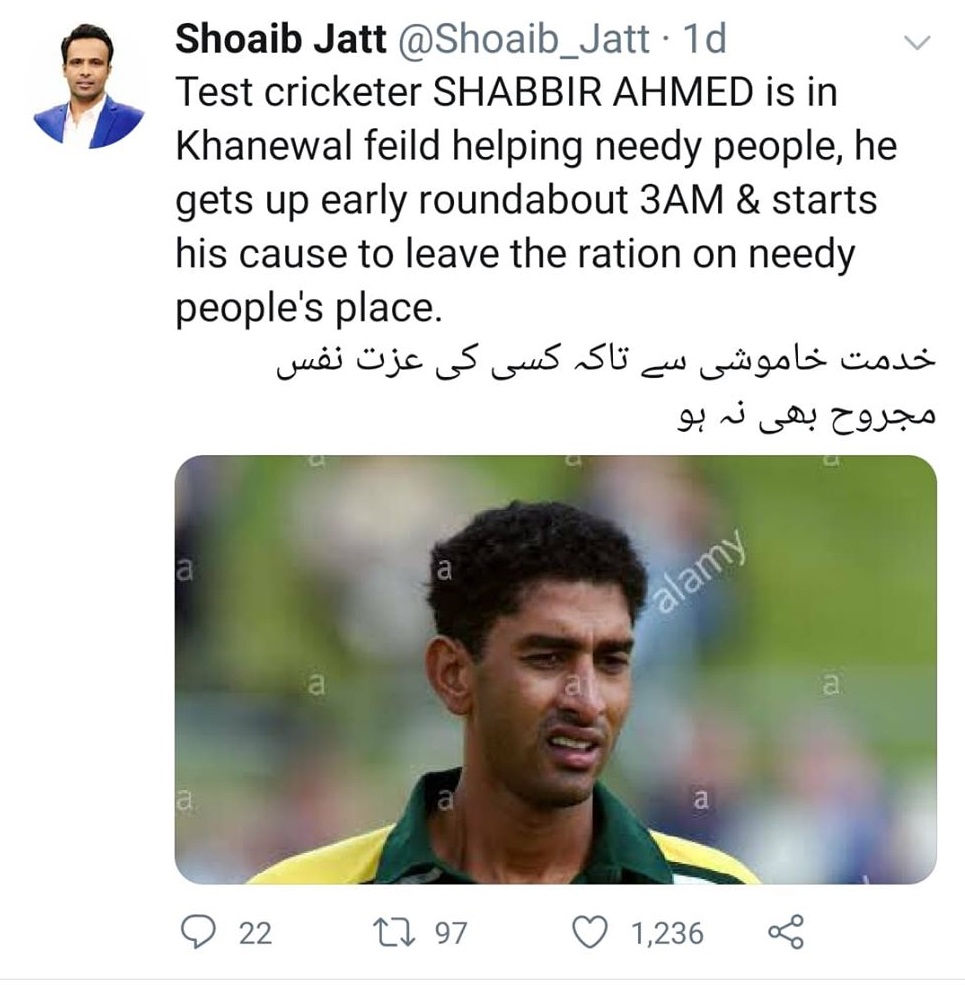 Do you agree with the stance of these celebrities who feel the charities should not be publicized and even if celebrities are doing so, they should be compassionate towards the recipients of their donations? What do you think about the part that social media is playing during these times? Feel free to share your opinion in the comment section below.