Tonight's episode of Sabaat was relatively engaging but Miraal continues to be the most shallow and uninteresting character in the drama. This entire track is pointless and repetitive. Ali's character is back in the picture and I had a difficult time figuring out why he wanted to get married to Miraal now. Anaya, her mother, and Hassan's mother are the only meaningful characters at the moment. Some of the decisions made by Anaya however were not too wise. Why did she even expect that at a time when companies were downsizing, she was going to get such a long leave? She can easily 'hide' her pregnancy for a few more months. Anaya's attitude towards her job has been quite casual, had she quit this job and looked for another one, it would have made more sense. Harris' scenes are so badly written that there are times when I actually feel for Usman Mukhtar! This episode was however really well directed and the camera work in some of the scenes was superb.
Anaya and Hassan
Tonight's episode of Sabaat opened with Hassan feeling really emotional while he looked at his picture with Anaya. Even though he is convinced that Anaya indeed was having an affair, he did not allow Atif to share his opinion on the subject. This scene suggested that Hassan might be re-thinking his decision and doubting it but the conversation he had with his mother made it quite clear that he was convinced that Anaya indeed did cheat on him. Ameer Gillani acted brilliantly tonight; he made sure that Hassan's confusion and his emotions were translated flawlessly on screen. Right now, Hassan is not even thinking about what his mother has been saying to him. His mother's dialogues were written beautifully and it is definitely refreshing watching a sane person giving her opinion on the subject even though she knows that she won't be heard.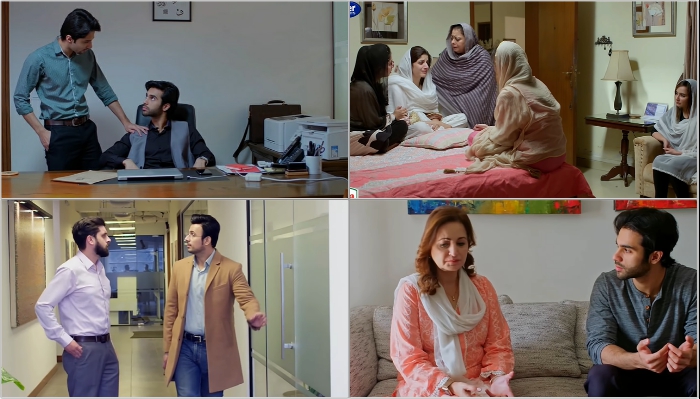 Anaya's friends are back in the picture and as far as I can recall one of her friends did meet her parents in the hospital and the doctor they were visiting happened to be her relative. Yet, all of them acted as if they knew nothing about the situation. There are many unnecessary secrets in this drama and like many of the typical Pakistani dramas; Sabaat also relies heavily on misunderstandings and miscommunication. Anaya has decided that she is not going to tell Hassan about their baby. In order to keep her pregnancy a secret, she wanted a 6-month leave from the office, something that confused me further about the timeline. This would mean that Anaya has not been going to the office for over a month yet somehow she has not been fired. Although she has great potential and her boss is a gentleman, no one gives such favors especially when the company is going through a crisis. All of us witnessed in the past few episodes how desperately Hassan looked for a job and the crisis in the construction industry was used as an 'excuse'. Yet, somehow the same is not applicable for Anaya. Hassan was also a bright student who graduated from the same university as Anaya yet their situations in this particular aspect have been unbelievably different.
Anaya and Hassan's scenes with their mothers were the best scenes from tonight's episode. Mawra Hocane and Seemi Raheal's performance in this particular scene was outstanding. Both of them made this scene so relatable. Both of them have had their vulnerable moments and there have also been moments when they were each other's strength. I would give the writer credit for penning down these scenes realistically and the actors definitely breathed life in them.