This second last episode of Sabaat had its highs and lows just like all the other episodes of the drama. The timeline was confusing and the script continued to be mediocre. Mawra Hocane and Seemi Raheal were the stars of the show. Anaya's confusion however was annoying at times. The only 'surprise' in this episode was Miraal's mother's secret deal with the lawyer. Miraal's track stayed the same and just like I anticipated it will have a last-minute sudden but befitting tragic ending. Watching Miraal's negativity along with her shallow personality has been extremely tedious, to say the least! The viewers deserved more than a last-minute accident.
Whoever put together the promo for the last episode, gave away the main elements of the ending which is obviously never a good idea! Sabaat is heading towards an ending which was highly predictable. The only question is whether Hassan will be forgiven or not. The second last episode of a drama is the best time to show some character development but there was none in this episode.
For a change I completely agree with Atif, he said exactly what the viewers wanted to hear when he thought about how twisted Fareed's children were! If the writer wanted to send a message across through these dialogues, he definitely failed in doing so. These dialogues however were music to my ears. Jahangir's character was such a pleasant addition to the drama; his exit wasn't the best part of this episode. Ali's conversation with his mother was funny especially because he has always been such a superficial character.
Anaya Goes Back To Work
After taking the longest leave ever Anaya finally went back to work in this episode only to find out that her boss had been replaced. Although it was easy to understand why it was so difficult for Anaya to leave her son and go to work this aspect of her personality was given more screen time than necessary. Anaya's character has been confusing throughout, sometimes it is difficult to tell where her priorities lie. The writer could have shown how difficult it was for her to leave Ibrahim and go back to work without making it look like she was willing to leave the job. There has always been a really practical side to Anaya's personality which sometimes has been overshadowed by love for her husband and now her son. Surely, there are many women who can maintain a good balance on their own, it would have been great if Anaya did not get so confused every now and then. It was eventually Anaya's mother who made her realize that she needed to go back to work. At the same time, she also missed the times when men used to earn! The addition of such pointless dialogues makes these characters confusing.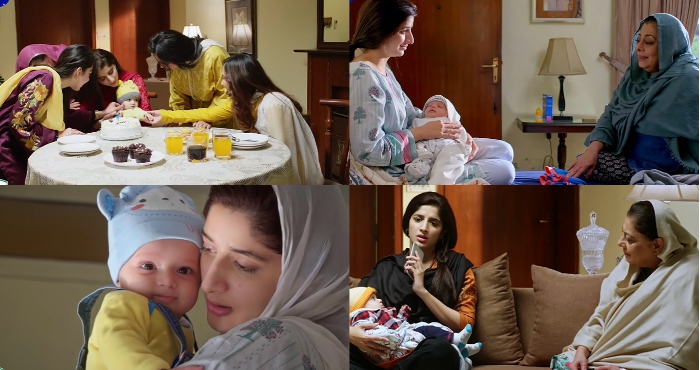 Overall, however, it was good to see Anaya's track progressing. She dealt with her new boss' advances intelligently and definitely knows how to keep her distance. I am guessing that Hassan will somehow be convinced of her innocence in the upcoming episode after he witnesses something himself.
Miraal and Ali's 'Love Story'
There hasn't been the slightest change in Miraal's character or track in all these years. Since Ibrahim turned one in this episode therefore Miraal has been trying to get a divorce for over a year now! Even though she met Harris after so long, her dialogues were still the same! I am sure Sarah Khan did not have to put in a lot of effort to learn these dialogues since not much has changed over the years and in these 27 episodes! Harris was shown trying to salvage a relationship that only existed in his head. I was hoping that this last meeting will be used by the writer to make this track somewhat meaningful with Harris pointing out exactly where Miraal went wrong in her life. It is however safe to say that Harris succeeded in being the most useless character right till the end! I am seriously disappointed with this entire track; all the screen time it got was a complete waste of time.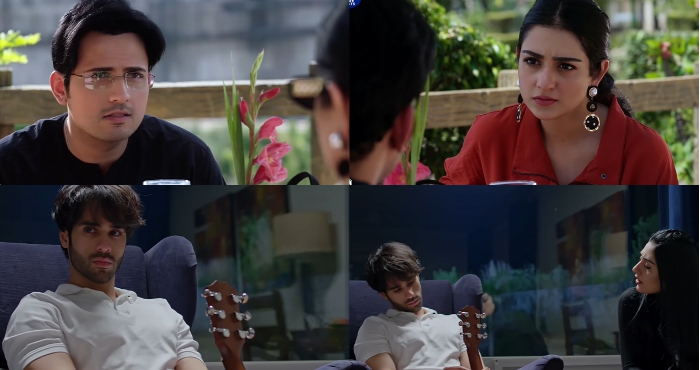 Ali gave his mother a lecture after she told him not to marry Miraal. Somehow the writer thought this was a good time to discuss why Ali loved to be controlled by Miraal! I wish he had invested this time in revealing why Miraal is so twisted.
Hassan's Trust Issues Continue
There was no change in Hassan's thinking in this episode either. In fact, Atif managed to convince him that he needed to divorce Anaya. So, Miraal got what she wanted and this scene wasn't the lease bit impactful. Hassan is still living under a rock since he has no idea even now that Anaya's father passed away. The way the writer has handled Hassan's character, in particular, has been the most disappointing element of the story since Ameer Gillani acted so well and this track had so much potential. Hassan literally started seeing the world with Atif's eyes ever since he got married and nothing has changed.
Final Remarks
I am glad that Sabaat will finally be ending next week! I remember how excited I was when I watched the initial promos, I couldn't have imagined that such a good team would not be able to deliver. Except for some meaningful scenes covering Anaya's track, Sabaat's story was all over the place!
Did you watch tonight's episode of Sabaat? Do share your thoughts about it.