"Tu gorkun hai Rasheeda, gorkun..qabrin khodnay wali, teri dihari na na lage tu tujhe chain he nahi parta!" This episode was not as shocking and disappointing as the last one, Abdur Rehman decided to go back to Lahore which put an end to everything that transpired between him and Rasheeda in the last episode. Thank fully whatever happened after Khalil entered the room when Humaira was choking was not shown but the conversation between the two later on suggested that Khalil did exactly what Humaira did in the last episode! There was a little too much of Humaira and Khalil in this episode and the little that we saw of Shano and Khalil was not the sort of interaction which most viewers were looking forward to watching between the two.
"Meri ami ko burha krne ki tamam koshishi nakaam ho gayee".…Sadqay Tumhare has been filled with many shocking secrets that changed the lives of many of the characters and also our opinions about them. The scene in which Shano narrated her mother's twisted life story to Khalil to make him understand why her mother would never allow Khalil to be a part of her life was definitely very well written because the way Shano narrated the story went to show there was a part of her which understood why her mother could not get over everything that happened to her in the past. She did not blame her mother because she was too young to understand what was going on. Khalil and Shano's love story was always filled with complications but whenever these two were with each other they forgot everything and enjoyed their time together. Tonight however things were quite different. Things seems to be getting even more difficult and uglier with every passing episode and the story isn't moving towards a conclusion at the moment.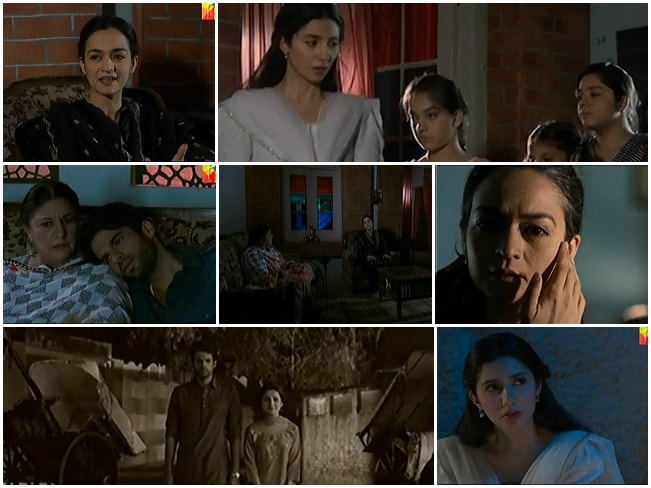 Inayat's dialogue about how everyone was guilty of hurting someone or the other was spot on. In fact there were many dialogues in this episode that hit the nail on its head and really struck a chord with me. Inayat knows only too well that her husband got married to her only because he wanted to hurt Rasheeda and he might still have feelings for her. The scene in which Rasheeda looks in the mirror and "discovers" how much she had aged was absolutely brilliant. It was as if she had suddenly noticed that she had changed – times had changed – but that moment only lasted for a few seconds and soon enough she was back to the time where she was engaged to Abdur Rehman! Rasheeda is waiting for Amin to die so that she can stop pretending and finally live a life which she has wanted to live for all these years. Sammiya Mumtaz deserves a standing ovation for portraying all the shades of Rasheeda's personality brilliantly. I might not like Rasheeda but I definitely understand her character more than any other and I understand why she is the way she is. Rasheeda decided 24 years back that she will not move on and that is why she held on to all those memories for all these years in the hope that some day she will be able to continue her love story from where it was "interrupted".
Humaira and Khalil's track is really putting me off, I hope that it comes to an end very soon. Listening to Humaira's plans was frightening and Khalil isn't exactly keeping his distance either. Tonight's episode had some very powerful dialogues which is why it wasn't as big a disappointed as the last one. I have been a big fan of Sadqay Tumhare but I think it is time to wrap things up now before the drama completely goes off-track. I feel like Shano and Khalil seem to be talking about everything else except what they should be talking about. Khalil did not tell Shano that Humaira was in love with him – is he really that "scared" of Humaira? Khalil shared the Peer's story with Bay Ji but he did not say anything to Shano about it.
Will Shano tell Khalil that he is Sadiq's son? How will he react to that? What will be Rasheeda's next step? And what will become of Shano and Khalil's "love story" which seems to have taken a back seat now?
Do share your thoughts about tonight's episode.
Fatima Awan