The most important issue which is being highlighted in Sammi right from the first episode is the exploitation of women at the hands of men with the help and support of women who are their accomplice! Everyone who has power over these women in some context or the other abuses their position to use either their sister, wife, daughter or even an ex-girlfriend for their own selfish interests. One thing which stood out more than any other in this episode was the way Sammi has been completely disowned by everyone. There was a time not very long ago when Sammi had a mother, a father, a brother and a lot of relatives and friends. Now she has absolutely no one who wants to own her. The way her parents have disowned her completely was the most upsetting part of this episode. The only person who is looking for Sammi is someone who wants to destroy her.
Rashid could not care less what Chandni does to Sammi, he did what he was asked to do and now Sammi's fate is in Chandni's hands. Chandni's dialogues were misleading in the previous episode therefore watching her run a parlor was a good twist in the story which also promises that there is hope for Sammi. Although Sammi's new boss (maalik?) is a bitter person but she has taken up the responsibility of training Saami. Chandni threatened Rashid that she might do something terrible with Sammi but it seems highly unlikely that she would do something like that. Chandni's character is the kind of character which grabs your attention instantly and it is even more interesting watching Sania Saeed nail this role. Sania Saeed is an exceptional actress who always highlights all the different shades of the characters she plays through her expressions and body language. Chandni is tough from the outside only and I am waiting to find out more about her past. Sania Saeed's overall look goes perfectly with the character she is playing and the focus on how "kamina" she thinks Rashid is yet she cannot let him go completely was interesting.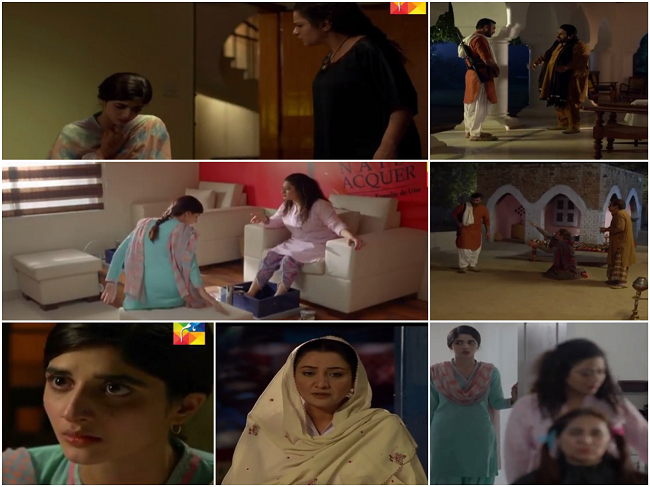 Mawra Hocane played the scared and vulnerable girl who had no idea what fate had in store for her but was trying her best to survive perfectly in this episode. She looked innocent and scared in all the scenes which made me relate to her character more than ever in this episode. Also, it was good watching her wear clothes and sporting a hairstyle which went well with her character. I have a feeling that Chandni and Sammi's relationship is going to be the highlight of this drama very soon.
The writer has etched-out Chaudhry Nawaz's character brilliantly. His mentality is translated through his words, he has no problem calling someone who has been loyal to him for years his "paltu kutta". He actually thinks that Rashid should take this as a compliment! He is so ignorant but he is incharge because he has the power and the financial resources. Rehan Sheikh and Adnan Siddiqui both are excellent performers, who makes their scenes even more impactful. I am waiting to find out how Rashid gets out of this situation.
The viewers also found out more about Nadia Afghan's character in this episode. She is someone who spreads awareness and is considered an expert when she is at the clinic but when she is home she is also a vulnerable woman who is being exploited by her brother.
Overall, this was an interesting episode of Sammi. I like where the story is headed and there are plenty of tracks in the drama to keep the interest of the viewers alive as long as all these tracks are handled well. I must say though that this isn't just Sammi's story but it is the story of many women who are fighting different battles.
How many of you watched this episode? Don't forget to share your thoughts about it.