Ohkay so, the writing of Mustafa Afridi, direction of Saife Hassan & production of Momina Duraid; Sang e Marmar hit out tv screens tonight. The very first episode introduced the main characters effortlessly. There definitely is a lot more that has yet to unravel, but after watching the first episode, I am definitely looking forward to the tracks of few characters especially.
The drama is set in Ghari Baraan, a small town in the the province of Khyber Pakhtunkhwa, that is still run on the basis of patriarchal ideology. The leader of the town Baraan Khan dies & that is when his son Gulistan Khan (Noman Ijaz) informs his son Aurang Khan (Mikaal Zulfikar) to come to Ghari Baraan to attend the funeral of his grandfather. Aurang returns to his village after 2 years & going by the way things run in his village & house, it was obvious that Aurang was indifferent to everything, especially his father. Gulistan Khan is someone who holds his family values & the principals set by his father close to his heart, so much so that he has developed this rigidity in his personality in order to keep the ideology of his father alive.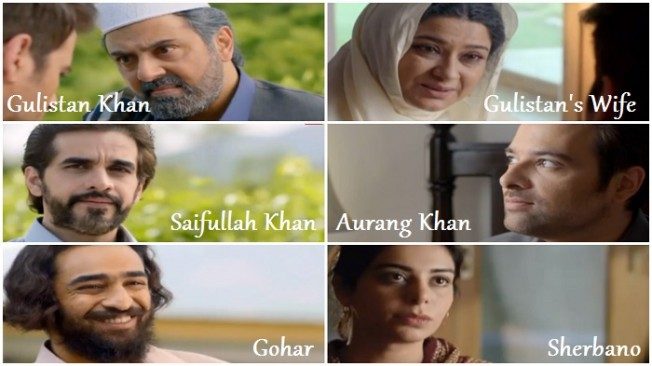 Aurang has two more brothers & a sister; Saifullah Khan (Omair Rana), Gohar Khan & Sherbano (Uzma Hassan). Sherbano is married to her first cousin Torah Khan & it seems like Torah Khan has a past related to his mother that he hasn't been able to forget & move on from. Gulistan Khan has kept his other sons closer but just because Aurang has chosen a different path in his life, both; the father & the son do not share a cordial relationship with each other. Aurang returns to his village after 2 years & the welcome that he gets shows him the place he holds in his father's heart, because Gulistan Khan only has a pile of objections related to him, be it related to his dressing, or his detachment from his family or his perspective. Saifullah & Gohar seem to be doing exactly what their father Gulistan wants, but Aurang has other plans & those plans most certainly do not include being involved in the family matters.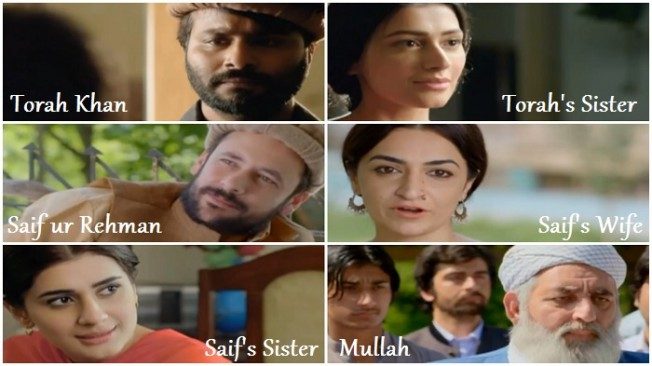 Looks like Aurang has a lady love (Kubra Khan) in Ghari Baraan, who is involved in a one-sided love for him. She happens to be Aurang's childhood friend but ever since, she has only kept him near to her heart. Saif ur Rehman (Tipu Sharif) happens to be the lady love's brother & the moment he finds out that his sister & her friend gave a ride to Gulistan Khan's son Aurang because he was running late for his grandfather's funeral, he gets furious. It looks like Saif ur Rehman does not share a cordial relationship with Gulistan & in general, Gulistan & Baraan Khan have made quite a few enemies throughout their lives but then it is obvious because power & authority always come with a territory.
Sherbano is definitely not happy with her husband & just because she knows that she has a strong backing of her father & her brothers, she gives her husband a hard time, who already is aloof to the world as he is engrossed in the pain of his past, related to his mother. Torah Khan seems to be the most intriguing character & I am definitely looking forward to his track. His entry was quite interesting too where he saved the thief using logic that no one could say no to. I liked how they slightly touched the fact that the people who are known for their religious knowledge tend to change their stance according to their convenience. Mullah didn't mind suggesting the chopping of hands as per the Islamic rulings but the moment Torah Khan gave him a little bait, he fell for it & that makes Mullah quite a controversial person because it is obvious that he will never stop any barbarism that Gulistan will instigate because he is always going to maintain his rapport with him, as he knows Gulistan's power quite well.
I liked the bonding of Aurang with his mother (Sania Saeed). She is the only one Aurang feels for & loves endearingly because she is the only one who not only understands Aurang but supports him completely too. Aurang's mother isn't oblivious to the detest Aurang has towards his father, that is why she tries to reason with him & try to make him understand his father's perspective too. Their scenes together were heart-warming & done really really well.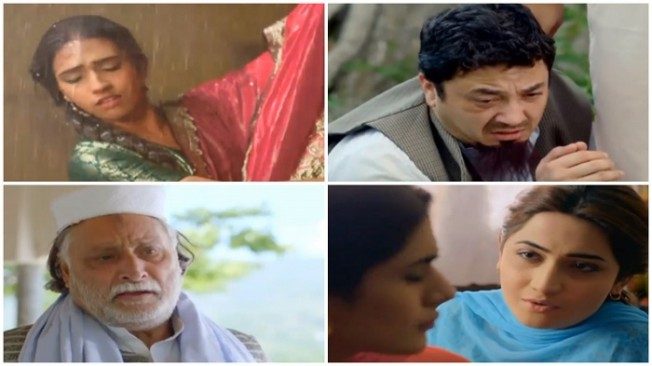 Finally, Sherbano got what she wanted & that was an apology that too after she degraded her husband & she being the one who initiated the fight. Sherbano wants her husband to know that she has the power & she will exploit it to her heart's content. Gulistan Khan definitely is someone who doesn't know how to differentiate between emotions & practicality because despite knowing what Gohar did, he made sure that Torah apologizes to Sherbano. Gulistan obviously looks down on his brother's children because it looks like his brother did something in his life that he certainly doesn't or didn't approve of & I am sure it will have something to do with the choice of his life partner, that is Torah's mother. Torah also has a sister who seems a bit too interested in her cousin Aurang, but we'll have to see who will eventually become Aurang's life partner.
Overall, this episode was quite interesting. Even though the setting & the theme of the drama is on the serious side & I am sure it will keep on getting dense as the episodes will progress, but I liked the precise approach of the director where in just a few scenes, he told us about the mentality that Gulistan Khan endorses. I must say I'm glad to see Hassan Noman in this drama, even though he has a side role to play but I am sure he will leave a great impact. It was a treat to watch him in Preet Na Kariyo Koi & I am sure things would be no different in this drama as well. I must say, I am glad that the drama makers are moving outside the vicinity of Karachi city & exploring more places in our dramas, it changes the mood completely & gives you something refreshing to watch. The acting of all the actors was great & I am eager to see what Noman Ijaz has in store for his fans. Definitely looking forward to the next episode. Please share your thoughts about the first episode of Sang e Marmar.
Keep Supporting,
Cheers,
Zahra Mirza.