Anyone who has not seen this episode yet should keep a tissue box handy while watching it because the first part of the episode in particular was very emotional. It is so important for the viewers to be able to relate to the characters that are shown in dramas and I must say that Saba Qamar has managed to make me connect to her character quite easily. I felt Ayesha's pain every step of the way in tonight's episode. This episode had its high and low points – the lowest point being Ayesha's mother's reaction which unfortunately got a lot of screen time.
Ayesha's mother's reaction to the incident unfortunately reminded me of Rameen's mother. While I understand that a mother would do anything to save her daughter's marriage, I find it impossible to relate to these mothers who are so strong that we do not see them shedding tears even when they are alone and they do not feel the need to console their daughters. It would've been far more convincing if we were shown a scene or two of the mother and daughter bonding in which we saw the mother feeling her daughter's pain and expressing how she really felt. A mother must go through a lot more than these on-screen mothers if their daughters are violated like this. Unfortunately these on-screen mothers are so busy covering up for the culprits and so determined to move on that they forget all about what their daughters are going through. It would've been much better if for a change we saw the daughter relying on the mother for some comfort and solace instead of the mother acting like she was an authoritarian with no feelings! A request to our writers please humanize these mothers or stop giving them so much screen time.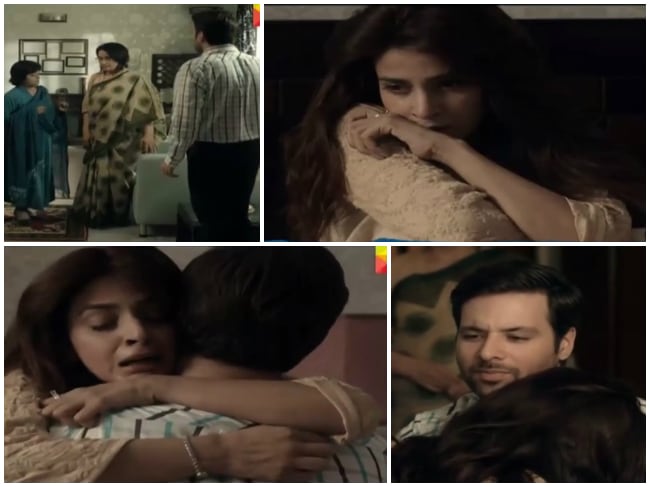 While I am not happy with the way the mother's reaction was covered in this episode, I must say that asking a counselor to talk to Ayesha was definitely an 'educated' thing to do! I am glad that unlike Chup Raho the writer highlighted the fact that girls who go through such trauma cannot just get over it automatically after a certain period of time has passed but they need professional help. The counselor's suggestions and whatever she said to Ayesha's mother was spot on as well. I would definitely give the writer full marks for that.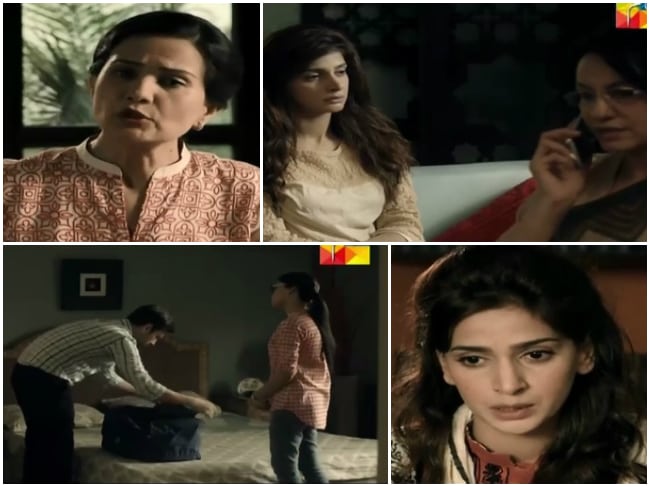 Saba Qamar was outstanding all through tonight's episode and Ayesha's character has been etched-out very nicely too but it would've been far better if Saba Qamar compromised a little on her styling and make-up. While her acting and body language was flawless, her eye make-up and hairstyle did not go with the entire scenario. Her face should've reflected her mental condition just like her body language did. I think Saba Qamar is a very talented actress but I must say that she needs to understand that she has a very pretty face which will look equally good with a little foundation alone and it will make the audience connect to her character even more. Like I said Saba Qamar's performance in tonight's episode was picture perfect therefore her make-up could easily have been over-looked by many viewers. The first time Ayesha hugged her husband, I could understand why she would want to do that and it seemed appropriate but the second time it was shown, it seemed forced and the peck on the forehead was totally uncalled for.
Adnan clearly fell for the lie Ayesha's mother told him. I liked the way Adnan shared his feelings in the last conversation of this episode. I am glad that he talked about how devastated he would've been if such a thing happened to him and did not talk about it from some other perspective. I must say though that I wasn't impressed with Mikaal's performance today and I felt like Saba Qamar completely over shadowed him. Will Ayesha be able to muster up the courage to tell her husband the truth? I am waiting to find out and I am really hoping that she will be the one telling him what happened and he won't find that out from some other source.
How many of you watched this latest episode? Do share your thoughts about it.
Fatima Awan