Sehra Mai Suffer – Episode 20!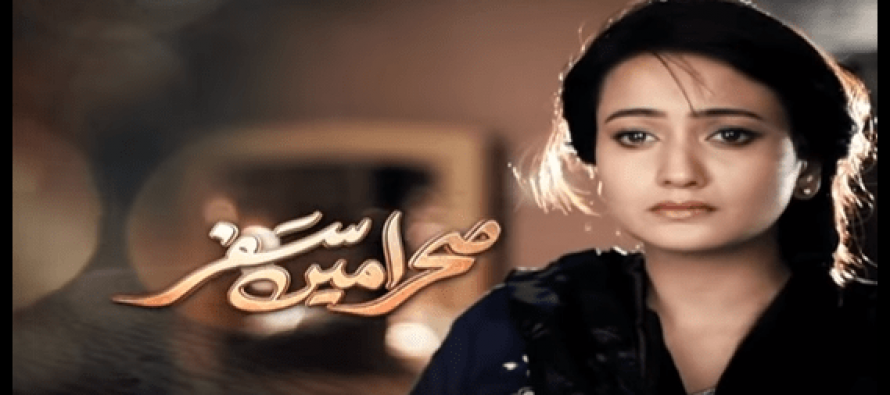 Ohkay so, please correct me if I am wrong but did I just watch an episode of morning show dedicated to 'gharelu budget' that often Nadia Khan & Nida Yasir have dedicated their shows to because all the discussions in this episode revolved around those very nominal things & the dialogues at times seemed a little too petty!!! I seriously am so put off after watching this episode that I actually feel I have wasted my precious time. I really am not understanding the purpose of the writer here to be honest & it's actually quite sad for someone like me who has a high regard for the work that Sarwat Nazeer has done previously.
I don't really get why the writer here is trying to show someone like Taimur in a bad light. When I say someone like Taimur, I am talking about someone who makes a decent amount of money & has been able to maintain a decent lifestyle for his family. Yes, I do agree & I will say that again, I do agree & feel that Taimur is wrong in that aspect where he is ignoring his mother & her needs. He is also wrong where he doesn't even put an effort to spend time with his mother but then, if he buys gifts for his wife & if he provides furniture or curtains for her, then what's wrong with that & what is in it that makes him a bad guy or a bad son? I know he is just a side character but since his little family is getting so much of screen-time, I am forced to speak about it because if we look at it, Taimur spent a lot of time in abroad where he was making money & taking care of the household expenses on his own for a very long time & also when he returned he took care of Ayaaz & his mom for quite a while too, so now if I look through his perspective; living away on your own without your family, doing a job while managing everything on your own from cooking to cleaning to everything else which usually is the life that bachelors lead when they step outside of their country to make money, so if I consider all that, Taimur, in my opinion, didn't lead an easy life too. Yes, he got lucky that he bagged himself a decent paying job, so now if he has settled in Pakistan & is doing these little gestures for his family, then why is he shown in a bad light here? It definitely isn't Taimur's responsibility to fend for his entire family all his life. Let me say that again, he is wrong for not being able to maintain a balance between his mother & his wife but apart from it, if he is providing a decent life for his family then there's no point in showing him in a bad light.
Yes, the eyebrows are being raised on Taimur because of Nuzhat, but she is a whole different story & if she is like that, then let her be as she can't change & her financial condition has nothing to do with how hard Iqra & Ayaaz's financial stability is. I by no means am saying that I understand her character or I like her character, but yes, I think every wife is conscious about her husband's pocket so if she asked for Ayaaz to bear half of the expenses then there's nothing wrong in that as it wasn't Taimur's responsibility to provide for the entire family including Ayaaz's wife just because he was making more money than Ayaaz. Also, it is a case in every single family where one brother makes a tad bit more amount of money than his other siblings, so it doesn't mean that everyone has to rely on him for each & everything!
Also, another thing that I don't really understand is the reason why Ayaaz's job as a tutor is highlighted so much & it is made to show that he is the only guy on the face of the earth that is working so hard to provide for his family & is failing miserably? Another thing that I don't really understand is that Iqra was the good child of her family & similarly Ayaaz is the good child of this family too, so why did the writer put these two awesome, good & pure souls into this never-ending financial misery which is taking them nowhere & is serving no purpose whatsoever? Like what is the purpose here, I am asking again? Ayaaz is taking care of his mother now so isn't his mother's prayer working in his favor that might turn his luck & bring him this jackpot that Sallahuddin hit in Mann Mayal, chalo if not something that huge but at least a decent 'job' where he would be able to buy his kid's pampers the same day his wife reminds him about it?
Even a few episodes ago, all the conversations were making sense & had some meaning but throughout this entire episode where the focus was on grocery list & where all the dialogues included a mention of, kal ka bacha hua salan, doodh, anda, toast, paratha, gosht, bijli ka bill, puranay kapray, furniture, parday, pamper, tin food (which actually is known as a baby food FYI Nuzhat), baby's formula milk, (hope I am not forgetting any item since it is so important) I was lost & couldn't even bring myself to pay attention to their conversations or relate to how dire their situation was & how hard they were struggling because all these things are quite normal & nominal that every wife reminds about them to her husband so that he can fetch these things when he returns, so yeah, what's the big deal about it? I was actually finding it hard to understand that someone could bring all these grocery items in a drama, not only write dialogues about it but also turn this non-issue into such a huge issue, like kya waqay hi hamare pass content ki itni kami ho gai hai? The way the grocery items are being discussed in Sehra Main Suffer, I fear that may be in upcoming dramas, we'll also get to hear ke sabun, toilet tissues, toothpaste aur shampoo bhi kisi couple ke ghar se khatam ho jayeinge & they will end up fighting with each other!!!
Accha, I think Iqra's 'Sehra Main Safar' refers to her job & career. She does a job & refers to it as Sehra as travelling in a desert is quite hard so just like it was made clear upon us in the beginning that Iqra finds it hard to work in an office, this is what her safar/suffer in sehra is going to be throughout her life where she will have to work time & again when she will succumb to the financial pressures instilled upon her by the writer, for no good reason. Sorry guys, this is just my honest opinion about these recent events that have taken place in this drama, however, I do understand that there are quite a lot of people who like this drama & for that, please feel free to disagree with my take on it & don't hold back in sharing what you feel about it & how you find it realistic or good. For me, this episode was just like a morning show where the hosts & the guests do talk about a lottt of problems, but no one reaches to a conclusion. The preview also didn't convince me with Iqra's solution where she'd actually have to lie to her husband & work in order to make some money to afford the school fee of her kids!
Ayaaz is perfect in comparison to Shehryaar but seems like even he is unable to make Iqra happy. First it was Shehryaar's beghairiti that forced her to do the job & now it is Ayaaz's ghairat that is again forcing her to do a job & also lie to him on top of that? So, what's the point here? Iqra was pressurized to work, by her father, her first husband & now because of the financial condition of her second husband, so what does it tell, like what's the purpose of this drama here, ke larki ko job karni chahiye, nahi karni chahiye, husband jitna kamata hai us mai khush rehna chahiye yan har waqt muh phula ke rehna chahiye, husband push karay job karne ke liye tab nakhush rehna chahiye yan husband manah kare tab us se chup ke job karni chahiye aur us ke saath saath nakhush bhi rehna chahiye? Like crux kya hai bhai koi itna bata de bas??? LOL!!! Anyways, please share your thoughts about this episode of Sehra Main Safar (Sehra Main Suffer for me actually)!
Keep Supporting,
Cheers,
Zahra Mirza.
A little prayer to reach the finale of this drama quickly:
'Kar Thori Meherbaaniyaan, Rabbbaaaaaaaaaaaaaaaaaaaa'.
...
---
---