Not too happening an episode, started with Ali apologizing to Ehtesham and ended with Sania announcing that she'd do a job to share Ali's responsibilities, how's that for a short review! I know I am mean but you guys wanted a short review, didn't you! As if I wrote a chemistry lesson on which you were to be tested in next few hours!!!!
Today's episode also left the question whether Sania really resents not being married to Ehtesham (as Ehtesham had aptly put it to Sania) or whether she dislikes Ehtesham because he rejected her for no reason. I could clearly see envy in her eyes when she went to meet Sehrish who told that Ehtesham made breakfast for her and really cared for her as she's expecting.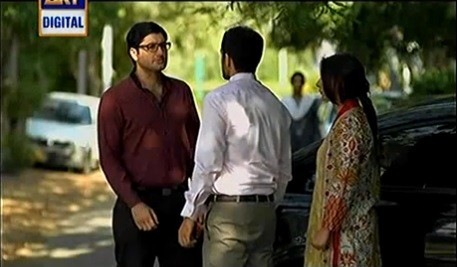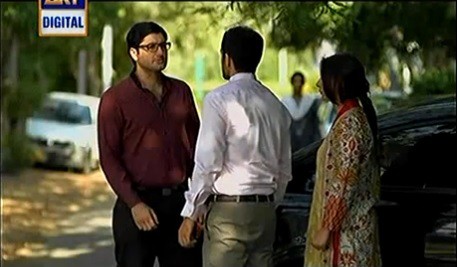 Jewelry remained a big issue throughout this episode as Ali wanted to start a business, for that he wanted to sell Sania's jewelry who remained confused whether to give it to Ali or not. So many scenes had the mention of jewelry that it looked like the jewelry was the hero over here.
The most irritating couple (jee meree ap kee duyaon mein aj kul kee medicines kee tarha asar naheen) Maham and Atif appear again. Chalain sub mil k paisay jama kartay hain so that we can bribe the director to cut out their roles from future episodes. Now don't you people disappear!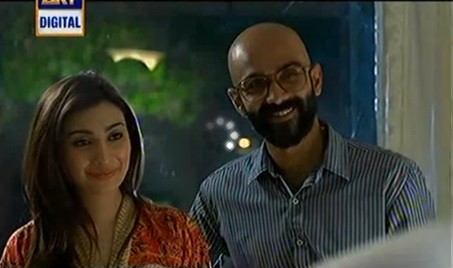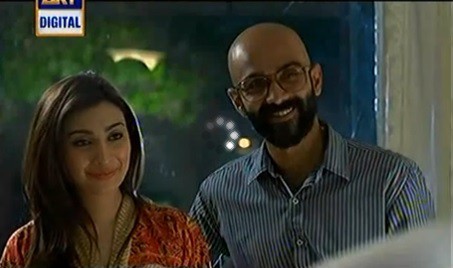 Atif qualifies to be a perfect aunty bee-jamalo as they were discussing the supposed affair of Ehtesham-Sania post the dinner that Sehrish had invited them to with such surety as if they had seen everything with their own eyes (Atif ganjay ko to waisay hee kum nazar ata hai, pata naheen us kee glasses phisal ke gir kyun naheen jatee). This episode had very less of Badar Khalil which was a relief but Ganja-Ganjee (Ganjay kee biwi Ganjee!) ne kasar pooree kar dee.
During the dinner, Maham taunted Ehtesham indirectly about Sania and also tried to photograph Sania with Ehtesham which upset Sania who refused point blankly. And yes, Ali is not such a villain after all, he does have same feelings. He made Sania go to Sehrish, accepted their dinner invitation and even apologized to Ehtesham. Ub baad mein us ke par nikal ayain to mujhe maaf kar dena bhayiyon, behnon aur behnoyiyon!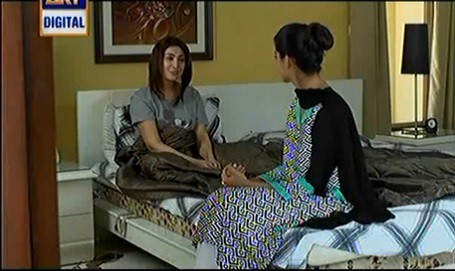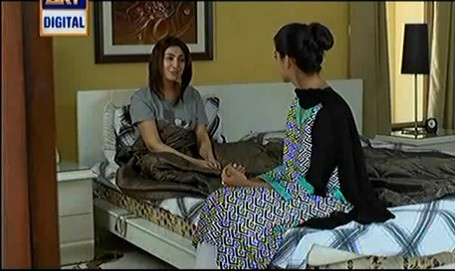 What I failed to understand was Sehrish's desperation to make friends with Sania. Is she so friendly with everyone, genuinely likes Sania or takes pity on her. I could almost imagine her saying 'us se dostee na huee to mein mar jaoon gee '. This serial is also an on-screen role reversal, Syed Jibran is living with Adeel Hussain's wife from Daam and Adeel Hussain is keeping Syed Jibran's beloved from Khuda Zameen Se Gaya Naheen happy! Kiya kiya hota hai is duniya mein, tauba tauba (kidding, kids don't mind!)
This serial is definitely stylishly shot on the pattern of Turkish serials, its feel remains very real even in today's episode as they captured the anxiety before a child's admission test and actual test process very well. Chalain kafee ho gaya for today, miltay hain break ke baad aur agar kisi ko ub bhee yeh review lamba laga hai to sara parhnay ko kis hakeem ne kaha tha, course books kee tarha parh letey!
Haseeb