Tonight's episode of Shayyad focused entirely on Saad; all the scenes covering Saad's track showed how even after all these years he had not moved on. Even though he termed his feelings for Hani as infatuation, his mohabbat a "weham" and kept on saying things to prove that he was incapable of feeling anything for anyone any more but the fact is that his past is still an important part of his present. Saad only refused to get married to Bubbly because he had still not forgiven his mother for the logic she gave him so many years back when she told him why she didn't want him to get married to Hani. The situations covering Saad's feelings were written really well but they could have been translated on screen more effectively. Uzair Jaswal's acting wasn't as impressive tonight as it has been throughout perhaps because some of the scenes were stretched.
Tania's role is interesting; a cute and cheerful girl who comes from a liberal family and has no idea what she is getting herself into. Her character is poles apart from that of Saad but bears a striking resemblance to Saad's past life and personality. However, the actress playing Tania's role has a long way to go and her make-up also did not compliment her looks at all, the heavy contouring was actually distracting. She is cute and has tons of confidence but her acting left a lot to be desired. This episode opened with Tania trying to find out if Saad was in love with anyone and very soon she proposed to him. Even after Saad rejected her proposal, Tania's reaction was too "cool" which killed the overall impact this scene and Saad's dialogue could have had! There were a lot of dialogues tonight which were short, perfectly timed and beautifully written but they were not covered potently which was a huge disappointment.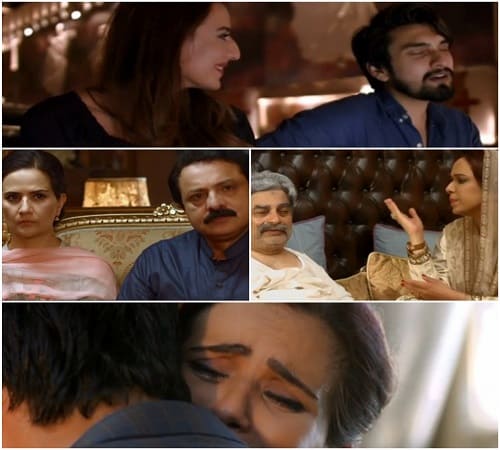 Dada Ji's scenes tonight were entertaining as usual and provided some light moments. Irfan Khoosat is absolutely adorable as Dada Ji and it is great watching him play a role like this one since he has been continuously playing serious roles in dramas recently. Mahpara yet again tried to convince Dada Ji that the family's dignity was at stake because Saad's wife-to-be was someone who had spent her whole life abroad but just like always Dada Ji's approach was open-minded as well as non-serious which was refreshing. I liked the way Saad's mother's reaction and later on her resignation was covered, I have always found it really easy to connect to her character.
The overall pace of tonight's episode was slow, some of the scenes could have been wrapped up more quickly. After the powerful episode last week, I was expecting tonight's episode to be more emotionally charged. This episode also didn't have the kind of flow which keeps you too engaged and interested. The fact that Salar and Hani were completely missing from this episode also left a vacuum. The flashback scenes however were used effectively throughout. Uzair Jaswal's performance tonight wasn't as powerful as it has been previously but Saad's journey was penned down perfectly; a man who was trying really hard to break free from his past but was constantly reminded of the love of his life especially after he came back to the house. This episode ended with Saad ultimately giving into his feelings. The preview of the upcoming episode looked promising and I am looking forward to it. I am really curious to find out how Hani's life has been like all these years and what turn Saad and Hani's relationship will take now.
How many of you watched tonight's episode? Don't forget to share your thoughts about it.