Tonight's episode of Shayyad had a lot of important developments to its credit and just like every other episode of this drama this one too had a surprise in store. Aslam sahib's entry has changed a great deal in a good way. Just like Tania, he is really different from Saad and his family. While in Saad's family, everyone takes everything a little too seriously and they tend to worry more and do less, Tania and her father have a completely different approach. Some of the major developments tonight however, didn't have the same impact they could have had because they seemed rushed. Having said that, the story is getting more interesting with every passing episode and it is impossible to guess what turn it will take in the upcoming weeks.
This episode opened with everyone greeting Tania's father Aslam. He turned out to be a really pleasant surprise since his first interaction with Mahpara suggested that these two were meant to be together. I wasn't expecting Mahpara's track to take this turn but watching her take interest in a man other than someone who left her a long time back was a positive development. The actor playing the role nailed the light hearted scenes but he could have done better in that one relatively more serious scene in which he tells Hani to follow her heart. This conversation however was written brilliantly since it wasn't directed at Hani alone but Mahpara was also listening to it and it was something she could relate to.
The lavish brunch was covered perfectly and this was another meaningful scene which showed how Tania helped Hani Smile again. Tania's character is a breath of fresh air and it was sad to see her finding out who Saad's true love was just days before her wedding. Saad has always been quite selfish when it comes to loving and supporting Hani therefore it did not come as a surprise at all that he didn't pause to think about Tania when he proposed to Hani once again. This entire development however was too rushed since it seemed like some of the more important details were missing. The timeline in these scenes was confusing because the divorce papers were ready a little too quickly and the conversation between Hani and Saad was rather abrupt. When did Saad give Hani these papers and why did she change her mind suddenly?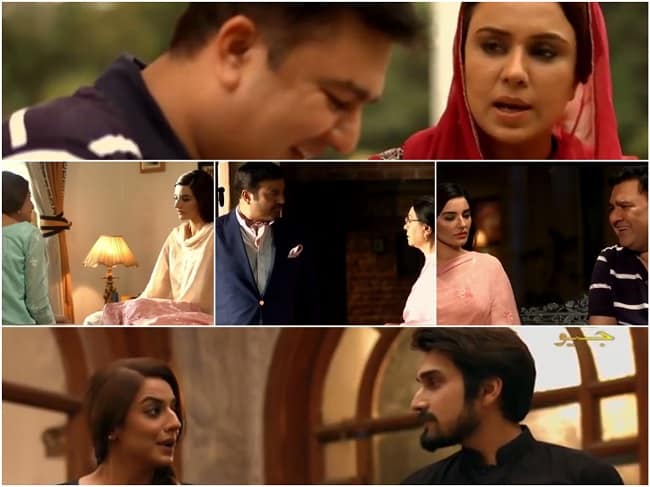 It was surprising watching Salar drive away after his encounter with Saad. Saad's father was absolutely right, this wasn't like him at all. I am waiting to see what is going to be Salar's next move. His conversation with his mother tonight revealed that his father used to abuse her and perhaps him to. Now that he is in control instead of doing things differently, he is doing exactly what his father did. He gets pleasure out of causing pain to people around him and is incapable of loving anyone at all. Nauman Ijaz yet again acted brilliantly tonight, no matter how short his scenes are he always makes his presence felt and completely owns his role.
Uzair Jaswal's performance tonight was impressive and the fact that he shares great on screen chemistry with all his co-stars makes all his scenes work. Saad and Tania's scenes together are always meaningful. Tonight too, all their scenes together added something important to their track. Tania was always afraid of losing Saad and now that her fears have come true I am waiting to see how she is going to react. Tania's scene with Hani in which she tells her to move on was also really well written.
The dialogues tonight were deep and meaningful and right now the story is more interesting than it ever was. If some of the developments weren't rushed tonight this episode would have been perfect. I also miss watching Irfan Khoosat's character on screen, he should have been given some screen time in every other episode. Overall, Shayyad is an engaging play which keeps on giving you something to look forward to. Really looking forward to the next episode!
How many of you watched tonight's episode? Don't forget to share your thoughts about it.