These two episodes of Laal Ishq were as mindblowing as expected by a drama that has set such high standards, not from marketing or promotions but sheer good quality script and acting. The inter personal dilemmas are translated in a way that seem truly like a genius at work, or rather many geniuses since everyone is doing a brilliant job. The best thing about this drama is that not one person is inherently bad or evil, they are all bound by their own forces of love, heritage, loyalties and obligations. That is what makes them all so relatatable, so endearing and yet so charismatic. To be honest, I was not very fond of heavy dialogues and meaningful intonations after sadqay tumharay but Laal Ishq changes all of that. Here the dialogues are not merely for adding drama and weight to the situation but they truly add life and soul to the scenes.
In last week's episode, Punar faced severe repurcussions from both Mehr Chiragh and Mehrunnisa and was even called a female and spineless son by them. Since he is always shown very impressionable and awed by Mehrunnisa, he has taken a U turn and decided to shake off the stigma of a weakling from himself. On the other hand, a ground is being set for the Mehrs and Jajji's kids to know that Bali is their real father. Mehr Chiragh adds two into two and concludes that Farhad is Bali's son and he is very proud of himself to be one step ahead of Mehrunnisa this time in getting justice for Hukum. This makes Mehrunnisa worried but only for a second. The strong and stubborn Mehrunnisa returns in a second and takes away Mahi's engagement ring. As Bali recovers, Rameen and Farhad get to know that their father is actually called Jajji, so they are very genuinely concerned about their paternity. Eventually Jajji breaks down in front of their harsh questioning and tells them the truth. Kashif Mehmood has outdone himself, truly and thoroughly. There cannot be a better Jajji impersonating as Iqbal or a better father to tell his kids that he is not their real father. The end of last episode and starting of this one belongs totally to Kashif Mehmood for each and every tear that seems to be coming right from the core of his being.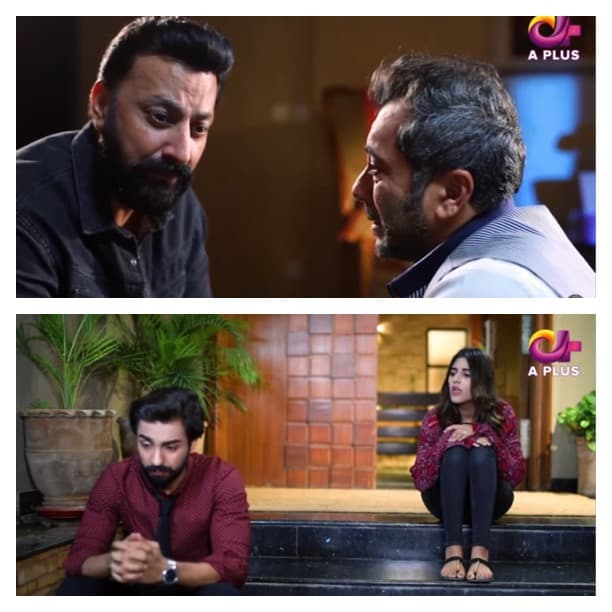 The dialogues between Jajji and Bali were hilariously tragic. They make such an interesting duo, with both of them fighting for something that they know is rightfully neither of them fully. Jajji tried to convince Bali that he has done his best to ensure that Farhad and Rameen will hate him and love their real father, but Bali sees right through his facade. He is thankful that his kids were so loved and yet angry that they love his friend like their father and not him. This contradiction of feelings has made Bali so emotional and so helpless that he is almost talking non sense. Babar Ali has yet again proved what a talented actor he is. Bali is the heart of the play and Babar Ali's acting is the heart of this character. He is simply amazing. I love the way how every character retains their sense of humor, no matter how trying the circumstances are.
Rameen and Farhad were also brilliant as the two youngsters who have suddenly had their whole lives and identities wiped away from them. Their anger is so genuine and yet so mixed with love that they want to hurt Jajji for hiding the truth but not quite. They hate Bali for the havoc he has created in their lives, and yet that have to protect him now. No questions asked. Since he is their biological father, they need to secure his life from Mehr Punaar and his gang.
Punaar has erased all good feelings from his heart or atleast he is trying to. Mahi, on the other hand believed in forgiving Bali right from the start and continues to do so but she is loyal enough to break all ties with Farhad. Farhad however is not going to give up on her this easy and wants to try one time to convince Punar to take his life instead of Bali's. It was a very well written scene including Rameen's unexpected arrival and losing her cool and screaming and crying in the hotel lobby, but Punar calling Farhad a dog was totally uncalled for. It would have been much better to end the scene with grace rather than abusive words.
Mehr Chiragh is also leaning towards forgiving Bali now, as he has sensed that his grandkids are irreversibly entwined in Bali's family now and his death would adversely affect both sets of children. Mamoo Munir, on the other hand is single minded like his sister and would not agree to let Bali Iive at any cost.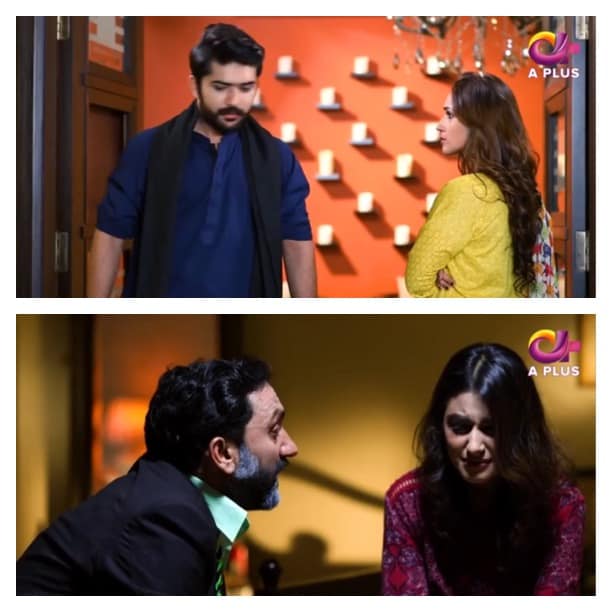 It's hard to wait a whole week for the next episode to air.