Shayyad has an interesting storyline and some of the performances keep you glued to the television screen but episode 17 in particular was poorly edited because of which the timeline was seriously confusing and the episode overall didn't have a proper flow. Although, tonight's episode didn't have glaring editing mistakes but the timing of some of the developments was somewhat odd – Hani walking out of the house with Salar hours after dada passed away was really strange. Saad and Hani's track however continues to be the most appealing aspect of the show even though some very important developments in these two episodes weren't covered as flawlessly as they were in the past few weeks even then this track keeps your interest alive.
Tania finally found out who the love of Saad's life was and Hani decided to go back to Salar because she could tell what Saad was going to do next if she stayed any longer. Tania's reaction and Hani's decision both made perfect sense but it was disappointing to see how the flashback scenes were forced into many scenes and disrupted the flow of these scenes. These flashback scenes were unnecessary since they were used excessively and at times they didn't even make sense. Tania was shown hearing Saad and Hani talk at the end of episode 16 but in episode 17 she seemed pretty normal and later on we saw that the mayun was yet to take place! The confusing timeline definitely killed the kind of impact these scenes could have had. Uzair Jaswal's performance and Saad's character however saved the day yet again. It is always easy relating to Saad's character and feeling for him no matter how badly executed an episode is. Also, since the pace of these two episodes was fast therefore even with these flaws they were intriguing enough.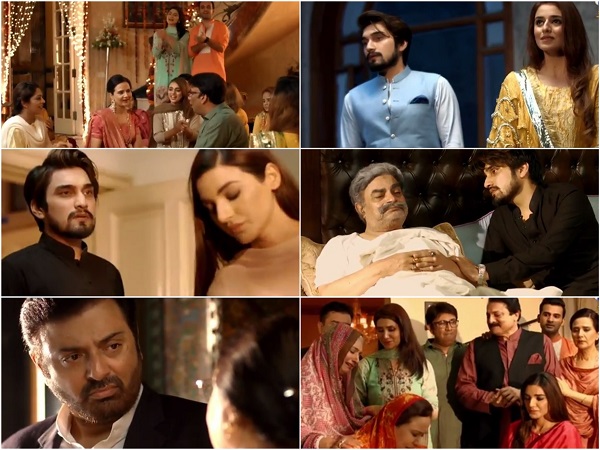 Dada's death reminded me of the time when Saad was hoping he would die so that Hani wouldn't get married. Saad's scene with Dada was one of the best scenes in this episode but the family wasn't shown remembering him the way they should have had. Mahpara finally decided to move on and Tania was shown pursuing her dad's case in these episodes. Tania never got the opportunity to talk to her father about Saad and Hani but her reaction showed that she was going to be more "understanding" than any other girl in her situation would be. Right now Saad's mother is the only person who would stand in the way of Saad and Hani's marriage other than that everyone would be more than willing to let them have their happily ever after. Uzair Jaswal shares amazing on-screen chemistry with all his co-stars which is why even though some of the performances leave a lot to be desired but the scenes are always convincing.
These two episodes had quite a few impressive and meaningful dialogues. The background score however in some of the scenes was so loud that these dialogues were barely audible. In the past 15 weeks or so the director utilized the flashback scenes in the most creative manner but in these two episodes there were many which could have been easily chopped down. Even though the director failed to do justice to these two really important episodes, the story as a whole remains interesting and unlike many other recent dramas this one is not being stretched. Every episode has something important to offer and always gives you a reason to look forward to more. Even with all the glitches here and there, Shayyad continues to be entertaining because of its storyline. I am sure I am not the only one rooting for Saad and Hani and I am even waiting to see Mahpara ending up with someone who will value her. Salar's track's ending is highly unpredictable as well therefore intriguing.
How many of you watched these episodes? Don't forget to share your thoughts about them.