Ohkay so, this episode of Shehnai was more on the serious side & wasn't all fun & games. The writer deserves full credit for showing this journey in such a manner where all the characters have been humanized in such a way that you actually relate to them & feel what they are going through. So far, what I really like about Shehnai is how much coverage & insight has been given to the feelings & emotions of these characters which makes them very special in their own way. Usually, in a drama with so many characters, there tend to be one or two tracks that do not really work & seem like fillers but when it comes to Shehnai, each & every single character has a special role to play. Some have shown some growth & others have evolved too which again makes it all very realistic. I really must say that although the story is somewhat different from what reality usually is about the matters concerning marriage the overall treatment that it has gotten is very realistic & makes a lot of sense.
The Cat's Out of The Bag
Meerab finally took the bullet & decided that he couldn't do it anymore. At this point, I don't blame Meerab, he loves Samreen & he has been dealing with this pressure for so long, therefore he mustered up this courage because he had to prove it to Samreen, as well as himself that he could actually take a stand for something that he desires so much. The only thing where he does go wrong is his inability & incapability to see the obvious. However, it has been perfectly established that just because Meerab himself is so nice, he sees that niceness in Samreen & believes she can not lie to him because this is something that he has never done to her.
I really liked the confrontation between Meerab & his sister Beena. She was being the voice of reason but because Meerab was adamant that he had to come clean & stick with what he has finally done. As much as Meerab thought he would feel light & relaxed, he was faced with one realization after another that he was wrong but somehow, that hasn't occurred to him just yet.
Bakht was actually heartbroken. She wanted Meerab to see things the way they were & more so, she wanted him to realize the niceness that he had shown her so far was what made her fall for him but she continued to use her father's condition hoping that would work in her favor but sadly it didn't. I am glad that the cat's out of the bag now because it makes things a lot more interesting because this was a very important development that needed to happen to take the story forward.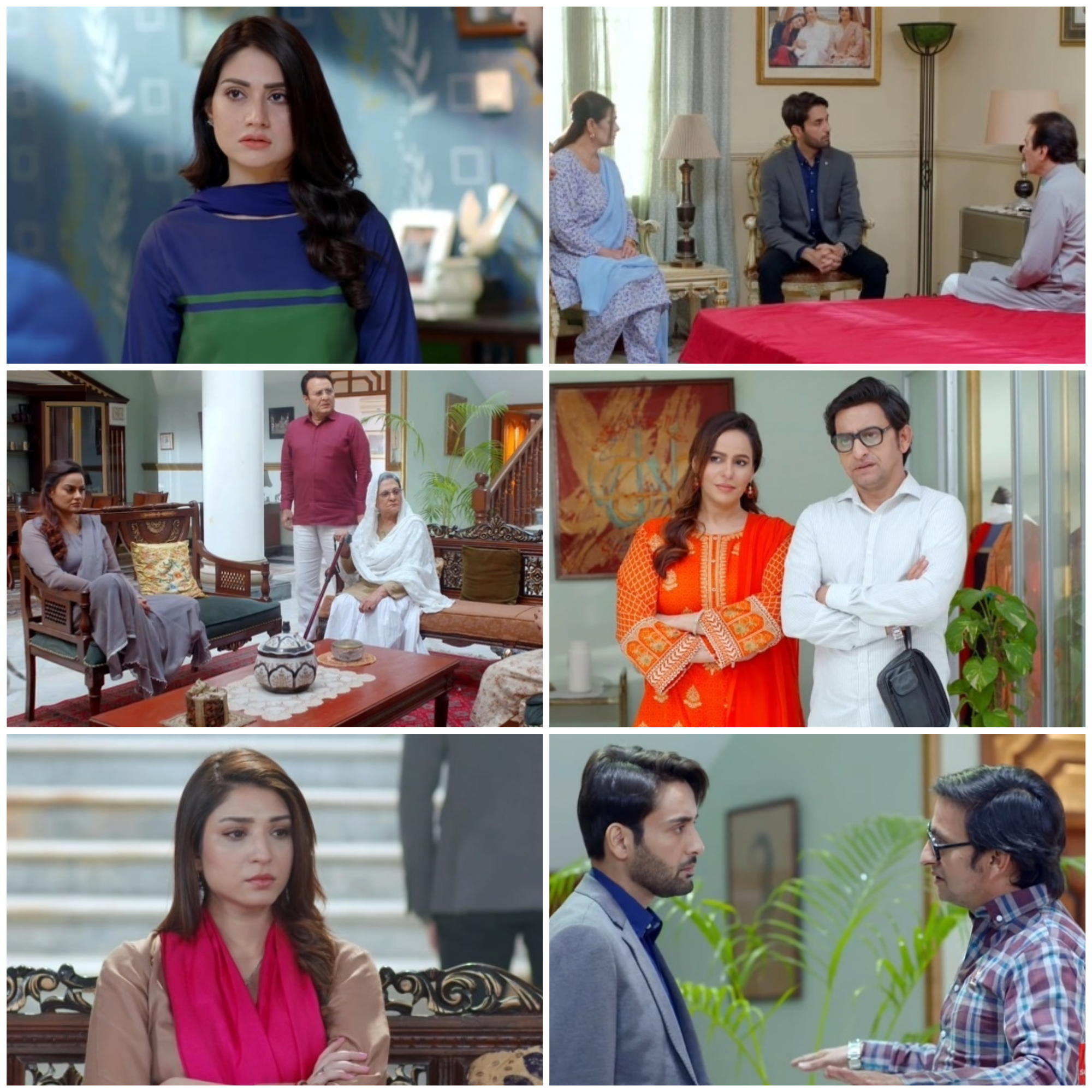 Once again, Maliha & Qifayat decided to take advantage of this entire situation & continued to pursue their agenda. Although Maliha has been a dutiful wife to her husband & has never done anything to go against the entire family openly but I really kind of feel annoyed whenever I see Azhar treating her as if she is a nuisance & a nobody. On the other hand, there is Absar who really has given Ambreen the edge to say what she wants & be herself but when it comes to Azhar he seems distant & aloof to Maliha. I truly don't blame her for wanting to have her own space & privacy, considering living with her in-laws has not done anything special to her relationship. Qifayat & Tooba definitely are in the wrong because Absar & Azhar have been looking after their entire family for years, so for them to demand the property doesn't really make sense however when it comes to Maliha, I don't find her wrong in wanting to have her own space away from the chaotic joint family system.
Meerab definitely spoke the truth but he has surely underestimated how his parents are going to react. Meerab is hopeful, rather sure that they will eventually forgive him & Samreen but he has no idea how much they have taken it to their hearts & how things are not going to be as simple as he is making them be.
Brilliant Performances
This episode of Shehnai was once again a very interesting watch. I am glad to be able to see a drama like Shehnai which after so many episodes still is holding my interest. Although I do think I can predict the ending but still, the entire journey has been so refreshing & engaging that I have a lot of fun watching this drama. Props to the entire cast for acting out so brilliantly in this drama, their performances make it worthwhile. Please share your thoughts about this episode of Shehnai.
Keep Supporting,
Cheers,
Zahra Mirza.