The story took a predictable and unexciting turn with this episode. Sherry's track was one of the weakest links of this drama because of number of reasons and now that he is back in Shehrnaz's life. I am certain that many viewers like me have absolutely no reason to look forward to what this track has to offer. Shehrnaz's professional life has been covered so recklessly so far therefore there is no hope that a confrontation with Sherry will get her back on track, it will be closure and she will eventually focus on her career more than her love life. Even if she forgets Sherry, she still has to get over KK!
There were a lot of scenes in this episode which were highly repetitive. There was absolutely nothing new about Sara and Sherry's track and the way Sherry found out how much Shehrnaz had accomplished wasn't the least bit convincing. Although the viewers never really saw how Shehrnaz climbed the ladder of success but everything we have seen till now suggests that she is now among one of the top stars. Even though Sherry was out of country but there were many ways in which he could have found out that Shehrnaz was a famous celebrity now. He could have come across an interview, a piece of news or anything regarding Shehrnaz on social media and let's not forget that both Sherry and Sara are from the same university as Shehrnaz so they must have been in touch with at least one of their friends back in Pakistan who could have told them what was going on in Shehrnaz's life. Even Hina or any of the family members never mentioned to him just how famous Shehrnaz was since all of them knew her. The shock factor was quite forced and the manner in which he found out was even more so!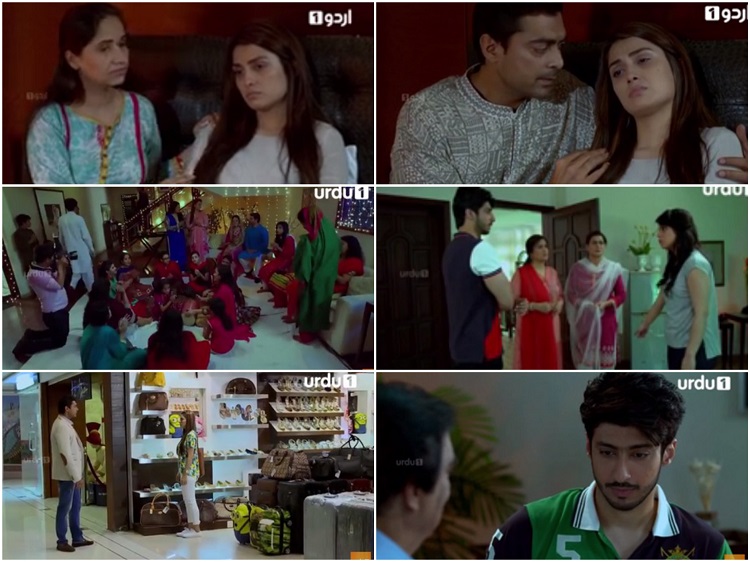 Although Aly Khan And Ayeza Khan have great on screen chemistry and both of them are brilliant actors but their track is just as plain as all the other tracks in the story right now. Also, just like all the other tracks in the story, their story too is going around in circles. The roothna manana and especially Shehrnaz's rona dhona is getting way too monotonous and annoying. The scenes in which Shehrnaz completely gives up and cries (a little too often) are always the same, the OST is constantly playing in the background and the expressions are always the same.
The writer and the director both put in a lot of effort into building the story in the first 7 episodes or so but right now it seems like their creativity completely died down after a few episodes! Even the four pictures on Shehrnaz's wall with her father which she looked at and cried were all the same! Both of them were wearing the same dresses, they only had different expressions!
Shehrnaz's story has lost all its appeal and has completely gone off track. Sitting through this drama is an ordeal because of the weak script, lack of creativity and even some of the performances which are clearly not up to the mark.
How many of you watched this latest installment? Do share your thoughts about it.