Shikwa-Episode 24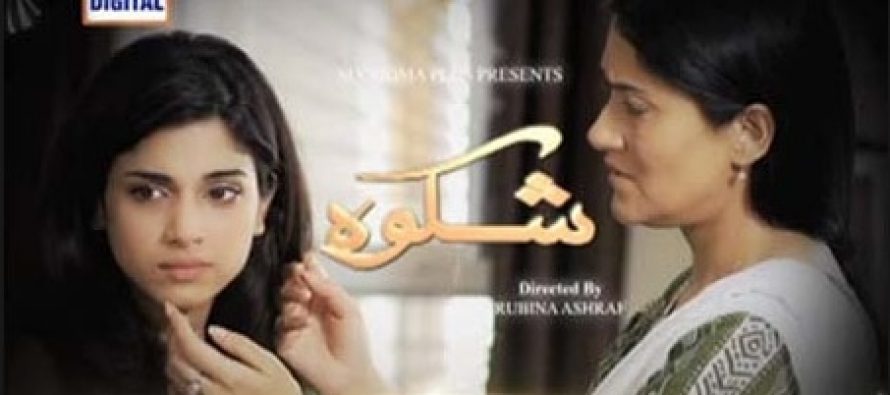 You know what? It was kind of sad to see Sonia Hussain wasting so much of her ENERGY for the sake of an episode that had nothing new or productive to offer. A couple of people losing their consciousness (in case you are wondering, they are Sidra and her Mommy dearest :P), Mehar's 'Mei bohat buri hun. Mujhay maaf kardain' phase and a few outbursts here and there are not exactly my idea of 'redemption'.
It seems like they added Sidra's track just because they wanted Mehar to learn something from her nasal-voiced 'unfortunate' behen and acknowledge the fact that she is extremely lucky to have a husband like Saqib. ZZZZ (that was me yawning) I found it a bit appalling how Sidra made it sound as if Mehar's life is enviable perfect?! Sidra too is going through a lot but at least she got married to a young gentleman who loves her, in contrast to Mehar, who has to live her whole life with an uncle who has mastered the skill of eye-rolling . If the writer is trying to portray as if Mehar's life partner is 'ideal', I am sorry I don't agree with her twisted logic. And yess, since day one, I have seen everyone in this play intent on proving that Mehar and her bewaqoofiyan are responsible for all the mishaps! Okay I get it, she made a lot of mistakes, but holding Mehar responsible for all the bad things going on in her life just doesn't seem right to me! Mehar's outburst (this must have been her 50th outburst by the way) was harsh but I will not blame her for anything because had I been in her place, I would have ended up in Hyderabad ka paagalkhaana too! And just so you know, her mother's sudden heart attack didn't build up any tension  whatsoever.
So it's revealed that Zeba Ji was Saqib's boss after all and she had to stay at Saqib's place because she missed her flight! Khoda pahaar aur nikla chooha LOL!  Tables have turned for sure: initially, it was Saqib who always seemed to be thinking of ways to please Mehar and now it's Mehar who is desperate for his attention and love. I used to find Saqib's character so relatable and likeable but he has taken a disastrous U-turn, just like the play itself! Hayee those good old days when I actually used to WAIT for this play!
On a humorous note, I would put forth the question: Did you guys observe EXACTLY the way Sidra fainted? ;) Well, I did and it was LOL X 10
Maryam Mehdi
---