Ohkay so, the production of MD Productions, direction of Ahson Talish & writing of Imran Ashraf; Tabeer commenced tonight on Hum TV. The first episode gave an introduction to the main characters but other than that, despite being a decent episode, it wasn't extra-ordinary!
The plot revolved around two characters Fawad (Shehzad sheikh) & Yasir (Imran Ashraf). Fawad is happily married to Zarnish (Eeshal) & Yasir is married to Tabeer (Iqra Aziz) & both the couples are expecting their first child.
Yasir works for Fawad & takes care of all the chores. His family is settled in Hyderabad but he works in Karachi because Fawad's runs his family business there. Both Fawad & Yasir are doting husbands & make sure to let their wives know that they are there for them. Fawad goes an extra mile for Zarnish & so does Yasir.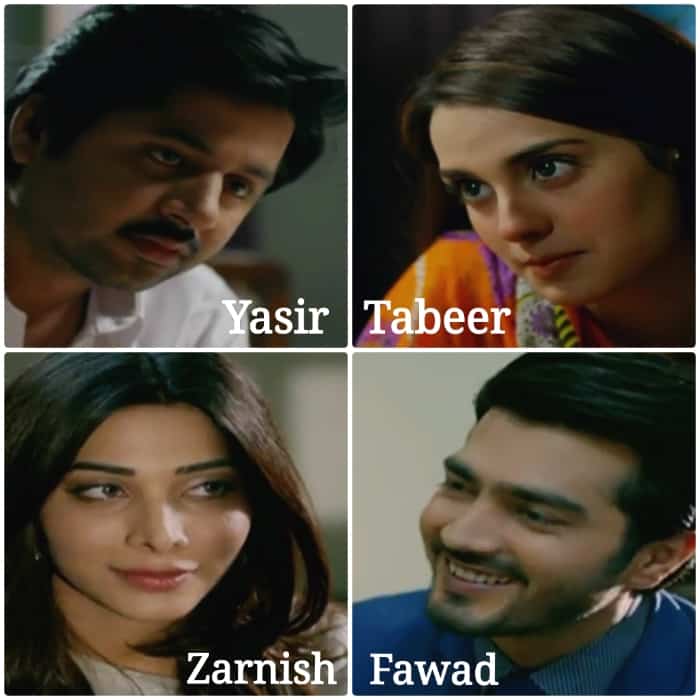 Fawad's mother (Seemi Pasha) feels that she has lost the connection to her son because of his wife. Even though she voices her concerns openly & directly, the fact still remains that she has an issue with Zarnish & also with the fact that her son loves her a lot & goes out of the way for her. Fawad's mother overlooks the fact that Zarnish is pregnant & Fawad is doing what a husband & a father-to-be should do.
Yasir on the other hand misses his wife Tabeer & so does Tabeer, but she also understands that his work demands him to be away from her. She spends time with his grandmother while thinking about him all the time. Even though the equation between both the couples was a bit too filmy but it surely was refreshing to see two happy couples because that's a rarity in our dramas these days!
Fawad takes care of Yasir's needs & is also very considerate towards him, because of which Yasir promises him that he will do whatever he can to repay his favors. Well, Fawad finds out that his wife has cancer & that's where the episode ended. Two other characters got a slight introduction too but no links of them were established to the main characters but I am interested to see how they will contribute to the story!
So, the first episode was pretty basic. Judging by the first episode, I do have a feeling that this drama might turn into a guilty pleasure for all those who'd tune to it. To be honest, seeing that it has been directed by Ahson Talish, I do have my reservations so I am not keeping my hopes high, but let's see. Well, the whole chicken broast scene was amusing & I would've liked if they hadn't promoted Dargah culture the way they did in this episode. Anyways, the direction seemed decent & so did the acting. The OST of the drama is nice as well. Please share your thoughts about the first episode of Tabeer.
Keep Supporting,
Cheers,
Zahra Mirza.