I am terribly disappointed with HUM, moving a drama like TDKKH to 9pm slot and replacing it with a cliché-ridden play like Tumhari Marium was a terribly unfair decision. While I understand that a drama like TDKKH cannot possibly be a commercial hit but while allotting or moving these slots the channel should also keep into consideration the quality of a drama and the amount of effort which the entire team has put into it. TDKKH is unusual but definitely worthy of a good slot! I am certain, I am not the only one who feels this way since there are many other viewers who can clearly see that TDKKH has some major strengths.
These 10 episodes of TDKKH have been beyond amazing. Every single conversation and the entire feel of the play is brand new. This has to be one of the most beautifully written plays which is filled with deep and meaningful dialogues. The director and the actors have translated all the scenarios on screen impeccably. Just like every other episode of TDKKH, this one too had a special surprise in store. The previous episode already suggested that Maya was regretting her decision of leaving someone like Faris who loved and respected her for a crook like Saif. This episode ended with Maya admitting that she had made the biggest mistake of her life and she loved Faris more today than she ever did. I had absolutely no trouble connecting to everything Maya was going through since this change of heart did not occur overnight. It took a man like Saif to make her realize what a gem Faris was. I absolutely love the way the tables have been turned. Not very long ago Faris was the one who was desperate to have Maya back and now Maya wants to go back to him. Different scenes in this episode suggested that Faris was getting closer to Dariya; it seemed like he was more emotionally dependent on her now than ever and he needs her in his life although he does not want to get married to her just yet. Like Uncle Siraj said, in the end the person who cheats pays the price for it and not the person who has been wronged.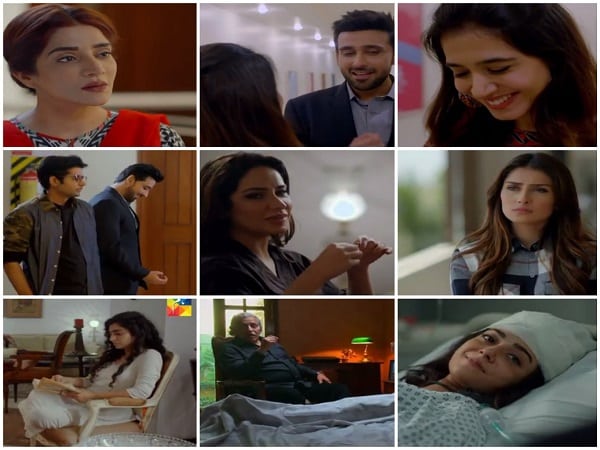 Although almost all the characters in this drama are appealing in their own way but Faris and Dariya's characters as well as the relationship between these two has to be the highlight of every episode. Sami Khan and Mansha Pasha's on screen chemistry coupled with their brilliant performances make their scenes a treat to watch. Both these characters have so many different shades to their personalities and all of them are equally appealing. Also, the fact that even with all their niceness, they are still really strong people makes them even more likeable. Maya's character has been etched-out brilliantly too and Ayeza Khan has breathed life into this character in such a way that even with all her flaws you can't help but feel for Maya. She comes across as someone who is naive and gullible as opposed to negative or wicked.
My favorite parts of this episode were Faris' conversation with Zoya and everything Baila said to Maya after which she admitted that she wanted to go back to Faris. The conversations Lubna, Baila and Maya had and the kind of relationship these women share was also truly refreshing. For a change it is good to see women being there for one another although their circumstances don't make it easy for them to support each other. Baila has always been the voice of reason; she is wise, practical and outspoken – we don't get to see women like her in our dramas very often. Lubna too has also been quite honest about her feelings for Saif and also about her views regarding Maya's situation. It is great to see these women being honest with one another.
Like every other episode of TDKKH, this one too had some impressive dialogues to its credit. My favorite one however was, "Mard ki jaib agr khali bhi ho na tu biwi ki wafadari apni jaib mei daal kr kehta hei k I am the richest man."
The preview of the next episode was very enticing! Does Faris really hate Maya? Do Dariya and Faris have a future together? I am looking forward to finding out!
How many of you watched this episode? Don't forget to share your thoughts about it.