"Janti ho mohabbat bari self-regulated hoti hei, wo logo ke sath wohi salook krti hei jo log us ke saath krte hei."
This drama actually has a spellbinding effect; the beautiful dialogues and the overall feel of this play is simply fascinating. TDKKH is the kind of drama which requires your full attention and you can only enjoy watching it when there are absolutely no distractions! It is very rare that such flawed characters appear so appealing on screen and you can't help but connect to them. My favorite part of this episode was the way Faris' feelings were translated on screen. Even now, he has not been able to "hate" Maya or move on although he keeps on saying that he will never allow her to come back into his life, the fact is that even today he would forgive her if she tried hard enough. Faris' proposal to Zoya it seemed was yet another attempt to get back to Maya for what she did to him. Right now, I feel that even if Faris tried he could not cheat on Maya because he is still in love with her. There were a lot of dialogues in tonight's episode which suggested that he was waiting for her to come back but obviously it wasn't easy for him to forgive and forget. Even now Faris wants to hurt Maya in some way but at the same time he does not want to lose her. Sami Khan's brilliant portrayal of a man who can't get over the betrayal and at the same time cannot seem to let go of the person who betrayed him couldn't have been more impressive. His dialogue delivery has been brilliant throughout although some of the dialogues are very tricky and could have come across as over-dramatic if they weren't delivered in such a subtle yet impactful manner.
I have said this so many times before but after watching every new episode of this play I feel the need to say this again – Dariya is beyond amazing!! She is one-of-a-kind and Mansha Pasha has definitely given this character the edge it needed to win the viewers over completely. Dariya is practical, intelligent, sensitive, outspoken and loving. Sami Khan and Mansha Pasha's on screen chemistry and the way these scenes have been directed makes me look forward to their scenes. The way Dariya gave Faris an honest answer was a treat to watch. Although she does not approve of Faris' feelings for Maya but at the same time she does not let that effect their friendship. She has never complained to Faris and she has never even once made him feel like he owes her something more than what they already have. Dariya is a far more strong person than Faris and even Maya.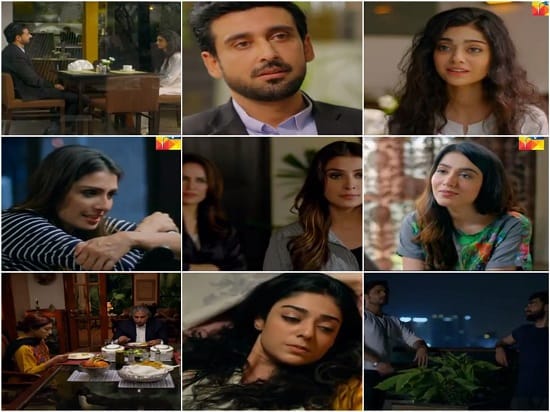 Maya's track took an interesting turn with this episode. Now that she is over Saif, she wants to go back to Faris but her ego won't allow her to approach him and ask for forgiveness, the way she should. For the first time Maya cried in tonight's episode when she saw Zoya with Faris – a reaction which showed how she felt about Zoya. Even though so far the viewers have seen Zoya looking out for Maya but apparently Maya hates her sister and there is more to the story. I am eagerly waiting to find out more about this track. Ayeza Khan gave a solid performance in this episode as well and Hajra Khan is also faultless as Baila.
Saif also revealed a little bit about his background story and his plans for the future in this episode. He is aiming for something much more than what appeared on the surface and the reason for that probably has to do with his history with Siraj Uncle. This track too is getting more interesting now. Although I am glad that it isn't getting a lot of screen time.
Just like all the other episodes of TDKKH, this one too was beautifully written, directed and acted out. The person responsible for styling and make-up has also done a really good job. The preview of the next episode looked very interesting – really looking forward to Faris and Maya's meeting in the next episode!
How many of you watched this recent installment? Don't forget to share your thoughts about it.