Ohkay so, Production of Moomal Entertainment, Writing of Atiya Daud & Direction of Mohsin Talat; Tere Mere Beech hit our TV screens last night at 9PM. To be honest, it was the promos that caught my attention & I decided that I'd give this drama a go. I know not many people would be following this drama because it airs at 9PM that too on Sundays but somehow, a very loud & annoying protagonist along with different cast made me want to watch it. Honestly speaking, even though the first episode was kind of predictable, I didn't have much complaints with it & when the episode ended, I was left with a feeling of curiosity where I wanted to see more, so yes, I liked the first episode!
Tere Mere Beech is mainly a story of Hareem (Sanam Chaudhry) who has been raised by her maternal uncle Shabbir (Javed Sheikh) & his wife Zahida in a small town away from the city. Hareem knows that they are not her biological parents & her uncle & aunt have not kept the secret from her, however her aunt always reminds her that she needs to stay in touch with her mother Nighat (Saba Faisal) & her sisters Nadia (Maryam Ansari) & Sadia (Javeria Ajmal) but Hareem never fancies the idea because she holds a grudge against her mother that out of her three daughters, she chose to part Hareem from herself. Shabbir has a huge property & because he has no child of his own, he decides to give everything that he owns to his daughter Hareem. Hareem is a spoiled brat because her uncle & aunt who she refers to as her father & mother have done everything to keep her comfortable & give her everything that she needs. They have made sure to spoil her as much as they can because Hareem is their world & pampering her through expensive gifts is a norm for them because they can easily afford to fulfill as her wants & desires. It takes an expensive mobile phone for Shabbir to convince Hareem to go & meet her mother & sisters & she only wants it so that she can brag about it in front of her sisters.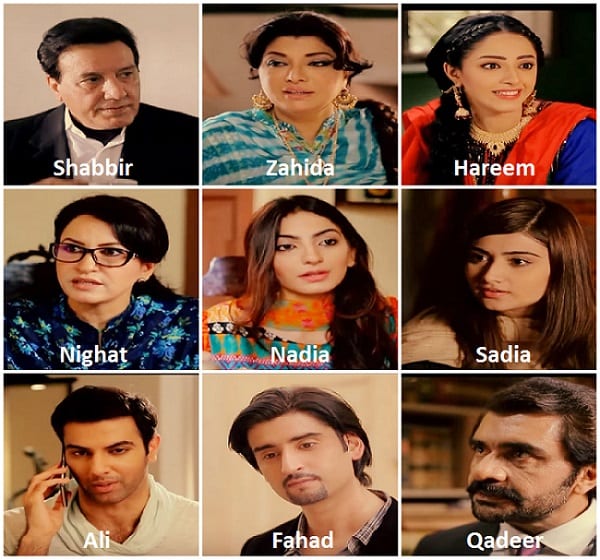 Nighat believes in living life simply & she is doing well for herself & her daughters despite the fact that she is a single parent. Nadia & Sadia are courteous & responsible girls who are well aware of the fact that their mother works hard for them & that is why they choose to do everything they are supposed to in order to keep their mother happy. Hareem is completely opposite to her sisters & she makes sure to let them know every single time that she has a sound background in their comparison & she is an heiress to the empire that her father has created in his whole life. Nighat obviously isn't happy with the way Hareem has been raised but she knows that she can't do much now as Hareem has gotten used to that lifestyle & Zahida makes sure to keep her daughter comfortable. Nighat is taken aback by Hareem's harsh words where she tells her mother honestly that she still hasn't forgiven her for her decision of giving Hareem away to her brother. The reason that Nighat gives to Hareem wasn't convincing where she says that just because Hareem was able to drink a formula milk, she took a decision in Sadia's favor as she was totally dependent on her mother whereas Hareem wasn't!?!?! I really think the writer should've come up with a better excuse but never-mind.
Just when Hareem is visiting her mother, Fahad (Agha Ali) comes across her & the moment he lays his eyes on her he starts inquiring about her because just by looking at Hareem he figures out that she belongs to a good family & I have a feeling that Agha Ali will have a negative role to play in this drama because his expressions hinted that he was only impressed with Hareem for the fact that she has a sound background. He tails her to a shopping mall & finally manages to have a conversation with her to get himself noticed. Hareem may come across as a very loud character but she actually is very gullible because she has always lived in a very protected environment & she doesn't even have that much of an exposure or education to be able to understand or read through people's minds. She chooses to hold grudges with her family & never once thinks of giving them a benefit of the doubt.
Nadia happens to meet a guy named Ali (Noor Hassan) at a gathering & they have a conversation which compells Ali to believe that Nadia's the one for him. He straight away tells Nadia that he is interested in getting married to her but his mother (Seemi Pasha) isn't too happy with his sudden decision of getting married to a girl who doesn't belong to the same social class as them, but Ali requests his mother to give Nadia a chance & think things through.
Just when Shabbir holds a meeting with the lawyer to discuss his plans, his lawyer is blackmailed by Shabbir's younger brother Qadeer (Sajid Shah) to make sure that he gets all the property of his brother. Just when Hareem & Zahida are in Karachi, they get the news that Shabbir has met an accident & has passed away, which I'm sure won't be just an accident & his younger brother will definitely be involved in it. The preview of the next episode suggested that things are going to get really hard for Hareem & the bubble that she lives in will burst where she will be forced to face the harsh realities of life & her life will be turned upside down.
Honestly speaking, as far as the first episode is concerned, I really have no complaints with it because the production value was great, the direction was to the point & the camera work was top-notch. Sanam Chaudhry did really well in portraying the character of a girl who has been pampered throughout her life but still has some insecurities & hatred filled in her. All the other actors not only looked great but did well too as far as the acting is concerned, so I must say, that's an added bonus. To be honest, I am not keeping my expectations high at this point as it's too quick to form an opinion but I most certainly will be coming back to Tere Mere Beech to see what they have in store for us. Please share your thoughts if you've given this drama a chance & let me know how did you find the very first episode?
Keep Supporting,
Cheers,
Zahra Mirza.