Pakistani actresses are not just talented but also really stylish. Some of these actresses are more stylish than others. Style is sometimes inborn. There are other actresses who have worked hard to up their style game. Being stylish can be important for an actress especially if she wants to explore more horizons. Pakistani actresses nowadays have unlimited opportunities. They are models who are seen endorsing leading brands in the country. The best brands obviously want models who are more stylish than others. Apart from this because the film industry of Pakistan is growing, the actresses who are more groomed have more of a chance to be cast as a lead in a film. And then obviously the fans too also follow those actresses more who have style and class.
Here is the list of the topmost stylish Pakistani actresses.
Sanam Saeed
Sanam Saeed started her showbiz career from modeling but now she is more recognized as an actress. She has played the leading role in many popular dramas. She especially got a lot of recognition from her play Zindagi Gulzar Hei. Sanam Saeed is effortlessly stylish, even the way she carries herself is unique in its own way. No wonder she was picked up for modeling at such a young age even though she never really planned to venture into showbiz. These beautiful pictures of Sanam Saeed show just how stylish she is.
Sajal Ali
Sajal Ali is the undisputed queen of versatile acting. She started acting at a young age, although her performances have always been outstanding right from the beginning, it took her many years to groom herself otherwise. Through the years, Sajal evolved her style for the better. Right now she can easily be in the league of the most stylish Pakistani actresses. Sajal now knows only too well which make-up look suits her and her poses are always super stylish. Even when she posts casual and candid pictures of herself on Instagram, she looks really stylish in it. Here are some of the most stylish pictures of Sajal.
Srha Asghar
Srha Asghar is relatively new in the industry yet she has managed to bag some great projects because of her impressive acting skills. Srha is also really stylish, the fact that she is so comfortable in her own skin gives her even more confidence. This confidence only adds to her style. She looks uber stylish even in a simple t-shirt and jeans. Here are some of the coolest pictures of Srha.
Sanam Jung
Sanam Jung is also one of those actresses who have their own unique style. Even when she was new in the industry, she always looked more attractive because of the way she carried herself. Just like Sanam Saeed, Sanam Jung's style shows in the way she talks and the manner in which she carries herself. Here are some pictures of Sanam Jung which show that she looks trendy in Western and Eastern Wear.
Sarah Khan
Sarah Khan is another gorgeous actress whose style always stands out. Sarah Khan has been stylish right from her very first appearance on television. It is something that is part of her personality. Lately, Sarah Khan has started sporting looks that are more stylish. She looks great in Western and Eastern wear. Sarah Khan is one of those very few actresses on this list who manage to look stylish without wearing revealing clothes. Sarah Khan is against wearing sleeveless which is why she refused some film offers too. She believes that she can make it far in the industry without compromising on the limits she has set for herself. Sarah Khan is young, beautiful and stylish. Sarah Khan looks just as stylish in a casual kurta, no make-up look as she would when she is all glammed up.
Maya Ali
Maya Ali's style game completely changed when she signed Teefah In Trouble. There was no looking back for Maya Ali after that. She was already a popular actress before she signed her first film but she changed her image for her first film. This was the time when Maya Ali decided she was going to get herself recognized as a film actress. Maya Ali lost weight, transformed her smile, her dressing and styling too underwent a major shift. Maya Ali looks more stylish than ever today. She has embraced her new image more than any other actress has and now it seems she will continue experimenting with different styles. Maya Ali definitely put in a great deal of effort to be recognized as a stylish actress.
Mahira Khan
Mahira Khan's style is definitely inborn. Even if she does not try too hard she still carries herself in such a manner that everything she wears looks stylish. Mahira Khan also has a style which is all her own. That is why she is considered the ultimate superstar. It rarely that Mahira Khan is seen adorning outfits which are too formal. Most often her style statement is casual yet classy. Mahira Khan also is one of those actresses who do not try extra hard to keep up with others. She definitely wins the style game effortlessly. Her personality too adds to the charm.
Sonya Hussyn
It is nothing short of amazing how Sonya Hussyn has transformed over the years. She went from being a girl-next-door to a complete diva. She has worked on everything from her fitness to her overall image. Sonya Hussyn was always a brilliant actress but only recently has she gotten herself acknowledged as a style diva. In an interview she shared that she got a lot of help from some of the best fashion gurus in the business. Sonya accepts that there was a time when she was clueless as to what looks good on her and how to carry a certain look but now she is undoubtedly one of the most stylish Pakistani actresses.
Saba Qamar
Saba Qamar has also evolved over the years. Her style has always been bold and daring. Saba Qamar's confidence is part of her style statement. The way she carries herself and her expressions are always unique whether she is posing for a selfie or is on the ramp. Her unique style makes her one of the most sought after models and actors. After starring in drama serial Baaghi Saba Qamar changed her style altogether which has been appreciated by her followers. Her unapologetic style statements reflect in her photo shoots more than anywhere else. Saba Qamar is not afraid to try new concepts while doing modeling shoots.
Hania Aamir
Hania Aamir keeps it real whether it is on social media or generally in public. Her style is cute, carefree and fun which makes her different from the rest. While most actresses try extra hard to keep up with other style icons, this young actress manages to pull off even the most simple of looks in the most stylish manner. Anyone who follows Hania Aamir on Instagram would know that there are few celebrities who keep it as real as she does. Her style is unmatched and extremely lovable.
Mehwish Hayat
Mehwish Hayat has over the years developed a fashion sense which makes her one of the most stylish actresses in Pakistan. She is constantly experimenting with her looks. Mehwish Hayat is also extremely confident. The way she carries herself sets her apart from others. Whether she is travelling or is at work, Mehwish Hayat knows how to dress herself up in the most stylish outfits. Her outgoing personality goes well with her remarkable style.
Ayesha Omar
Ayesha Omar is without a doubt a style icon. Her style statement most often is bold but she can even carry a traditional look in a stylish way. Ayesha Omar carries herself  in the most stylish way no matter what she is wearing. She is also not afraid to experiment. She is very often seen sporting looks with confidence which many other actresses don't.
Ayeza Khan
Ayeza Khan has changed her style game entirely over the years. There was a time when she could easily be termed as an actress who was pretty but not stylish. Now however, Ayeza Khan has gotten herself recognized as one of the most stylish actresses. Just like Sarah Khan, Ayeza Khan too does not like wearing revealing clothes but her sense of style is always on point. Lately, Ayeza Khan is not afraid to experiment with different looks which is also a good change.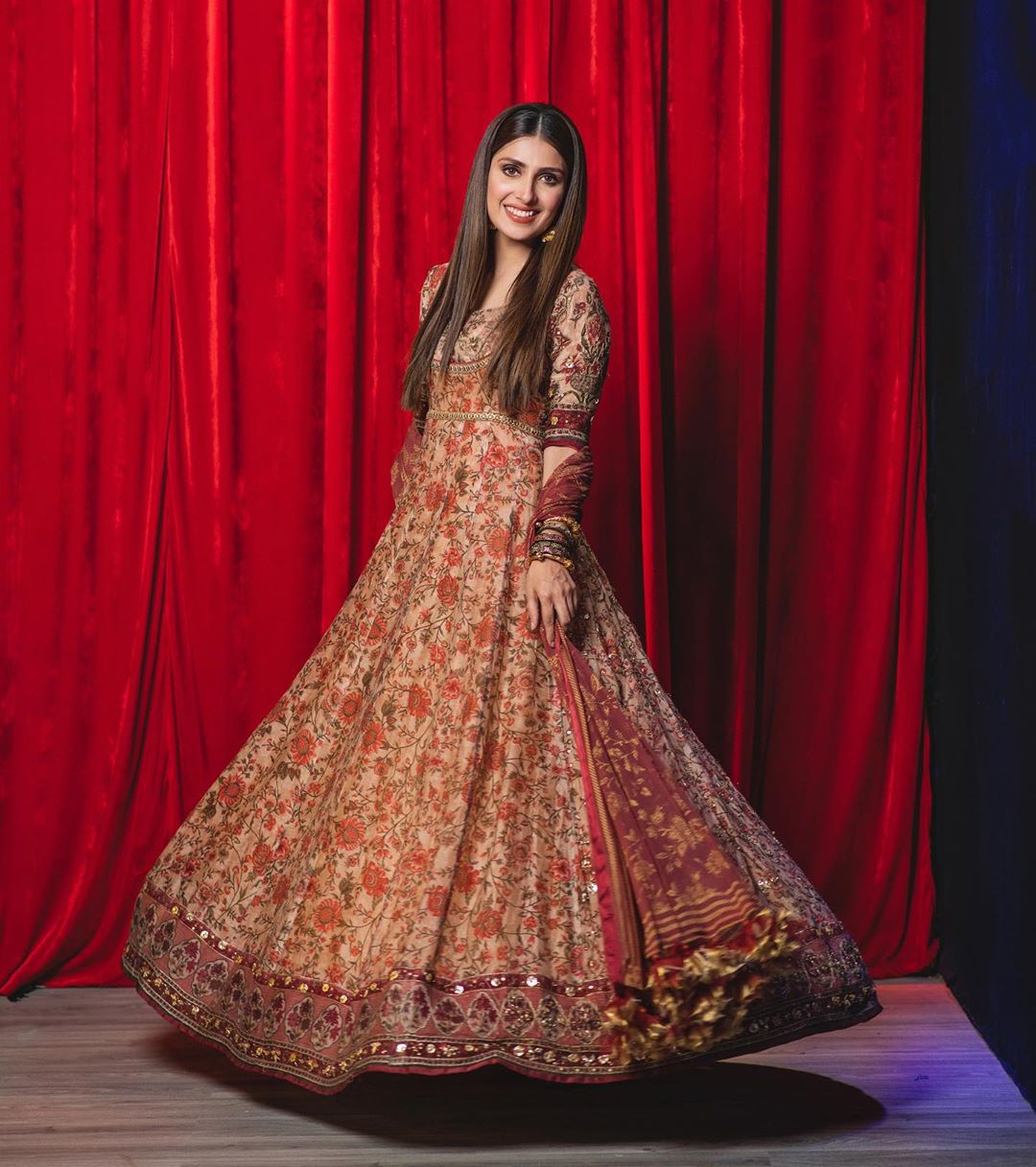 Minal Khan
Minal Khan has changed her style over the years. Right now she is working on her style game more than ever. She looks really stylish in most of the recent photographs and she is clearly more willing to experiment with different looks. Minal Khan is young and she has a vast career ahead of her. She is definitely headed towards the right direction and is already a fashionista.
Which Pakistani actress do you think is the most stylish? Share your views.