Tonite with HSY- (Mahira Khan and Fawad Khan)- Episode 1 Review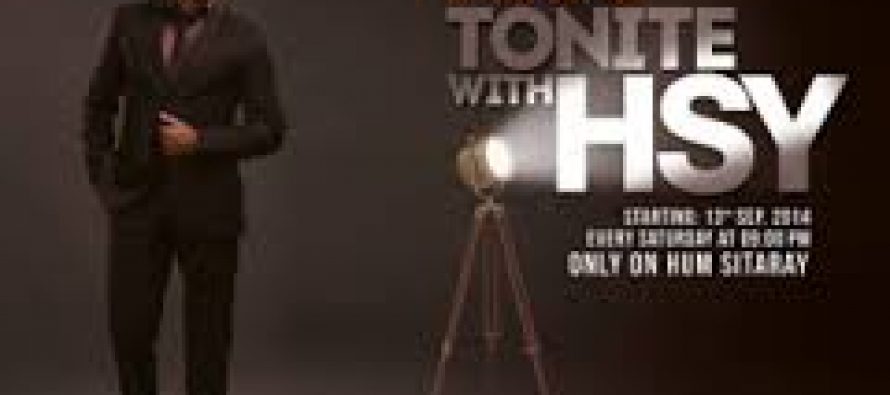 What is it that makes a talk show interesting? Guests come and go but for me, it is mostly the host that determines my willingness to stay tuned. Finally with Hum Sitaray's latest presentation of a late night talk show, I can almost say, I'm in it for the long haul. Hassan Shehreyaar Yaseen managed to stay on top of things- granted he is a brand entity but his guests are probably two of Pakistani televisions most popular celebrities who shot to fame with the unforgettable Humsafar. Yes, that's right, in the very first episode, the viewers were delighted to see the drama couple on screen once again. The set was made to look like the guests walked into HSY's home- the lighting was a little on the dark side but overall, I quite liked the set. It was different and maybe that's what kept me interested. The host wasn't someone I was familiar with- I've caught the odd snippet of HSY but I've never really sat through an interview so I really didn't know what to expect. His comfort with both English as well as Urdu was a definite plus point- I think one of the most critical aspects of hosting is being able to effectively communicate and here again, the show scored. His choice of wardrobe was again a big thumbs up- but then again, you'd expect nothing less from a fashion icon.
After a quick intro, where HSY mentioned the very first time he met Mahira Khan and Fawad Khan backstage at a fashion show, our guests settled in. The last time these two were seen together was on Tuc- The Lighter Side of Life where Fawad Khan was overly concerned with keeping up appearances. I'm so glad that he came out of his shell after the initial awkward silence. Fawad Khan's repertoire of one-liners was genuinely funny which only proves that he's a completely different person off-camera. His candidness over suggesting she can do a love song with Shafqat Cheema had me in splits. Mahira felt the need to clarify to all her fans that her age is incorrectly mentioned on Wikipedia and she has not turned 30 yet- I didn't really understand why she did that- as Fawad said, "Age is nothing but a number". Mahira and HSY took turns enacting Fawad's cool-and-composed rehearsed replies that lightened the mood. Although HSY didn't really pry into their personal lives, he did ask Mahira about the man in her life to which she predictably replied that it was her 4 year old son. There have been plenty of rumors about her divorce but I'm glad they didn't delve into details. When asked about their teenage memories, Mahira recollected her humbling experiences of working a minimum wage job at a store where she had a wide range of duties ranging from managing the cash register to mopping floors. Fawad too mentioned he had limited pocket money allotted to him and that kept him grounded.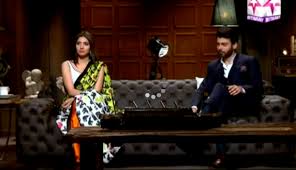 The rest of the show was split into challenges where Mahira and Fawad had to compete for a gift voucher worth PKR 50,000 from Contradictions. HSY urged them not to over-think the answers since it would kill the momentum. The first round "Love or Not Love" was clearly fishing for controversy. Both of them were shown 10 pictures each and they had to mention whether they love them or not. Fawad avoided commenting on a picture of Nawaaz Sharif but Mahira responding to all ten. I felt there was a bit of sloppy editing because HSY had initially mentioned there will be 3 rounds but after the first round, there was a segment where he asked them to rate actors- that felt like it belonged in the initial getting to know them phase. Round two was "Ajnabee Kaun Ho Tum" where they received a call and in 30 seconds they had to guess who the caller was. The sound quality of the calls was extremely poor and I could barely hear anything. I hope they improve on this as it was a damper. The final round "Mein Khilaari Tu Anaari" was the best of the three. Fawad and Mahira each had to ask the other 5 questions and one of the funniest ones was where Fawad asked Mahira to translate the lyrics "The world is made of brass"- Yeh Duniya Pittal Di! Mahira emerged victorious and used the analogy of her return in Humsafar to the feeling of beating Fawad to his game. But towards the end, Fawad got back in the game by poking fun at Mahira's Urdu- Purey show mein ek pehla jumla bola hai joh Urdu mein hai… "Support" Urdu mein kya hota hai? Soch lo, koi jaldi nahin hai…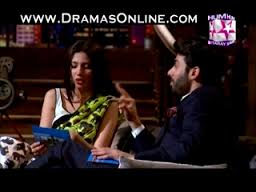 Even though both Fawad and Mahira are exceptionally popular, they are more than keen to keep their fans at bay- as Mahira stated "Just watch our shows and leave us alone". Neither use any social media platforms although Mahira assured her fans that after the show, she intends on creating a twitter account- The Real Mahira Khan to stay connected to her fans. Fawad sporadically interacts on a facebook page. I think it's important to remember that even though we have various means to stay connected, celebrities really feel overwhelmed by the stalking nature of their fans and their inquisitiveness over their private lives. Overall, the show was engaging. If I were to compare it to the last talk show I saw (Tuc- The Lighter Side of Life), it was definitely a few notches above. But it's too early to determine the fate of this one although the force is strong with this one. I'm curious about the choice of channel- why not HUM TV? I was under the impression that Hum Sitarey aired only repeats and Indian and Turkish serials. Sultana Siddiqui is one of the show's executive producers so I'm thinking she might have had her reasons. Did you watch the first episode? What are your thoughts?
P.S. If there are any fashion experts out there, please tell me what you thought of Mahira's sari.
Yours in watching,
Kanwal Murtaza
---
---