You'd think having the King of Comedy would ensure plenty of laughs but that wasn't meant to be! Not a fan of comedy and even lesser of a fan of Omer Sharif, I was still open for entertainment. Mr. Sharif cracked a few jokes but those were far and few. What we got to see instead was his serious side- one where he spoke about God, his struggle as a theater artist and his journey. As if I wasn't bored enough, Sheru's next guest was the Queen of the Ramp- Mehreen Syed. Sheru, Sheru, Sheru, calling someone the King of so and so and the Queen of so and so will not guarantee that they will both give us a good royal time. I can't help but wonder how this episode would've been had they invited some Queen of Comedy – Hina Dilpazeer anyone???
Mehreen Syed looked drop dead gorgeous. Her outfit, make-up, hair- everything was flawless. But there was nothing she had to say that was even remotely interesting. In between some random conversations, there was a mention of horoscopes and we found out that Mehreen Syed is a Leo, Omer Sharif is Aries and Sheru is a Scorpio.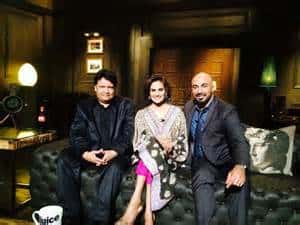 Omer Sherif spoke about his mother and how he has worked to establish a hospital called "Maa" as a tribute to all mothers.  Both him and Mehreen spoke highly about their mothers and how they struggled to raise their families after becoming widowed. It was heart-warming to hear their passion for helping their families.
As always, the challenge rounds were just meh. What did strike me as unusual was that Mehreen hadn't heard of Sarmad Khoosat nor Hamza Ali Abbasi. Omer Sharif kept silent when he was shown a pic of Kapil Sharma- he had spoken about plagiarism and Kapil Sharma's name came up. Round 2- Ajnabee Kaun Ho Tum was again a disappointment because the sound quality wasn't up to the mark. The last round had an opportunity for singing and mimicry but I feel the questions are just too monotonous and don't really serve a purpose.
This was definitely one of the more boring episodes so far. I really had a hard time staying focused since this episode put me into a coma. What did you think?
Yours in watching,
Kanwal Murtaza